Providers
Public Sector Information. Sandbox » - Public Dataset Catalogs Faceted Browser. Open Data dans les transports : du neuf ! Ca y est data.gouv.fr est ouvert.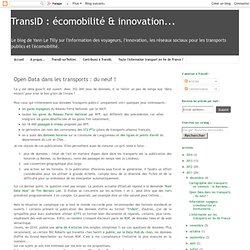 Avec 352 000 jeux de données, il va falloir un peu de temps aux "data miners" pour trier le bon grain de l'ivraie ! Pour ceux qui s'intéressent aux données "transports publics" uniquement voici quelques jeux intéressants : les gares voyageurs du Réseau Ferré National par la SNCF,toutes les gares du Réseau Ferré National par RFF, qui diffèrent des précédentes car elles intègrent les gares désaffectée et les gares fret notamment,les 18 000 passages à niveau proposés par RFF,le périmètre (en nom des communes) des 372 PTU (plans de transports urbains) français, on a aussi des données horaires sur la commune de Longjumeau et des lignes et points d'arrêt du département du Loir et Cher...
Je me réjouis de ces publications. Reinventing business research | timetric.com. City of Chicago | Data Portal. Open Data - Open Data Pilot Project - Home. The Open Data Pilot is part of the Government of Canada's commitment to open government, which is being pursued along three streams: open data, open information and open dialogue, and aims to drive innovation and economic opportunities for all Canadians.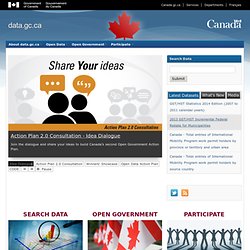 The Open Data Pilot seeks to improve the ability of the public to find, download and use Government of Canada data. You are invited to search the catalogue, download datasets and explore the possibilities of Open Data. Search General Datasets [Total Datasets : 5379] Search Geospatial Datasets [Total Datasets : 260296] Les Projets - OpenData Nantes. Les Projets De OpenData Nantes.
Aller à : Navigation , rechercher Liste de projets et plateformes liés aux données publiques Sommaire [ masquer ] Nantes ouverture des données: Accueil. Velkommen til beta-versjonen av data.norge.no | data.norge.no beta. Opendata 71 | Le Département de Saône-et-Loire libère ses données. Portail OpenData - Communauté urbaine de Bordeaux. Data.gov.uk | Opening up government. Accueil. Data.gov. Dati.gov.it | I dati aperti della PA. Open Data Grand Toulouse - data.grandtoulouse.fr.
Open Kenya | Transparent Africa. Map « Open Government Data. This map is a starting point of mapping information around Open Government Data, initiatives, catalogues, competitions and events.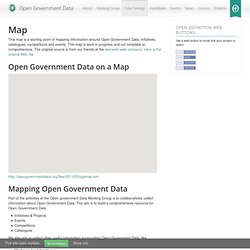 This map is work in progress and not complete or comprehensive. The original source is from our friends at the semantic web company: Here is the original KML file Open Government Data on a Map. Portail données ouvertes. Portada.
---