Apple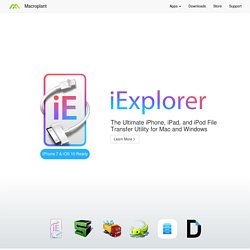 Macroplant Blog Get iExplorer Mobile v1.2 Free! (formerly Awesome Files) Now Called "iExplorer Mobile" We've renamed our app "Awesome Files" to "iExplorer Mobile." Why? Awesome Files's big brother has always been our app iExplorer on Windows and Mac.
MakeMKV is your one-click solution to convert video that you own into free and patents-unencumbered format that can be played everywhere. MakeMKV is a format converter, otherwise called "transcoder". It converts the video clips from proprietary (and usually encrypted) disc into a set of MKV files, preserving most information but not changing it in any way. The MKV format can store multiple video/audio tracks with all meta-information and preserve chapters. There are many players that can play MKV files nearly on all platforms, and there are tools to convert MKV files to many formats, including DVD and Blu-ray discs. Additionally MakeMKV can instantly stream decrypted video without intermediate conversion to wide range of players, so you may watch Blu-ray and DVD discs with your favorite player on your favorite OS or on your favorite device.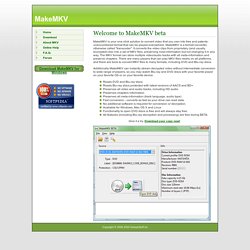 Rip DVD&Blu-Ray
11/19/13 MyFourWalls 1.0 is available now The big day has finally arrived - MyFourWalls has left the beta stage and is now available in version 1.0. Use MyFourWalls to create your dream home. Choose from our comprehensive furniture and materials collection to change your new or existing home's design and give your space a fresh facelift with just a few clicks. Take a 3D house tour to gain a detailed impression of your space. MyFourWalls offers you a wide range of options.
Synium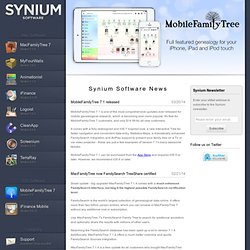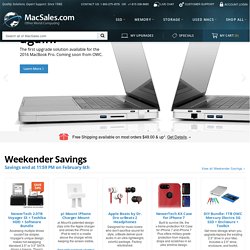 OWC
In 2009, Other World Computing took the lead in alternative power use by private enterprise in Illinois when work began to switch to a clean power source that is limitless and plentiful – wind. The Wind Turbine went online in October, 2009, and can provide up to more than double the current energy requirements of all OWC operations. The surplus power will be sold back to the power grid.
Zipeg
Koingo
Our high-standards approach to software development ensures a premium user-experience. Our software was designed to be efficient and easy-to-use. It feels and looks like other Mac programs, so you won't have any difficulty getting started. Experience more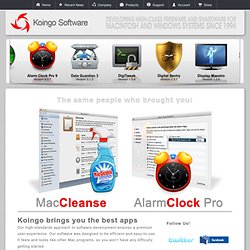 Наверняка, Вы любитель просмотра видео на Вашем iPad, тем более на чудо-дисплее Retina. Но, к великому сожалению, множество форматов доступны только после трудоемкого и неудобного процесса конвертации видео. Вот почему многие сторонние производители пытаются исправить этот недостаток, создавая видеоплееры. И один из лучших, причем заслуженно, на данный момент — это AVPlayerHD для iPad , поддерживающий без преобразования форматы: avi, mov, xvid, mkv, mp4, m4v, asf, rmvb, vmw, rmvb, h264..., то есть закачать фильмы на iPad можно в большинстве форматов видеофайлов.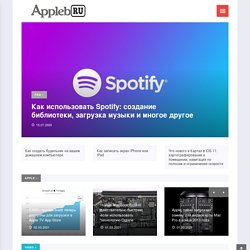 AppleB.ru