Just for FUN!!!
How-To: Instant Hairstyles- Do Yourself | ~She Exists~ | to Add Colors in Life. Puzzle - Corpse Bride. Jolly Rancher Vodka Tutorial : Mix That Drink - StumbleUpon. Exciting Links for Boring Days - StumbleUpon. Robot For President YouTube - Hitler Banned From iSketch!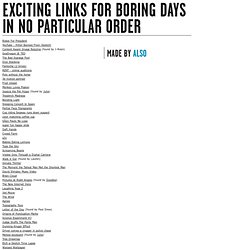 Content Aware Image Resizing (found by J-Roen)SeaDragon @ TEDThe Bad Signage PoolDice StackingFantoche (2 times)RENT - online auditionsPolo without the horse3d motion portraitFruit VesselMonkey Loves PigeonJessica the Pet Hippo (found by Julia)Treadmill MadnessBending LightSleeping Concert In SpainPartial Face TransplantsCop riding Segway runs down suspectcolor matching coffee cupSão Paulo No Logosuper fun happy slide Daft HandsCrowd FarmzZzBabies Eating LemonsType the SkyScreaming BeansVisible Only Through a Digital CameraWalk it Out (found by Lauren)Inmate ThrillerThe Moment the Tallest Man Met the Shortest ManDavid Shrigley Music VideoBrain CloudPictures at Right Angles (found by Doodles)The New Internet HeroLaughing Yoga 2Jed MovieThe WindApneeTypography ToysLetter of the Day (found by Paul Drew)Origins of Punctuation Marks.
25 clever ideas to make life easier - StumbleUpon. Via: amy-newnostalgia.blogspot.com Why didn't I think of that?!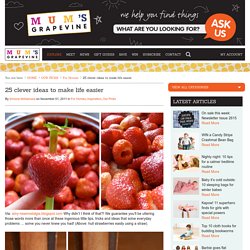 We guarantee you'll be uttering those words more than once at these ingenious little tips, tricks and ideas that solve everyday problems … some you never knew you had! (Above: hull strawberries easily using a straw). Via: apartmenttherapy.com. How to insert "LIKE" button in FB chat[many more] | Tech Me More - StumbleUpon.
We all are seriously addicted to Facebook chat!
Smileys have become an integral part of our language, Another thing is that the Facebook like button has also invaded our cyber life too much , so recently Facebook launched the Like button smiley which you can send via chat , as you can see below , ain't that cool?
---