CCPA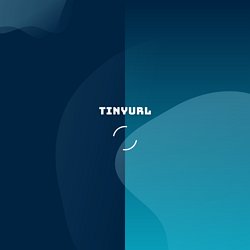 Welcome to TinyURL!™ Are you sick of posting URLs in emails only to have it break when sent causing the recipient to have to cut and paste it back together? Then you've come to the right place.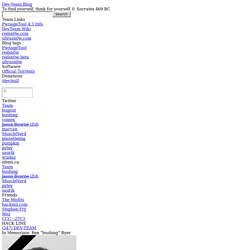 Today we're pleased to release redsn0w version 0.9.15b1, with significant new features supporting restoring to older firmware no longer being signed by Apple. For brevity, we'll list most of the new features in bullet form. For more details, please feel free to drop by our comments section, or check out any upcoming guides on tutorial sites like http://iclarified.com First, the high-level new feature list:
Origem: Wikipédia, a enciclopédia livre. Código Morse é um sistema de representação de letras, números e sinais de pontuação através de um sinal codificado enviado intermitentemente. Foi desenvolvido por Samuel Morse em 1835, criador do telégrafo elétrico (importante meio de comunicação a distância), dispositivo que utiliza correntes elétricas para controlar eletroímans que funcionam para emissão ou recepção de sinais.1 Uma mensagem codificada em Morse pode ser transmitida de várias maneiras em pulsos (ou tons) curtos e longos: Este sistema representa letras, números e sinais de pontuação apenas com uma seqüência de pontos, traços, e espaços. Portanto, com o desenvolvimento de tecnologias de comunicação mais avançadas, o uso do código Morse é agora um pouco obsoleto, embora ainda seja empregado em algumas finalidades específicas, incluindo rádio faróis, e por CW (continous wave-ondas contínuas), operadores de radioamadorismo.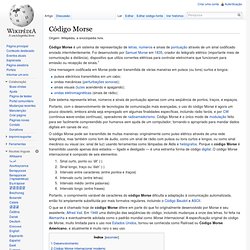 Código morse
Services: Testing and Assessment
Home - LPI -
LPI Academy Program In a recent survey 93% of employers plan to hire a Linux pro. LPI Academy is designed to help your academic institution prepare students to become Linux and Open Source professionals. Discover More about the Academy Program Find Jobs and Linux Professionals LPI has a fundamental interest in championing workforce development initiatives for Linux and Open Source professionals.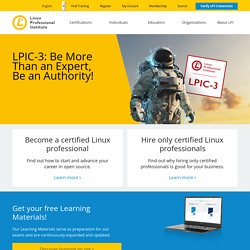 O melhor blog dedicado a Informática do Brasil.