Beer Brewing Info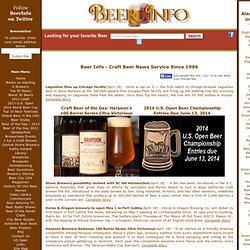 Left Hand Brewing sends Peyton Manning case of beer(January 14) - After the Denver Broncos punched their ticket to the AFC Championship game defeating the San Diego Chargers, the media immediately asked him about his future. "What's weighing on my mind is how soon I can get a Bud Light in my mouth after this win," Manning said. Complete Story American Beer Fans, Praise The Heavens: A Trappist Brewery In U.S.
Homebrewers Association | Zymurgy - Free Downloads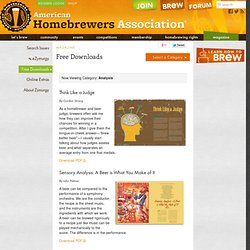 Now Viewing Category: Analysis Think Like a Judge By Gordon Strong
Realbeer.com: What Part Of Beer Don't You Understand?
Realbeer.com: What Part Of Beer Don't You Understand?
Homebrew Adventures - Where the brewing adventure begins... Palmer House Brewery and Smithy "We hold these truths to be self-evident, that all people are created equal, that they are endowed by their Creator with certain unalienable rights, that among these are Life, Liberty and the Pursuit of Science. Welcome to my homepage! As was indicated in the title, two of my main hobbies are homebrewing and metalworking. The Palmer House Brewery and Smithy is the name of my workshop in the backyard.
Palmer House Brewery and Smithy