Combine & Compress (css, js)
According to Yahoo!'s Exceptional Performance Team, 40% to 60% of Yahoo!'s users have an empty cache experience and about 20% of all page views are done with an empty cache (see this article by Tenni Theurer on the YUIBlog for more information on browser cache usage).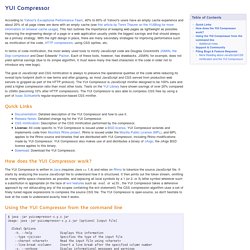 News 2013-07-23 Minify 2.1.7 is released in response to a serious vulnerability discovered in all previous versions. You are strongly urged to follow the instructions in the report to secure your installation, and to upgrade to Minify 2.1.7.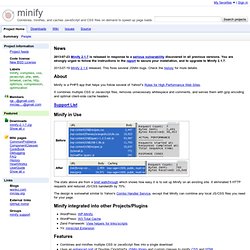 jsmin-php
Combining and Compressing multiple JavaScript files in php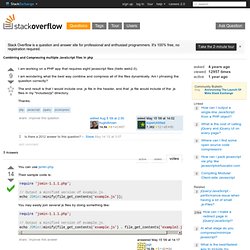 Explore our sites Stack Exchange sign up log in tour help careers 2.0 Stack Overflow Ask Question Take the 2-minute tour ×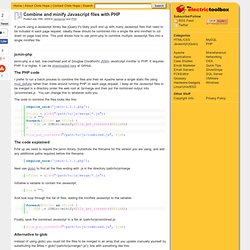 Combine and minify Javascript files with PHP
Posted July 16th, 2009 in Javascript and PHP If you're using a Javascript library like jQuery it's likely you'll end up with many Javascript files that need to be included in each page request. Ideally these should be combined into a single file and minified to cut down on page load time. This post shows how to use jsmin-php to combine multiple Javascript files into a single minified file.
Closure Compiler - Компресия на кода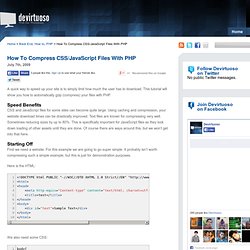 A quick way to speed up your site is to simply limit how much the user has to download. This tutorial will show you how to automatically gzip (compress) your files with PHP. Speed Benefits CSS and JavaScript files for some sites can become quite large.
GZIP Compress CSS/JavaScript Files With PHP