Combine & Compress (css, js)
According to Yahoo!'s Exceptional Performance Team, 40% to 60% of Yahoo!'s users have an empty cache experience and about 20% of all page views are done with an empty cache (see this article by Tenni Theurer on the YUIBlog for more information on browser cache usage).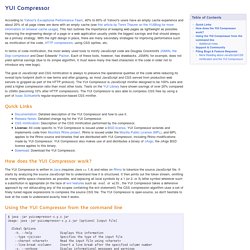 News 2013-07-23 Minify 2.1.7 is released in response to a serious vulnerability discovered in all previous versions. You are strongly urged to follow the instructions in the report to secure your installation, and to upgrade to Minify 2.1.7.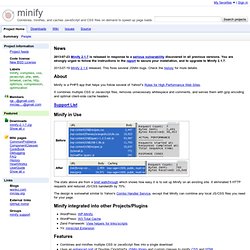 jsmin-php
Combining and Compressing multiple JavaScript files in php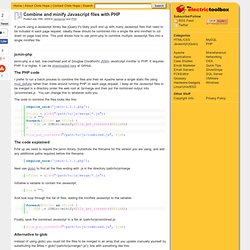 Combine and minify Javascript files with PHP
Posted July 16th, 2009 in Javascript and PHP
Closure Compiler - Компресия на кода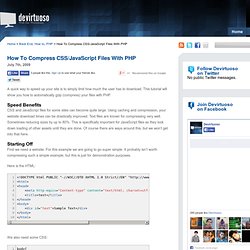 A quick way to speed up your site is to simply limit how much the user has to download.
GZIP Compress CSS/JavaScript Files With PHP