Webmaster
Best Web-Frameworks » Find and compare PHP, Ruby, Perl, ASP.net, ColdFusion, JS and CSS Frameworks. Found 54454 results containing the words: ftp existing site. FTP put Posted by krylov on October 15, 2012 at 9:00pm This modules uses FTP to move uploaded files and site 's content to a network location.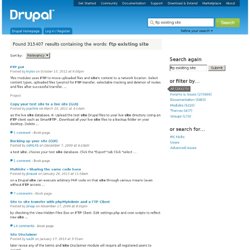 Select content types, uploaded files (yes/no) for FTP transfer, selectable tracking and deletion of nodes and files after successful transfer. ... Project. Want to modify the site menu.... but all i get is options to modify the admin menu. I'm a super newbie using Drupal.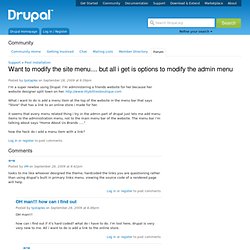 I'm administering a friends website for her because her website designer split town on her. What i want to do is add a menu item at the top of the website in the menu bar that says "Store" that has a link to an online store i made for her. it seems that every menu related thing i try in the admin part of drupal just lets me add menu items to the administration menu, not to the main menu bar of the website. The menu bar i'm talking about says "Home About Us Brands .....
" how the heck do i add a menu item with a link? Creador de Sitios Web Gratis | Crea un Sitio Web Flash en Wix.com.
---