Wine Zines
Magazine - IntotheWine. La carte des vins s'il vous plait En France, on n'a pas de pétrole mais on a des idées.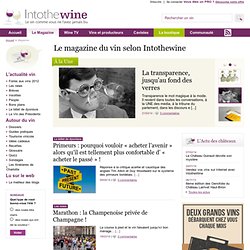 En voici une nouvelle qui devrait retenir votre attention : la carte des vins s'il vous plai [...] Www.thewinedetective.co.uk. Food and Wine News and Opinions from Zester Daily. S Talk Show | Wine Fair : 1er Salon virtuel du Vin. Winefair's Talkshow avec Craig Camp craig camp Craig vient du middle west, il ne connais pas le vin dans sa jeunesse.
Dining & Wine. About : PALATE PRESS. Le journal du vin – l'Information du vin sur Internet est sur www.lejournalduvin.com. Catavino | Spanish wine, Portuguese wine, and a while lot more. Bourgogne-live. PALATE PRESS. Cork'd Content. Today marks a bittersweet day for Cork'd as we announce it will wind down operations.
After 1.5 years, CEO, Lindsay Ronga will move on to other opportunities. "Working with Gary and Jon marked a milestone in my career and I am so thankful for the opportunity. Who knows… at some point we may all reconnect in the future," says Lindsay.
---