English language Wine Blog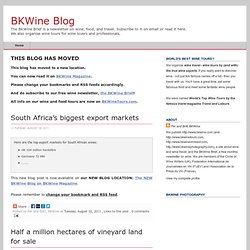 Austria has around 46,000 hectares of vineyards. That is roughly one third of Bordeaux (and some). There are four main regions: Burgenland, Niederösterriech, Steiermark and Wien. Niederösterriech is by far the biggest region with 60% of the total. Here are the details for all the wine districts in Austria:
BKWine Blog
Nouvel article sur notre blog "Stuff Parisians Like" Il concerne le mot décalé!! All French people agree that Parisians are not normal people. Provinciaux deem that Parisians are below normal, usually beyond repair. Parisians on the other hand know full well that they navigate far beyond the norm.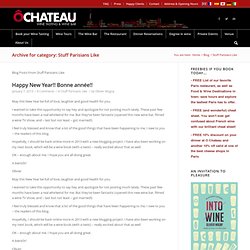 Stuff Parisians Like | Ô Chateau
www.thewinedetective.co.uk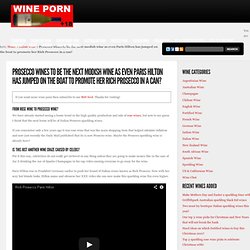 If you want more wine porn then subscribe to our RSS feed. Thanks for visiting! We have already started seeing a boom trend in the high quality production and sale of rose wines, but now to my guess I think that the next boom will be of Italian Prosecco sparkling wines. If you remember only a few years ago it was rose wine that was the main shopping item that helped calculate inflation and now just recently the Daily Mail published that its is now Prosecco wine. Maybe the Prosecco sparkling wine is already here? Put it this way, celebrities do not really get invloved in any thing unless they are going to make money like in the case of Jay Z drinking the Ace of Spades Champagne in his rap video causing everyone to go crazy for the wine.
Prosecco wines to be the next modish wine as even Paris Hilton has jumped on the boat to promote her Rich Prosecco in a can? | Wine Porn
The Feiring Line
Last week I was called to give quote to ABC news for their story on the Morgan Stanley report on the topic. "Could this be really true?" the reporter Alan was in a panic, his beloved Great Western sparkling wine might be in danger, and what would he do then when he wanted his favorite kind of "champagne" cocktail. I suspected a Chicken Little approach to news --press releases that go out on the wire primed to painc. I tried to get the original MS report before the interview but could not (and still cannot.)
If you just can't get enough Twitter now you can enjoy it in a whole new form: wine. Appropriately called Fledgling the label is a collaboration between Twitter and Crushpad in Napa Valley and launched with two vintages: a 2009 Chardonnay and a 2009 Pinot Noir. I haven't tried them yet myself but according to Slashfood the Pinot is pretty good.
Twitter's Fledging Wine : Serious About Wine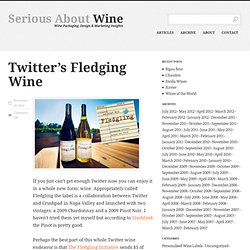 Want to take my "Wine Consumer Online" thesis survey? - Vinously Speaking
I know you do :) … So read on, the link to the survey is at the end. You many know this already, but for those of new to VS, you might be wondering what the heck I do between VS blog posts. Well, I am a Master's student at the Master in Wine Business program at the Burgundy School of Business in Dijon, France. I am done with the classroom time and now I am on to the "fun" part … writing my thesis and doing an internship.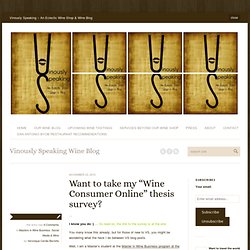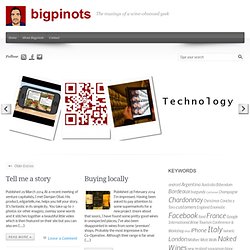 Published 29 March 2014 At a recent meeting of venture capitalists, I met Damjan Obal. His product, edgartells.me, helps you tell your story. It's fantastic in its simplicity. You take up to 7 photos (or other images), overlay some words and it stitches together a beautiful little video which is then featured on their site but you can also em [...] Published 28 February 2014 I'm impressed. Having been asked to pay attention to some supermarkets for a new project (more about that soon), I have found some pretty good wines in unexpected places; I've also been disappointed in wines from some 'premium' shops.
bigpinots - The ramblings of an obsessive twino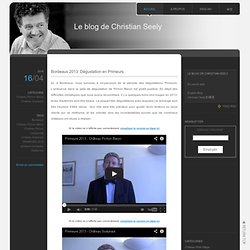 Le blog de Christian Seely
J'ai pensé qu'il était temps de publier un compte rendu des vendanges 2013, telles que nous les avons vécues dans nos différentes propriétés. Il y a eu bon nombre de commentaires mal informés sur le millésime dans la presse (si vous n'étiez pas dans le vignoble pendant les vendanges et si vous n'avez pas goûté le vin, comment pourrait-il en être autrement?). Il pourrait donc être utile d'avoir la vision des propriétés. La question la plus sensible est celle des vendanges pour les vins rouges de Bordeaux.
Judgement of London
The story of what I am declaring the 2010 'Judgement of London', which took place in central London last week. On a recent chilly November evening in London a historic event took place. While naughty students tore up Westminster and stormed Conservative Party headquarters, a secret location tucked away behind the hustle and bustle of west-central London played host to a different type of battle. Tottenham Court Road is lined with an array of shops selling the latest electronics and technology – a hangover from the 1950s and 1960s when it was a mecca for old World War II radios and electrical equipment – so perhaps a side-street from this road was a fitting venue for a unique blind tasting with two of today's most innovative internet wine companies, FindWine and Naked Wines . The crème de la crème of the wine industry did not turn up; not a prominent journalist, Master Sommelier or Master of Wine in sight.
Travel Plus Wine
Browse > Home It has been one of those days. A non-stop schedule, late lunch, no evening appetite… but a hankering for the right kind of wine.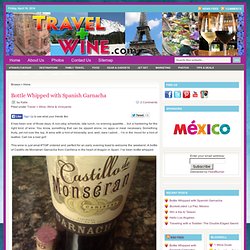 I truly believe wine is a magnifier of friendly interactions, positive inclinations and spontaneous communication. Tonight, I was lucky to be invited by Miss Vicky Wine at her latest Paris Wine Tasting. It was in a trendy bar packed with people: fashion crazies with jaw-dropping outfits for an exhibition opening, rock'n'roll groupies for a trendy gig and wine lovers for Vicky's wine selection. Oh! and a fat bulldog called 'Venus' was everywhere to be seen. Everybody had headed out there – after a long day at work, despite the public transport strikes and the chilly night – so as to share one (or more) glass(es) of wine.
Wine me up « An encyclopaedia of the beautiful, unexpected & amusing
I've been pressed for time these days, which is one reason why I'm delighted to kill two birds with one stone in this post: supporting one of my favorite wine peeps and offering all you lovely STBNY readers a nice deal. Miss Vicky Wine, who I've written about before, is a super-energetic young Frenchwoman who is on a mission to bring her family's wine to the world — or, at the very least, the U.S. The wine in question is Fleurie, one of the cru of Beaujolais. We're not talking bubblegum fruity Beaujolais Nouveau here. Fleurie, and the other 9 crus (=subregions, more or less) of Beaujolais produce fruity, highly satisfying, and highly undervalued wines.
Miss Vicky Wine -- At a Discount No Less | SpinTheBottleNY
Welcome to Project Wine Blog! Want to know what it is? Read on. FoodBuzz is hosting a 12-week " Project Food Blog " contest that began on September 20th! But what is a wine blogger supposed to do ???
Project Wine Blog | Haidu.net
Food Snob
'Is it right that I force my customers to kill a chicken at their table before I cook it for their dinner?' This was how Magnus Nilsson, flushed with excitement, accosted me one afternoon during February's Omnivore food festival in Deauville. 'A couple of Russian ladies just asked me this during an interview,' he gushed. 'This is what people are saying about me'. Although these two journalists were in fact incorrect – Mr.
wine-life.co.uk
Blogs Wine classification: do we really need it? My initial reaction to reading Matthew Jukes and Tyson Stelzer's (3rd) classification of New Zealand Pinot Noir was akin to that of watching your 15 year-old brother being dragged out of school to go and work in the mills. Why does such an interesting and growing wine country need a classification that only implies stasis?....
100 Top Wine Blogs, Most Popular Wine Blogs
Wine Tonite!
The Champagne Diet
Spokane Wine and Coffee
$20 Dollar Wine Blog
Jim's Loire
Love that Languedoc Wine
The Virtual Vine