English language Wine Blog
BKWine Blog
First things first, please allow me to apologize for having gone MIA.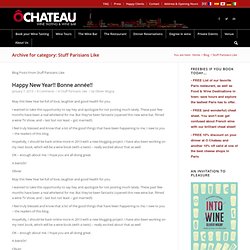 Stuff Parisians Like | Ô Chateau
www.thewinedetective.co.uk
Prosecco wines to be the next modish wine as even Paris Hilton has jumped on the boat to promote her Rich Prosecco in a can? | Wine Porn
The Feiring Line
Twitter's Fledging Wine : Serious About Wine
Want to take my "Wine Consumer Online" thesis survey? - Vinously Speaking
I know you do :) … So read on, the link to the survey is at the end.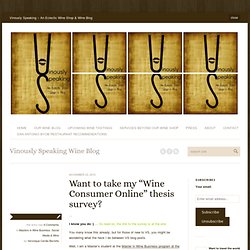 bigpinots - The ramblings of an obsessive twino
Le blog de Christian Seely
Judgement of London
The story of what I am declaring the 2010 'Judgement of London', which took place in central London last week. On a recent chilly November evening in London a historic event took place.
Travel Plus Wine
I truly believe wine is a magnifier of friendly interactions, positive inclinations and spontaneous communication. Tonight, I was lucky to be invited by Miss Vicky Wine at her latest Paris Wine Tasting.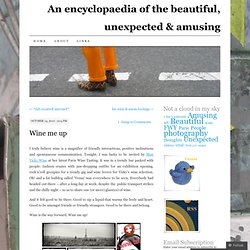 Wine me up « An encyclopaedia of the beautiful, unexpected & amusing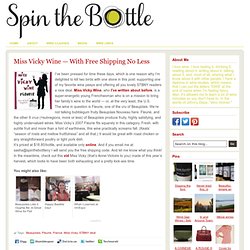 I've been pressed for time these days, which is one reason why I'm delighted to kill two birds with one stone in this post: supporting one of my favorite wine peeps and offering all you lovely STBNY readers a nice deal.
Miss Vicky Wine -- At a Discount No Less | SpinTheBottleNY
Welcome to Project Wine Blog!
Project Wine Blog | Haidu.net
Food Snob
wine-life.co.uk
100 Top Wine Blogs, Most Popular Wine Blogs
Wine Tonite!
The Champagne Diet
Spokane Wine and Coffee
$20 Dollar Wine Blog
Jim's Loire
Love that Languedoc Wine
The Virtual Vine