teaching and learning
Get flash to fully experience Pearltrees
If only teaching K-12 science was itself a science – assess student knowledge deficits and remedy them. This " knowledge deficit " model has been shown ineffective time and again. Most teachers already know that; it's why they work so hard to develop lesson plans and activities tailored to their students.
Like many of my peers I read around my 'subject' a lot. Sometimes I print copies out and store them, other times I save to favourites (on Twitter mainly , very rarely to a browser), or to Delicious (when I remember to use it). The Australasian Journal of Educational Technology is always worth looking at as the papers are interesting and varied.
It is with mixed emotions that I begin my story. Whilst flattered to be asked to give an insight into the use of iPads in learning I feel somewhat of a fraud and perhaps a little misunderstood, you see I love the iPad but I love learning more. I have always embraced the learning potential of ICT, however it was not a relationship that began easily.
I'm not a fan of telling people how to do things. OK, that may not strictly speaking be true, but I do believe that just explaining how to solve a problem is unlikely to result in much learning. The best way is to learn is to think about why a problem should be solved. As teachers we often bemoan the fact that we're not treated with respect as a profession. There are probably all sorts of reasons for this but one reason is the extent to which we've allowed ourselves to be told how we should teach.
Welcome to the second article in the the new Core77 "Sketchnotes Channel" (www.core77.com/sketchnotes) where we'll be exploring the application of visual thinking tools in the worlds of design and creative thinking. So you say you're ready to start sketchnoting.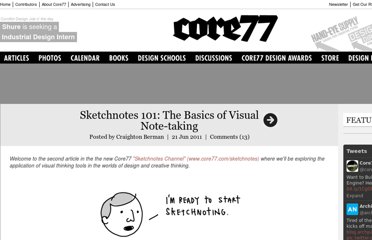 Teaching is making me ill – a resolution for a new term August 26th, 2012 | Posted by Glen Gilchrist | 3 Comments As a teacher and head of department I try to keep my self up to date with the various happenings and developments within the world of education – I hang out in #ukedchat, #asechat and #addcym, I follow other bloggers and blog myself. Sadly, that often comes a pale second to the daily grind of planning (not enough), teaching and managing "behaviour". Over the past twelve months I've come to the conclusion that teaching is making me physically ill and damaging my health and my relationship with friends and family. During the academic year 2011-2012, I was knocked over (twice) in school, resulting in dislocated ribs and hyper extension of my elbow joints – as a result, at the age of 40 years old, I was proscribed "dicloflex" – probably on an ongoing basis.