Jobb
Marketing Headhunter.com: 10 Reasons Why this Cover Letter Rocks. ATLANTA, GA - Okay, get ready to take some notes.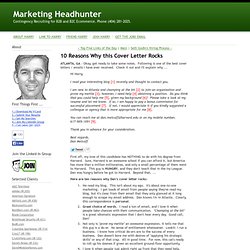 Following is one of the best cover letters / emails I have ever received. Check it out and I'll explain why ... Hi Harry, I read your interesting blog [1] recently and thought to contact you. 64 Interview Questions. The 25 most difficult questions. If you are one of those executive types unhappy at your present post and embarking on a New Year's resolution to find a new one, here's a helping hand.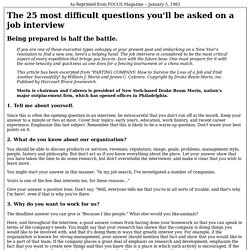 The job interview is considered to be the most critical aspect of every expedition that brings you face-to- face with the future boss. One must prepare for it with the same tenacity and quickness as one does for a fencing tournament or a chess match. How not to start your cover letter. This was one of our most popular blog posts this year, and we think the advice is so good it should be repeated!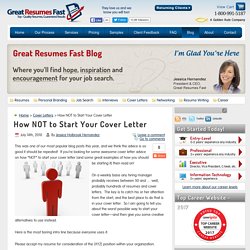 If you're looking for some awesome cover letter advice on how *NOT* to start your cover letter (and some great examples of how you should be starting it) then read on! On a weekly basis any hiring manager probably receives between 50 and … well, probably hundreds of resumes and cover letters. The key is to catch his or her attention from the start; and the best place to do that is in your cover letter. So I am going to tell you about the worst possible way to start your cover letter—and then give you some creative alternatives to use instead.
10 Killer Interview Tactics You Ought to Know. Job interviews can be a mystery.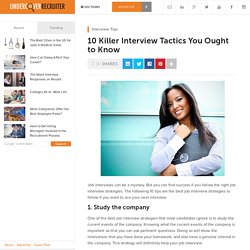 But you can find success if you follow the right job interview strategies. The following 10 tips are the best job interview strategies to follow if you want to ace your next interview. 1. Study the company.
---