SHOP
Kipling - Bem Vindo!
Impression sur papier d'art « Impression sur toile – ENJOYTED – Atelier d'impression Fine Art – LYON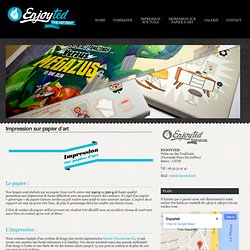 Le papier : Nos tirages sont réalisés sur un papier lisse 100% coton mat 240 g ou 320 g de haute qualité permettant une impression de haute définition avec un grand respect des couleurs. Il s'agit d'un papier « générique » du papier Canson Arches au pH neutre sans acide et sans azurant optique. L'aspect de ce support est mat au grain très lisse, de plus le grammage élevé lui confère une bonne tenue. L'état de surface du papier utilisé procure un résultat très détaillé avec un excellent niveau de contraste aussi bien en couleur qu'en noir et blanc.
Welcome to the official Kuhl outdoor clothing online store. Kuhl is the premier maker of casual and performance mountain clothing for the most active lifestyles, from men's alpine pants to women's athletic dresses and skirts. Shop Kuhl's complete line of fleece jackets, softshells, hiking pants and shorts, quick dry shirts, and much more. Our organic grown cotton and merino wool clothing make the finest sportswear and travel apparel available. At Kuhl, we innovate our own technical fabrics: Alfpaca fleece, Kashmira™, KuhlTouch™, Technikore™, Aerosoft™, and Coffeenna™, our performance fabric made from coffee. Our Crag Series are anatomically designed pants, shorts, and fleece jackets.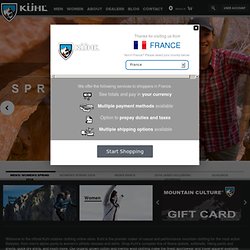 Kühl Clothing
Designer faithful to the substance but lover of the aesthetic. Volitional admirer of Italian manufacturing workers. Insatiable observer, I see in everyday objects the ability to live in relationship with man through new uses, beyond the confines of the customary. Ambition for excellence in the creative process translates into a thirst for tactile and aesthetic perfectionism, in ideas that create new sound, drawing from the existing to offer the new.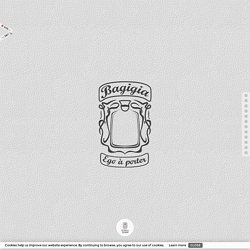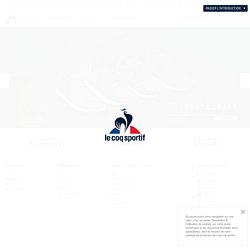 Compétition cycliste le coq sportif sur STRA.. Du 21 Avril au 6 Juillet 2014 aura lieu notre grande compétition cycliste. Vos efforts et vos entraînements seront ainsi récompensés chaque semaine avec de nombreux lots (dossards et voyages pour l'Etape du Tour, produits de notre collection cyclisme performance et autres lots le coq sportif). - Voir la liste des lots plus bas - COMMENT PARTICIPER C'est très simple, il vous suffit de rejoindre notre CLUB LE COQ…
Accueil | Protest Boardwear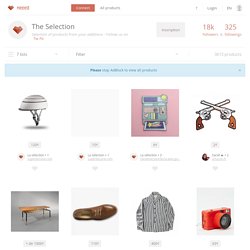 Boucles d'oreilles Alice et le lapin blanchttp://fave.co/1jkSJ5z Desigual ABRIG_LEILA - Manteau court - noir - ZALANDO.FRhttp://fave.co/1jiENJj Petite Mila | Pochette Happyhttp://fave.co/1jjwBJ0 COLLIER EFFET MULTICOLORE - Accessoires - FEMME | ZARA Francehttp://fave.co/1gUQDLv
Shop
official website : collections, news, blog and online store
Life's better in a great hat. Optimo Hats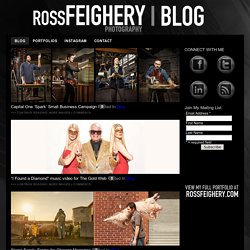 Here's two new portraits of Carol Lyn Black, a quick witted 89 year old actress from Los Angeles. >>> CONTINUE READING: MORE IMAGES + COMMENTS Here's some photos of frozen beaches along the Chicago & Indiana Dunes shoreline. I've been anxiously awaiting another layer of ice to coat the beaches but due to the oddly warm temperatures in Chicago during the last few weeks, none of the beaches have been freezing this year!
ROSS FEIGHERY PHOTOGRAPHY – BLOG
Boutique
OBEY GIANT STORE
Pictures on Walls - Home
'Very X' 55 x 38cm - Edition 70 Seven colour hand pulled silkscreenon Somerset Velvet White 300gsm Fresh from hitting up the infamous Bowery wall in NYC (pictured) Ms. Hayuk found time to complete another great print with us. It's the classic native American folk art shot through a neon new-rave cannonand employs a satisfying combination of layered translucent inks. 'Watch Your Back' 60 x 44cm - Edition 75 9 colour screen print on a hand sprayed background. Arches 88 300gsm paper. £245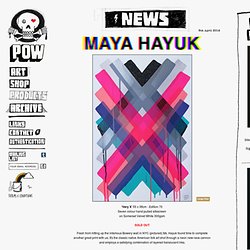 MASC | Women's ready to-wear | Hidden in plain view
ART