SHOP
Kipling - Bem Vindo! Impression sur papier d'art « Impression sur toile – ENJOYTED – Atelier d'impression Fine Art – LYON. Le papier : Nos tirages sont réalisés sur un papier lisse 100% coton mat 240 g ou 320 g de haute qualité permettant une impression de haute définition avec un grand respect des couleurs.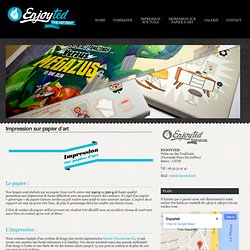 Il s'agit d'un papier « générique » du papier Canson Arches au pH neutre sans acide et sans azurant optique. L'aspect de ce support est mat au grain très lisse, de plus le grammage élevé lui confère une bonne tenue. L'état de surface du papier utilisé procure un résultat très détaillé avec un excellent niveau de contraste aussi bien en couleur qu'en noir et blanc.
Kühl Clothing. Premium Leather and 100% Wool Felt. Authentically European. Discover Bagigia - The Bag. Le coq sportif, chaussures, vêtements et accessoires de sport depuis 1882 – accueil lecoqsportif. Compétition cycliste le coq sportif sur STRA..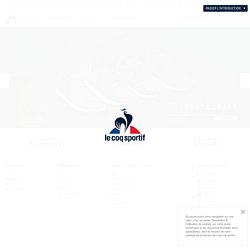 Du 21 Avril au 6 Juillet 2014 aura lieu notre grande compétition cycliste. Vos efforts et vos entraînements seront ainsi récompensés chaque semaine avec de nombreux lots (dossards et voyages pour l'Etape du Tour, produits de notre collection cyclisme performance et autres lots le coq sportif). - Voir la liste des lots plus bas - COMMENT PARTICIPER C'est très simple, il vous suffit de rejoindre notre CLUB LE COQ… Nike Skateboarding. Accueil | Protest Boardwear. Acheter vêtements femme et homme tendance | Livraison et retours gratuits. Neeed ♥ - Shop is all you Neeed !
Shop. Official website : collections, news, blog and online store. Life's better in a great hat. Optimo Hats. ROSS FEIGHERY PHOTOGRAPHY – BLOG. Here's two new portraits of Carol Lyn Black, a quick witted 89 year old actress from Los Angeles.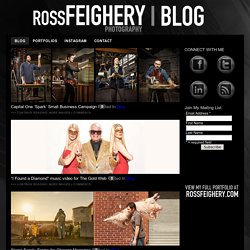 >>> CONTINUE READING: MORE IMAGES + COMMENTS Here's some photos of frozen beaches along the Chicago & Indiana Dunes shoreline. I've been anxiously awaiting another layer of ice to coat the beaches but due to the oddly warm temperatures in Chicago during the last few weeks, none of the beaches have been freezing this year! Boutique. OBEY GIANT STORE. Pictures on Walls - Home. MASC | Women's ready to-wear | Hidden in plain view. Shoes, Clothes and Accessories. 80's Purple. ART. CITADIUM SHOP STREET CULTURE - Citadium.
---