Internet
Ecommerce. 2010. Elfenbeinturm. Only a fool or Nicolas Sarkozy would go to war with Facebook | Technology | The Observer. Oscar Wilde described foxhunting as "the unspeakable in full pursuit of the uneatable".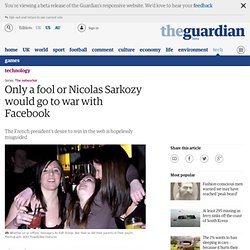 If Wilde had been able to see the diminutive tyrant who is currently president of France going on last week about bringing the internet to heel, he might have updated his hunting metaphor to "the clueless in pursuit of the unattainable" perhaps. Sarkozy was speaking at the eG8, a gathering of those whom the French government thinks are the important players in the online world. But in a way, he was just acting as a mouthpiece for the political, judicial, commercial and security establishments which are becoming increasingly hysterical about the way the internet is upending their respective applecarts.
In that sense, Sarky was echoing the fulminations of England's lord chief justice that "technology is out of control", by which he meant, as Peter Preston has pointed out, is beyond his control. Twitter. Nutzermeinungen im Internet beeinflussen Kaufverhalten erheblich. Der »User Generated Content« hat ein neues Gebiet erobert: Von Internet-Nutzern selbst verfasste Produktrezensionen sind zu einer ernstzunehmenden Größe geworden.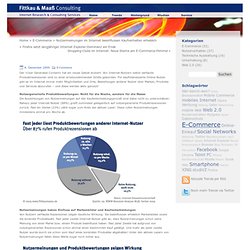 Für kaufinteressierte Online-Nutzer gibt es im Internet immer mehr Möglichkeiten und Orte, Bewertungen anderer Nutzer über Marken, Produkte und Services abzurufen – und diese werden aktiv genutzt! Nutzergenerierte Produktbewertungen: Nicht für die Nische, sondern für die Masse Die Auswirkungen von Nutzermeinungen auf den Kaufentscheidungsprozeß sind dabei nicht zu unterschätzen: Nahezu jeder Internet-Nutzer (88%) greift zumindest gelegentlich auf nutzergenerierte Produktrezensionen zurück. Fast ein Viertel (23%) zählt sogar zum Kreis der aktiven Leser: Diese rufen Nutzermeinungen mindestens einmal pro Woche ab.
---