Internet
Only a fool or Nicolas Sarkozy would go to war with Facebook | Technology | The Observer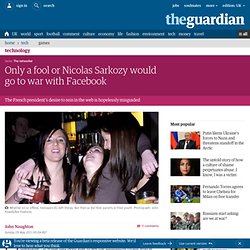 Whether on or offline, teenagers do daft things. But then so did their parents in their youth. Photograph: John Powell/Rex Features Oscar Wilde described foxhunting as "the unspeakable in full pursuit of the uneatable". If Wilde had been able to see the diminutive tyrant who is currently president of France going on last week about bringing the internet to heel, he might have updated his hunting metaphor to "the clueless in pursuit of the unattainable" perhaps.
Twitter
Nutzermeinungen im Internet beeinflussen Kaufverhalten erheblich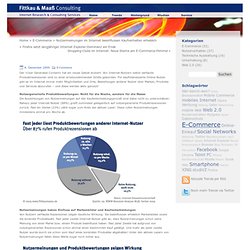 Der »User Generated Content« hat ein neues Gebiet erobert: Von Internet-Nutzern selbst verfasste Produktrezensionen sind zu einer ernstzunehmenden Größe geworden. Für kaufinteressierte Online-Nutzer gibt es im Internet immer mehr Möglichkeiten und Orte, Bewertungen anderer Nutzer über Marken, Produkte und Services abzurufen – und diese werden aktiv genutzt! Nutzergenerierte Produktbewertungen: Nicht für die Nische, sondern für die Masse Die Auswirkungen von Nutzermeinungen auf den Kaufentscheidungsprozeß sind dabei nicht zu unterschätzen: Nahezu jeder Internet-Nutzer (88%) greift zumindest gelegentlich auf nutzergenerierte Produktrezensionen zurück. Fast ein Viertel (23%) zählt sogar zum Kreis der aktiven Leser: Diese rufen Nutzermeinungen mindestens einmal pro Woche ab.