App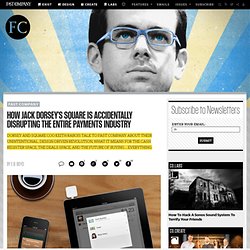 How Jack Dorsey's Square Is Accidentally Disrupting The Entire Payments Industry
The new payment system that Square launched today is going to have a profound effect on how people pay for stuff in the real world—perhaps as profound as the iTunes store has had on the distribution and sale of digital media. And in the process, it will likely upend the entire payments industry. The interesting thing, though, is that it turns out founder Jack Dorsey never really planned this. His initial goals were much more modest: help people who were cut out of the mainstream payments business accept credit cards. To that end, Square's story holds some important lessons about how entrepreneurs trying to solve a simple problem can sometimes find themselves stumbling onto a huge opportunity. Square's origin story is well known: Dorsey's former boss and good friend (and eventual co-founder) Jim McKelvey lost a sale for his hand-blown glass because he had no way of accepting credit cards.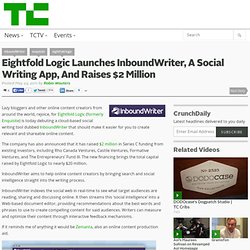 Eightfold Logic Launches InboundWriter, A Social Writing App, And Raises $2 Million
Lazy bloggers and other online content creators from around the world, rejoice, for Eightfold Logic ( formerly Enquisite ) is today debuting a cloud-based social writing tool dubbed InboundWriter that should make it easier for you to create relevant and shareable online content. The company has also announced that it has raised $2 million in Series C funding from existing investors, including Rho Canada Ventures, Castile Ventures, Formative Ventures, and The Entrepreneurs' Fund III. The new financing brings the total capital raised by Eightfold Logic to nearly $20 million. InboundWriter aims to help online content creators by bringing search and social intelligence straight into the writing process. InboundWriter indexes the social web in real-time to see what target audiences are reading, sharing and discussing online.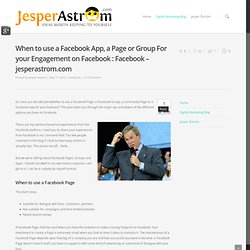 When to use a Facebook App, a Page or Group For your Engagement on Facebook
Date: May 17, 2010 at 5:34 pm So, have you decided yet whether to use a Facebook Page, a Facebook Group, a Community Page or a Facebook App for your business? This post takes you through the major ups and downs of the different options you have on Facebook. These are my opinions based on experiences from the Facebook platform.
What is the future of the mobile Internet? Are native applications going to be the dominant form of digital interaction? Will new and developing browser technologies like HTML5 make the mobile Web preferable to apps?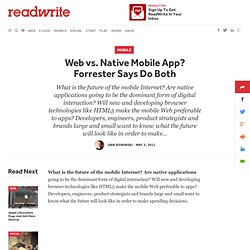 Web vs. Native Mobile App? Forrester Says Do Both
We all lead busy, hectic lives, which means that it's all too easy to forget a task here and there. A to-do list can really help keep you on track, but pen and paper lists are easily lost, especially if you are disorganized to begin with. Making a to-do list on the device you take everywhere — your phone — is a great way to get organized. You can whip it out at any point to add an item, or — joy of joys — cross one off. We've taken a look at the to-do lists in the App Store and have come up with five fresh options that will help your productivity in specific ways. Best of all, each one is free.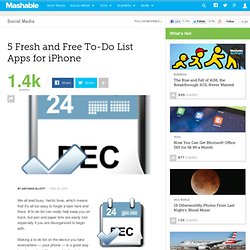 5 Fresh and Free To-Do List Apps for iPhone
Facebook Awarded Patent For Measuring Use Affinity Toward Applications
Next: iPhone app review | Blog
Next has just launched an iPhone app with a large range of stock to browse through, and full mobile commerce functionality. I've been trying out the new Next app to see how user friendly it is... Homepage / navigation The homepage on the app is simple, and provides four options; shop, a store finder, style ideas, and a help section: Users can then navigate to one of four main sections from the next screen by scrolling left or right: There are a lot of sub-categories which, on a standard mobile commerce site, may be slow to scroll up and down, but work well enough on the app, and allows shoppers to be more specific with their browsing.
Die App-Geschäfte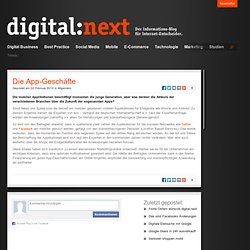 Die mobilen Applikationen beschäftigt momentan die junge Generation, aber was denken die Akteure der verschiedenen Branchen über die Zukunft der sogenannten Apps? Short News und Spiele sind die derzeit am meisten geladenen mobilen Applikationen für Endgeräte wie iPhone und Android. Zu diesem Ergebnis kamen die Experten von eco – Verband der deutschen Internetwirtschaft e.V. Laut der Expertenumfrage würden die Anwendungen zukünftig vor allem für Vernetzungen und standortbezogene Dienste genutzt.