Tutorials and Tips
reintroducing is the online portfolio of Matt Przybylski, an interactive developer from the Chicagoland area specializing in front end development.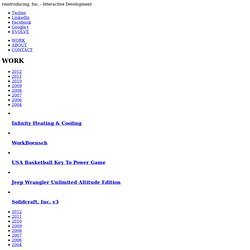 Timers vs. onEnterFrame | reintroducing.com Blogging Receptacle
Build an ActionScript 3.0 HTML Box with XML and CSS Support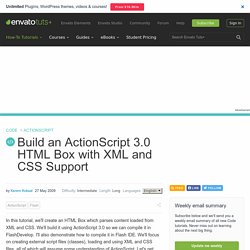 In this tutorial, we'll create an HTML Box which parses content loaded from XML and CSS.
Clean url generators are crucial for search engine optimization or just to tidy up the site navigation. They are even more important if you work with international characters, accented vowels /à, è, ì, .../ , cedilla /ç/ , dieresis /ë/ , tilde /ñ/ and so on. First of all we need to strip all special characters and punctuation away. The perfect PHP clean url generator | Matteo Spinelli's Cubiq.org
Overview In flash you can have text areas that are rendered as html.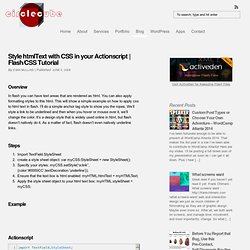 Style htmlText with CSS in your Actionscript | Flash/CSS Tutorial | circlecube
Loading dynamic data into Flash using AS3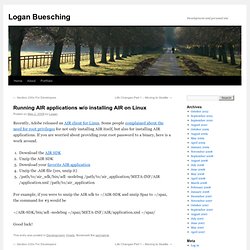 Recently, Adobe released an AIR client for Linux .
Logan Buesching » Running AIR applications w/o installing AIR on Linux
Using Google Maps' New Features for Flash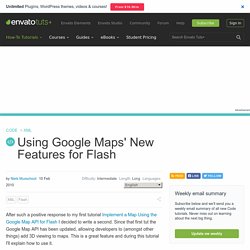 After such a positive response to my first tutorial Implement a Map Using the Google Map API for Flash I decided to write a second. Since that first tut the Google Map API has been updated, allowing developers to (amongst other things) add 3D viewing to maps.
1. anchor tag <a></a>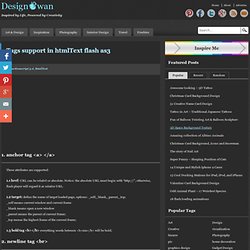 Tags support in htmlText flash as3
Writing an ActionScript 3 Tween Function - Flash
Now that we have set the foundation for the Tween animation in our Flash R project, we are ready to code the ActionScript that will run the animation. First, we will add an Event Listener to listen for a mouse click.