Tutorials and Tips
Timers vs. onEnterFrame | reintroducing.com Blogging Receptacle. Reintroducing is the online portfolio of Matt Przybylski, an interactive developer from the Chicagoland area specializing in front end development.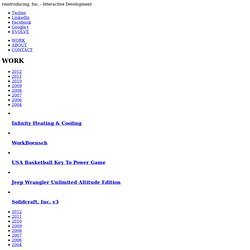 I'm currently employed as a senior interactive developer at Sapient and have freelanced in the past for companies such as Razorfish, DraftFCB, TribalDDB, and Arc. My previous focus was on the Flash Platform and I've now moved to HTML/CSS/JavaScript as my primary languages of choice. I'm always open to learning new technologies as I believe you've never learned enough in this evolving industry. Build an ActionScript 3.0 HTML Box with XML and CSS Support. In this tutorial, we'll create an HTML Box which parses content loaded from XML and CSS.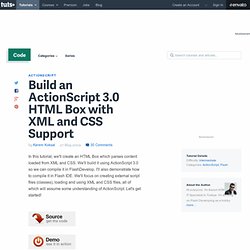 We'll build it using ActionScript 3.0 so we can compile it in FlashDevelop. I'll also demonstrate how to compile it in Flash IDE. We'll focus on creating external script files (classes), loading and using XML and CSS files, all of which will assume some understanding of ActionScript. Let's get started! The perfect PHP clean url generator | Matteo Spinelli's Cubiq.org. Clean url generators are crucial for search engine optimization or just to tidy up the site navigation. They are even more important if you work with international characters, accented vowels /à, è, ì, .../, cedilla /ç/, dieresis /ë/, tilde /ñ/ and so on. First of all we need to strip all special characters and punctuation away. Style htmlText with CSS in your Actionscript | Flash/CSS Tutorial | circlecube. Overview In flash you can have text areas that are rendered as html.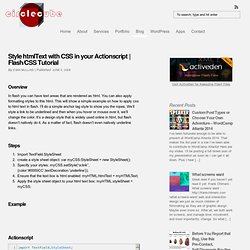 You can also apply formatting styles to this html. This will show a simple example on how to apply css to html text in flash. I'll do a simple anchor tag style to show you the ropes. We'll style a link to be underlined and then when you hover or mouse over it, we'll change the color. Logan Buesching » Running AIR applications w/o installing AIR on Linux. Recently, Adobe released an AIR client for Linux.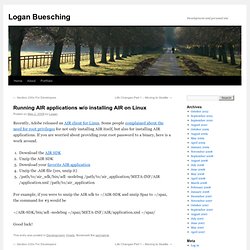 Some people complained about the need for root privileges for not only installing AIR itself, but also for installing AIR applications. If you are worried about providing your root password to a binary, here is a work around. Download the AIR SDKUnzip the AIR SDKDownload your favorite AIR applicationUnzip the .AIR file (yes, unzip it)/path/to/air_sdk/bin/adl -nodebug /path/to/air_application/META-INF/AIR/application.xml /path/to/air_application For example, if you were to unzip the AIR sdk to ~/AIR-SDK and unzip Spaz to ~/spaz, the command for #5 would be.
Using Google Maps' New Features for Flash. After such a positive response to my first tutorial Implement a Map Using the Google Map API for Flash I decided to write a second.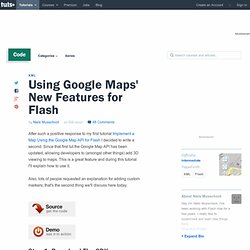 Since that first tut the Google Map API has been updated, allowing developers to (amongst other things) add 3D viewing to maps. This is a great feature and during this tutorial I'll explain how to use it. Also, lots of people requested an explanation for adding custom markers; that's the second thing we'll discuss here today. Step 1: Download The SDK Component. Tags support in htmlText flash as3. 1. anchor tag <a></a> Three attributes are supported: 1.1 href: URL can be relativl or absolute.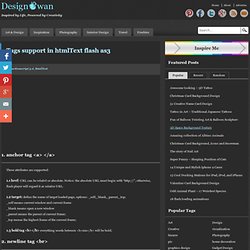 Notice: the absolute URL must begin with " otherwise, flash player will regard it as relative URL. Writing an ActionScript 3 Tween Function - Flash. Now that we have set the foundation for the Tween animation in our FlashR project, we are ready to code the ActionScript that will run the animation.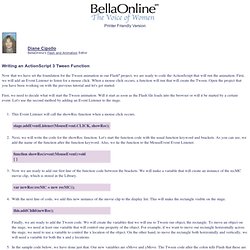 First, we will add an Event Listener to listen for a mouse click. When a mouse click occurs, a function will run that will create the Tween. Open the project that you have been working on with the previous tutorial and let's get started. First, we need to decide what will start the Tween animation. Will it start as soon as the Flash file loads into the browser or will it be started by a certain event.
---