Shopping Cart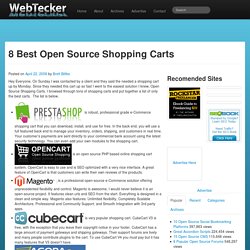 8 Best Open Source Shopping Carts
Hey Everyone, On Sunday I was contacted by a client and they said the needed a shopping cart up by Monday. Since they needed this cart up so fast I went to the easiest solution I knew, Open Source Shopping Carts. I browsed through tons of shopping carts and put together a list of only the best carts. The list is below. is robust, professional grade e-Commerce shopping cart that you can download, install, and use for free. In the back end, you will use a full featured back end to manage your inventory, orders, shipping, and customers in real time.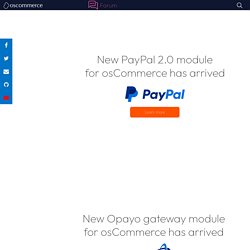 We provide you the tools to set up your very own complete and self-hosted online store website for free to market and securely sell products and services to customers worldwide. You have complete access to and total control of your online store and data. Our growing community of over 260,000 store owners, developers, and service providers are there to help you at every stage of running your online store and business.
Apache OFBiz offers a great deal of functionality, including: advanced e-commerce catalog management promotion & pricing management order management (sales & purchase) customer management (part of general party management) warehouse management fulfillment (auto stock moves, batched pick, pack & ship) accounting (invoice, payment & billing accounts, fixed assets) manufacturing management general work effort management (events, tasks, projects, requests, etc) content management (for product content, web sites, general content, blogging, forums, etc) a maturing Point Of Sales (POS) module using a rich client interface and much more all in an open source package! Apache OFBiz (The Apache Open For Business Project) is an open source enterprise automation software project licensed under the Apache License Version 2.0.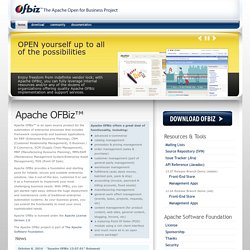 Open Source Shopping Cart Solution
Yotpo Increase your traffic, sales and brand awareness with product reviews Anyone that has experi.. read full article Jobs @OpenCart - Technical support Are you are a technical person who knows the in's and out's of OpenCart and could provide help to.. read full article OpenCart is designed feature rich, easy to use, search engine friendly and with a visually appealing interface. Unlimited Categories Unlimited Products Unlimited Manufacturers Multi Currency Multi Language Product Reviews Product Ratings Open Source Free Documentation Templatable Automatic Image Resize 20+ Payment Gateways 8+ Shipping Methods To view more OpenCart features click here.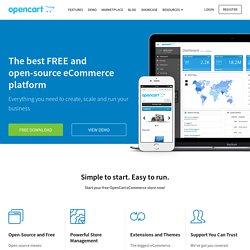 Zen Cart® truly is the art of e-commerce; free, user-friendly, open source shopping cart software. The ecommerce web site design program is being developed by a group of like-minded shop owners, programmers, designers, and consultants that think ecommerce web design could be and should be done differently. Some shopping cart solutions seem to be complicated programming exercises instead of responding to users' needs, Zen Cart® puts the merchants and shoppers requirements first. Similarly, other shopping cart software programs are nearly impossible to install and use without an IT degree, Zen Cart® can be installed and set-up by anyone with the most basic web site building and computer skills. There are hundreds of shopping cart programs available, but none come close to offering the level of options, features and support available with Zen Cart®.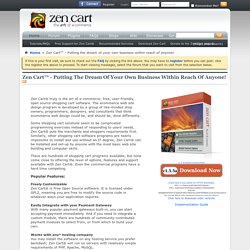 ZenMagick: Smart e-commerce