G+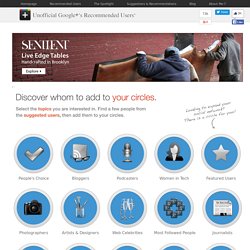 *Disclaimer: This website is not in any form associated or affiliated with Google.com. The right of all logos, photos and design elements displayed on the website are belong to their respective organizations and individuals. The categories are based on basic research on internet and website owners' personal opinions and do not necessarily reflect factual information.
The Google+ Hall of Fame
Google+ is not competing with Facebook. Of course, Google people has been doing benchmarking, but Google+ is just one piece in Google's big picture, their strategy in the long run. Google is known of its search engine, but where comes the money from?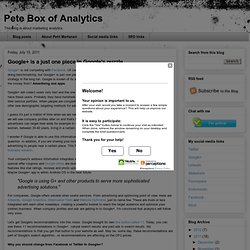 Google+ is a just one piece in Google's puzzle - Petri Mertanen's blog
as - Social network user grouping made easy.
Survival kit: Google+
Pääsin työmaille tovereita varhemmin: kas keltanokille nopeammat vihreät niityt. Sivusilmällä tuli muutenkin silmäiltyä kesän mielenkiintoisinta some-uutukaista, Google+:aa. Mitä sitten lomalta palaajan olisi hyvä ensi hätiin uutukaisesta ymmärtää?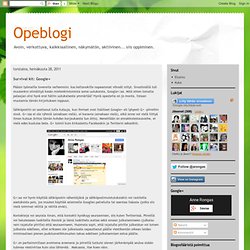 It's hard to believe that it was just one month ago today that Google+ launched. So much has happened to the fledgling service in this short time. Here is a look at both the highlights and lowlights of Google's newest social network!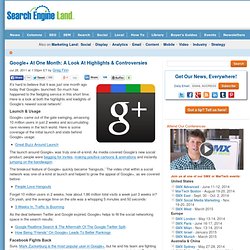 Google+ At One Month: A Look At Highlights & Controversies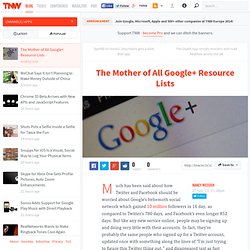 Much has been said about how Twitter and Facebook should be worried about Google's behemoth social network which gained 10 million followers in 16 day, as compared to Twitter's 780 days, and Facebook's even longer 852 days. But like any new service online, people may be signing up and doing very little with their accounts. In fact, they're probably the same people who signed up for a Twitter account, updated once with something along the lines of "I'm just trying to figure this Twitter thing out," and disappeared just as fast leaving in their wake a sad little egg avatar and little else.
Google+ News | Google Plus Reviews | Google+ Apps | Google+ Games