Developer
Q1) What is the purpose of your visit to Mumbai?Today, India is one of the largest growing markets globally. India is uniquely positioned as it is on the crossroads of rapid globalization and we are seeing amazing new things which are exclusive to the country.
Latest Programming Language | Downloads Tool | Operating Systems | Developer News | Technology News In India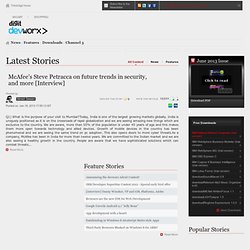 jLayout — JavaScript Layout Algorithms - bramstein.com
jLayout — JavaScript Layout Algorithms The jLayout JavaScript library provides layout algorithms for laying out components. A component is an abstraction; it can be implemented in many ways, for example as items in a HTML5 Canvas drawing or as HTML elements.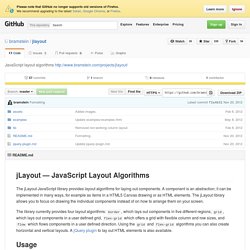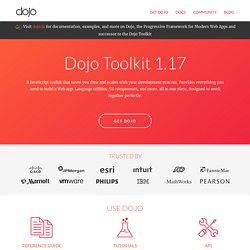 Instantly Better Web Apps Dojo saves you time and scales with your development process, using web standards as its platform. It's the toolkit experienced developers turn to for building high quality desktop and mobile web applications. From simple websites to large packaged enterprise applications whether desktop or mobile, Dojo will meet your needs. Internet Explorer 6-9 Firefox 3.6+
I created this website to teach PRACTICAL PHP to non-nerd web designer types. Because of the nature of the Web today (Web 2.0, Ajax, shopping carts etc ...), PHP is now one of the key languages that I believe every web designer should learn. You could say in fact, that PHP is one of the four pillars of web design: HTML CSS PHP Javascript Oh yea, PHP is more important and is used more often than even Javascript!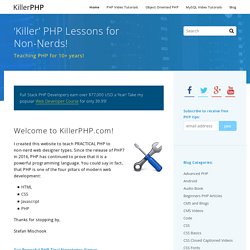 PHP Video Tutorials For Web Designers - KillerPHP.com
Home - Bocoup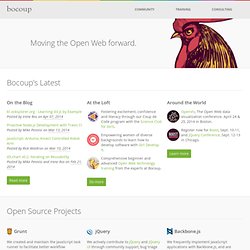 Grunt We created and maintain the JavaScript task runner to facilitate better workflow automation tools for web developers. Today, Grunt is one of the fastest-growing Open Source projects on the web. jQuery We actively contribute to jQuery and jQuery UI through community support, bug triage and fixing, feature development, and infrastructure donations like jQuery.org and the jQuery API Site.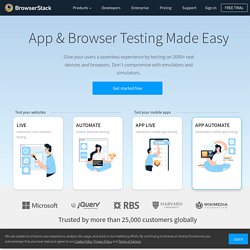 Live, Web-Based Browser Testing Instant access to all desktop and mobile browsers. Say goodbye to your setup of virtual machines and devices. View our full feature overview
It is currently Fri Jan 17, 2014 7:14 am View unanswered posts • View active topics Who is online In total there are 49 users online :: 5 registered, 0 hidden and 44 guests (based on users active over the past 5 minutes)Most users ever online was 82 on Sun Jan 12, 2014 3:26 pm Registered users: DrMax, edcedc, Google [Bot], PatrickGelm, RichardNus Legend: Administrators, Global moderators Birthdays
Free Web Tutorials • Index page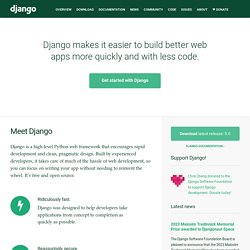 Django is a high-level Python Web framework that encourages rapid development and clean, pragmatic design. Developed by a fast-moving online-news operation, Django was designed to handle two challenges: the intensive deadlines of a newsroom and the stringent requirements of the experienced Web developers who wrote it. It lets you build high-performing, elegant Web applications quickly.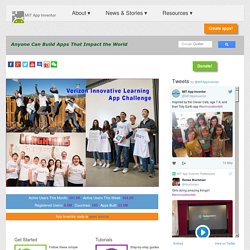 There is yet another version of the Mac and Windows Setup! Why so many versions? And what we are doing about it?! The MIT AI2 Companion is a copy of every component of App Inventor. When we update the App Inventor components, we need to distribute a new Companion which contains the updated components. The Android Emulator, which we distribute with the Setup Tools, has a copy of the MIT AI2 Companion embedded in it.
Explore MIT App Inventor | Explore MIT App Inventor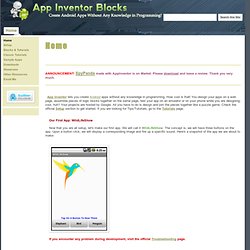 App Inventor Blocks
All the components you drag to Screen1 can be seen under Components pane. We need to change some properties of the VerticalArrangement1. Select VerticalArrangement1 under Components pane. On Properties pane you will see the properties of the component you selected.
The Best JavaScript Frameworks and Libraries for Web and Mobile
Brand new course! No coding experience? We'll teach you all you need to know to make iPhone apps on our iOS App Training for Non Developers course! JavaScript has been frustrating developers for years, but with javaScript libraries and frameworks like jQuery JavaScript is regaining its street cred. jQuery is not of course the only javaScript framework around, but the main reason that JavaScript is becoming more interesting and exciting is the ever increasing development of JavaScript libraries and frameworks.