Writing
Writerisms and other Sins: A Writer's Shortcut to Stronger Writing. Philosophical Quotes, Thought-Provoking Sayings. Related Quotes Hmmm Philosophy Truth Wise Words We are more often treacherous through weakness than through calculation.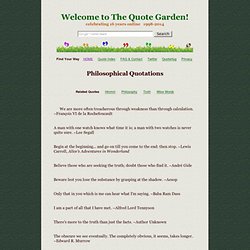 ~François VI de la Rochefoucault A man with one watch knows what time it is; a man with two watches is never quite sure. ~Lee Segall. Danteworlds. Short Stories at East of Web. One Sentence - True stories, told in one sentence.
Oneword.com. Makes Me Think - MMT - Today's Thought-Provoking Life Stories. "Never Date a Writer" by xstephens [821940-1] - RedBubble. Never date a writer because she'll fictionalize everything.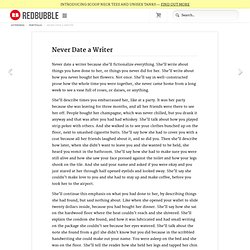 She'll write about things you have done to her, or things you never did for her. She'll write about how you never bought her flowers. Not once. Overcome Writer's Block, Suggestions To Get You Writing Again. ^ Back to top We use cookies, just to track visits to our website, we store no personal details.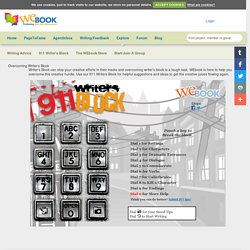 ACCEPT COOKIES What are cookies? Login Overcoming Writer's Block Writer's Block can stop your creative efforts in their tracks and overcoming writer's block is a tough task. Cure writer's block with writing prompts - writing tips character name generator. I Wrote This For You.
---