Blogs/ Collections
RVCAloha Grafitti Featuring DMOTE, REMIO and NORM Video Longstanding skate and surf imprint RVCA took to the shores of Hawaii recently for a six-week initative dubbed #RVCAloha. While some of RVCA's most prolific surfers and skater took part, the project also brought together graffiti writers and st... nanamica 2014 Spring GORE-TEX Soutien Collar Coat
HYPEBEAST. Online Magazine for Fashion and Culture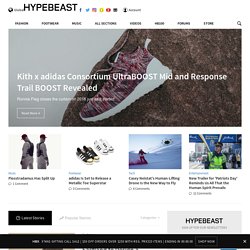 The Oatmeal - Comics, Quizzes, and Stories
Stuff White People Like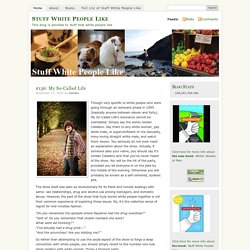 Every four years the planet comes together to celebrate the World Cup and since white people make up a portion the world, they are not immune to the excitement. However, before you start planning out long watching sessions with white people you should be aware of exactly why white people get so excited about the World Cup. Though you may be waiting on bated breath for your favorite sport on a global scale, white people like the World Cup because it allows them to pretend they are European for a few weeks, and more importantly, it allows them to get drunk at odd hours. Virtually every white person you speak to about the World Cup is incapable of remembering any actual event that took place during a game but can, with near total recall, remember how they got very drunk on Sangria during a Spain-Paraguay match at five in the morning.
You Are Not So Smart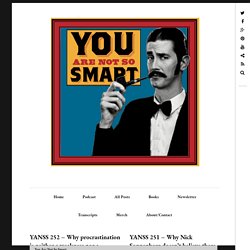 The Topic: Arguing The Guest(s): Hugo Mercier and Jeremy Sherman The Episode: Download – iTunes – Stitcher – RSS – Soundcloud In 2008, renowned programmer and essayist Paul Graham wrote a guide for citizens of cyberspace titled "How to Disagree."
How to be Smarter: Book Recommendation: Eat That Frog! by Brian Tracy. This quick read is a series of 21 easy-to-understand productivity strategies, each just a few pages long. It would be perfect to read a strategy each morning while eating breakfast or on a work commute to get into the right mindset to be productive for the day. This would also be a great book to give someone starting a new job or big project. How to be Prettier: SP&A Exclusive Discount Code: With the promo code SmartPrettyAwkward2014, SP&A readers can get 15% off your entire order at Aromaflage.
Smart Pretty and Awkward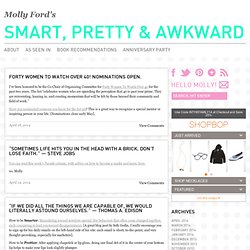 not martha
links: the home · comments [6] · 01-14-2014 · categories:links · the home · links: misc Er Wang Dong cave in China so huge it has its own weather system | Mail Online. I love caves, it's been far too long since I've been in one.
Zebra Sounds
**KIWILICIOUS**:
The Rubens have been making a name for themselves both locally and internationally since just being formed in 2011. The band is made up of three brothers, Sam, Elliot and Zaac Margin and childhood friend Scott Baldwin and also William Zeglis. Their soulful rock sounds have been extremely popular on the airwaves and for the past year, they have been around the world playing at sold out tours and shows.
BOY MOMENTS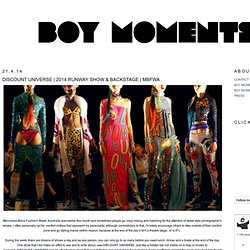 MenClick.net
Why They're Hot
Blog - Swag Like Me
EPICponyz
WHATtheCOOL
E T H N I C I T Y // HAWAII — EthnicityOfUs
Whitezine | inspire Create and Share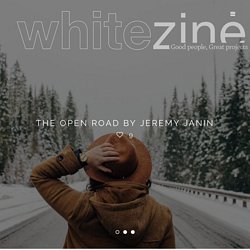 Simon Bouisson is a young french film maker and a new media artist. He likes to travel around the globe making videos as a fun and original diary. Tokyo Reverse is an awesome video of a man travelling across the city backwards but the film is mou... Read more Converse is back with its art contest Photo Clash. A great idea to create a link between the artist and his public.
The Daily What
The mysterious Moon Melon, with it's deep, vivid blue color, is said to come from Japan with a unique ability to change the taste of other foods with just a few bites. But like many things found on the internet that seem too weird to be true, the Moon Melon is just that. The exotic fruit has made quite a recent stir, thought the circulating image was reported to be a couple of digitally altered slices of plain ol' watermelon by The Daily Dot in July of 2012.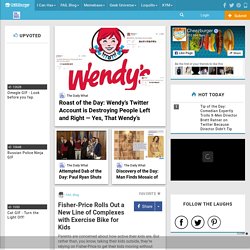 This Blog Rules | Why go elsewhere?
4 Badass Real People Played by Leonardo DiCaprio You know Leonardo DiCaprio is this generation's blazing gun and shooting star, as since Titanic, the man proved more than once that he can play a dramatic character at the art level. There are some people who also say that basically Leo is playing the same persona over and over again, in all his movies, you know, the guy that gets seduced by the promises of rampant capitalism, and gives us a bite, … [Read More...] 5 Fake Music Bands We Wished Were for Real You know when you see some movie that is music - centered or not, doesn't really matter, but comes with a fake music band or artist you wished was for real?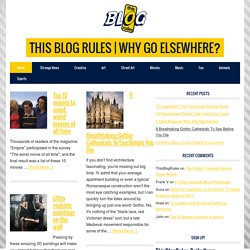 Awesome Stuff
The Curious Brain
These Days Very interesting sounds by Wizard Oz! Enjoy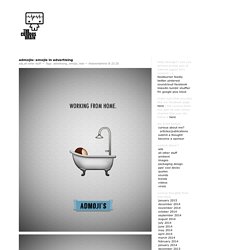 Goodmorning & Goodnight | A refreshing dose of interesting
Adieu Dec 31st, 2011 Goodbyes are always hard and this one is no exception.
As you guys may remember from my last beauty post, I am pretty lazy when it comes to hair and makeup. I rarely use a hair dryer because I don't really know what to do with one. And my version of an updo usually consists of some sort of ponytail or messy bun. So I love it when people who know what they are doing in the hair department teach me some skillz (yep, the "z" means we mean business). The girls from Irrelephant were in town recently and taught me how to create this easy floral updo which took less than 15 minutes and looks so, so pretty. It's perfect for upcoming Valentine's Day...or really, any day that you just want a little extra floral pep in your step!
Oh Joy!
Peppermint Bliss - Follow your bliss... what's yours?
wet behind the ears.
I Wrote This For You