Blogs/ Collections
Essentials: Lindsay Merkle Having spent a large part of her creative tenure in advertising agencies, Lindsay Merkle's pursuits in branding, marketing and sales have allowed her to work with some of the largest names in sports and fashion. A few years ago, she channeled h... Nike LeBron 11 EXT "Denim"
HYPEBEAST. Online Magazine for Fashion and Culture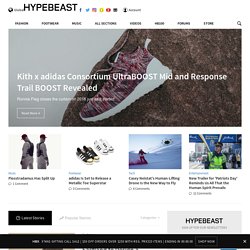 The Oatmeal - Comics, Quizzes, and Stories
Stuff White People Like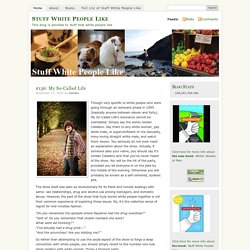 Every four years the planet comes together to celebrate the World Cup and since white people make up a portion the world, they are not immune to the excitement. However, before you start planning out long watching sessions with white people you should be aware of exactly why white people get so excited about the World Cup. Though you may be waiting on bated breath for your favorite sport on a global scale, white people like the World Cup because it allows them to pretend they are European for a few weeks, and more importantly, it allows them to get drunk at odd hours. Virtually every white person you speak to about the World Cup is incapable of remembering any actual event that took place during a game but can, with near total recall, remember how they got very drunk on Sangria during a Spain-Paraguay match at five in the morning.
You Are Not So Smart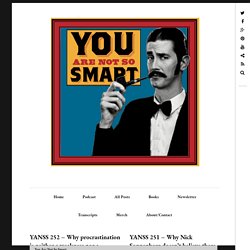 The Topic(s): Placebo Sleep and Science The Guest: Christina Draganich The Episode: Download – iTunes – Stitcher – RSS – Soundcloud In 1998, The Journal of the American Medical Association published research that debunked therapeutic touch and moved the well-meaning mystical practice out of the kingdom of medicine and into the abandoned strip mall of quackery.
I've been honored to be the Co-Chair of Organizing Committee for Forty Women To Watch Over 40 for the past two years. The list "celebrates women who are upending the perception that 40 is past your prime. They are reinventing, leaning in, and creating momentum that will be felt by those beyond their community and field of work." Have you nominated someone you know for the list yet? This is a great way to recognize a special mentor or inspiring person in your life. [Nominations close early May].
Smart Pretty and Awkward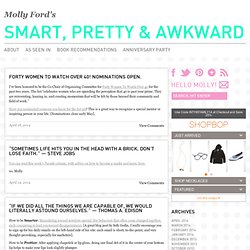 not martha
Easter Egg Food Color Palette If you need to do some last moment Easter Egg dying these instructions will help you create simple, vibrant eggs using supplies from the grocery store. A few years back I spent some time using good old fashioned food color to dye very saturated and vibrant eggs for my Easter Surprise Eggs project. I wasn't quite happy with a few of the colors made back then so this week I set out to refine the process and what went from an easy and cheerful activity quickly turned into obsessive madness as my kitchen and dining room were turned into an egg dying laboratory. Timers were used, results were carefully examined and tweaked, charts were made, home production assembly lines were perfected.
Zebra Sounds
**KIWILICIOUS**:
The Rubens have been making a name for themselves both locally and internationally since just being formed in 2011. The band is made up of three brothers, Sam, Elliot and Zaac Margin and childhood friend Scott Baldwin and also William Zeglis. Their soulful rock sounds have been extremely popular on the airwaves and for the past year, they have been around the world playing at sold out tours and shows.
BOY MOMENTS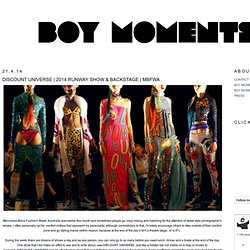 MenClick.net
Why They're Hot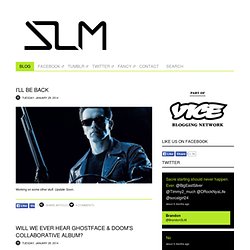 Blog - Swag Like Me
For hip-hop heads, it feels like there are too many albums to count that have been announced only to, well, never actually come to fruition. That's especially true of collaborative projects, with one rapper declaring in an interview that he or she has plans to drop an album with one of their friends, collaborators, etc... Seriously, whether it's RiFF RAFF and Drake or Ghostface Killah and DOOM, it seems as if we hear more press rumblings about these records than actual music. And in the case of that GhostDOOM album, fans of both have been itchin' for it since the Wu-Tang Clan spitter dropped Fishscale back in March 2006. That full-length was one of the year's best while serving as his fifth solo affair to date.
EPICponyz
New York City-based photographer Klaus Enrique (previously featured here) created an awesome series of portraits entitled Arcimboldo. The series was inspired by the works of 16th century Italian painter Giuseppe Arcimboldo, who was best known for creating painted representations of people using things like fruits, vegetables, flowers, and fish arranged in such a way that the objects formed recognizable likenesses of his subjects.Klaus Enrique does the same thing, only instead of painting his subjects, he arranges actual pieces of fruit, vegetables, flowers, meat, candy, animals, insects, and more to create his portraits. He began by recreating some of Giuseppe Arcimboldo's paintings using the same objects depicted in the original paintings. Then he expanded his series to include portraits of modern day figures, both real and fictional, like Ghandi, Princess Diana, Darth Vader, and Frankenstein's Monster.
WHATtheCOOL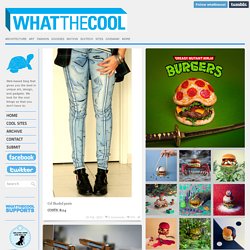 E T H N I C I T Y // HAWAII — EthnicityOfUs
Whitezine | inspire Create and Share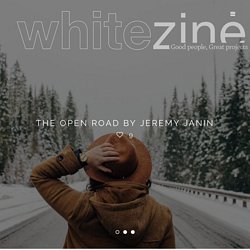 Simon Bouisson is a young french film maker and a new media artist. He likes to travel around the globe making videos as a fun and original diary. Tokyo Reverse is an awesome video of a man travelling across the city backwards but the film is mou... Read more Converse is back with its art contest Photo Clash. A great idea to create a link between the artist and his public.
The Daily What
This Blog Rules | Why go elsewhere?
5 Cute Animal Facts that Will Melt Your Heart By Jessica Londin Animals are beautiful creatures and some animal habits are just too cute not to explore further, especially if you are a fan of the softer side of the wildlife. If you are tired of the same old feline photos that over saturate social media feeds, then let's dig deeper, swim in colder waters, and fly higher in order to see some animals' true beauty. Join us as we travel the world in the search of … [Read More...]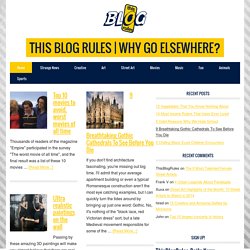 Awesome Stuff
The Curious Brain
These Days Very interesting sounds by Wizard Oz! Enjoy
Goodmorning & Goodnight | A refreshing dose of interesting
Oh Joy!
Peppermint Bliss - Follow your bliss... what's yours?
wet behind the ears.
I Wrote This For You