Comics
Broodhollow » A cosmic horror adventure comic by Kris Straub. 28p01. Sin Titulo. Mystery Babylon – Kick Girl - O Human Star - by Blue Delliquanti. Monsterkind. 120written by Taylor on April 15th, 2014 6:00PM EST Oh, I guess that's him.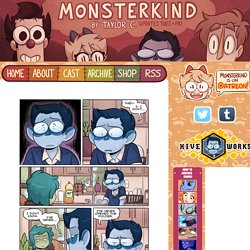 Well, he seems...graceful. Today was a double update, so if you missed page 114, click the previous button! Hey there, guys! Thank you so much for letting me skip Friday to work on these pages more. Platinum Black » A Comic by Kelly Turnbull. Shigabooks. Upcoming Depravity in Demon by Jason Shiga | July 23, 2014, 6:48 am For those of you following Demon, I hit an important milestone today.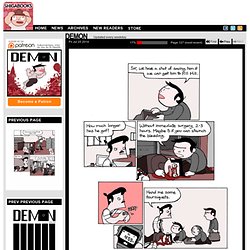 If you've made it this far, congratulations! I designed Demon to unfold at an incredibly slow pace. I can't even imagine how frustrating it would be to read 125 pages of comics over half a year and still not even know what the story's about. Alpha Flag - Updates every Thursdayish. JUST ANOTHER SHEEP - Eve of Destruction- Page One. Yesterday, youth all across America poured into the streets in a frenzy of utter mayhem.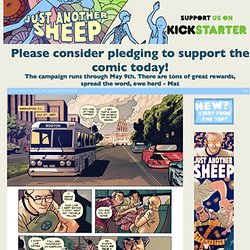 In unison they roared, "We want sheep, we want sheep..." No doubt referring to JUST ANOTHER SHEEP, the soon-to-be world renowned webcomic . BATTLE DOG. THUNDERPAW: IN THE ASHES OF FIRE MOUNTAIN. Monster Pulse. Judecca. Page 1 | Gingerhaze. The Last Mechanical Monster. I'm Back from Space, and I Brought Sentient Cubes with Me.
Stand Still. Stay Silent - webcomic. Outrunners. The End » Updates Tuesdays and Fridays! TRI/P. Oyster War | - A Webcomic by Ben Towle. Artagem Graphic Library - Shattered With Curve of Horn – An Online Graphic Novel. Balazo.net - Stories in pretty pictures. Bird Boy - by Annie Szabla. aRTD - A Redtail's Dream - webcomic. Propeller | A Superpowered Suspense Story. Kill Six Billion Demons » Praise YISUN and raise your skinny fists to heaven. Fox & Willow | sadsausagedogs.com. Nimona | Gingerhaze. The Fox Sister - Chapter 2 Page 34. Next Town Over - Weekly Western Webcomic Full of Steam, Sorcery & Secrets. Monster of the Week - The Complete Cartoon X-Files.
Go ahead and call this episode silly because it's about a talking tattoo, but I dig it so much.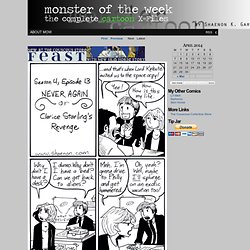 In addition to Mulder visiting Graceland and Scully getting her groove back, there's the opening scene where Scully points out that their latest informant clearly lifted his government-conspiracy story from a "Rocky and Bullwinkle" story arc. I know people talk about "Home," but casting Jodie Foster as a disembodied voice that tells a man to kill people is the sickest thing this show ever did.
Headache. Axe Cop. ULTRASYLVANIA - Looking For Group. Romantically Apocalyptic - 45. Basic Instructions Before Leaving Earth. Sensual Burlap. Updated Mondays.
Derelict: Updates Mondays and Fridays. Spacetrawler - mon. & wed. Goblins. Atomic Robo. POWER NAP - the sleep of reason brings forth monsters. False Positive. Explosm.net - Home of Cyanide & Happiness. Monster Pulse. El Esqueleto The Skeleton on The Duck : El Esqueleto Issue #4 Page 10. Minion Comics - IAN JAY - High-Quality Comics Since 2005. Saturday Morning Breakfast Cereal. By Ramón Pérez » Current. Outside of the comments section, january 10 2012 was my last official post. definitely been a while. it's been a wild year and half. my career has skyrocketed in various different directions. 2012 was full of promotion and travel, i was barely home, and when i was i was squeezing in what work i could to make ends meet. 2013 has been a continuation, though i purposefully cut down on travel in order to refocus on work. while fantastic it's been a blur. it seems time moves quicker and quicker as you get older and take on more responsibility.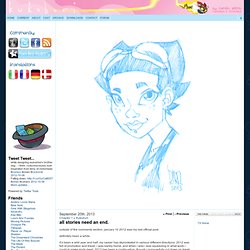 Unsounded. April 18, 2014, at 12:00 AM Two pages today.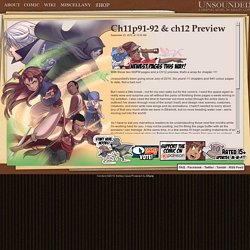 Fear the sinister Deadly Nevergreen House Special, the undoing of many an adventurer! The script on the second page is safe if you get a pop-up, no worries. The green fellow at the bottom is a goblin named Kilroy, a roleplaying character belonging to the lovely Greg H., who got himself a cameo off the last Kickstarter. You'll see him again in the coming pages. The Perry Bible Fellowship. Bearmageddon - Bearmageddon. The Meek. Yep. 6-Commando - An Online Graphic Novel by Mathieu Moyen. So close.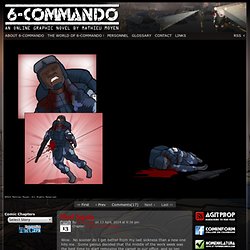 So very close now. And as I attempt to avoid freaking out in advance of the start of Season 2, I give you this piece of tomfoolery (matfoolery?) To tide you over until next week's Fateful Day, when we gear up for another chapter of 6-Commando. This week, I have a little bit of nitty-gritty to add to the mix, and it's about RSS feeds. I can already imagine everyone's eyes glazing over. Blog | reMIND. I don't usually bring up world events on this blog but I just can't help myself.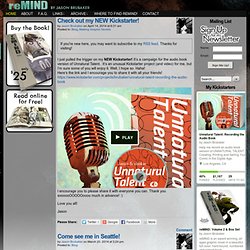 This is just too big to ignore. So we all know about the current war going on in Syria and Damascus (the capital of Syria) right? You have probably been hearing about all the drama between Israel, Russia, China and the US and everyone else right? Vattu. Lovecraft is Missing. Boxer Hockey. Red Moon Rising | a steampunk fantasy webcomic. Bucko - A Comical Murder-Mystery. Steve Ogden's Moon Town - String Theory - A Weekly Updated Downward Spiral. Dresden Codak.
Lackadaisy :: Lackadaisy Haymaker. The Calinda is a dance with roots tracing back to African martial arts.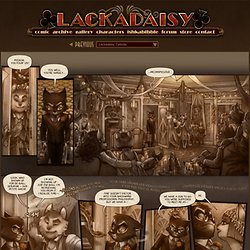 It appears to have made its way to the American South with the slave trade where it intermingled with Creole and Cajun cultures and developed a new reputation as a bawdy, forbidden dance with implications of Voodoo practice. In sidelong reference to the Calinda dance, a girl named Colinda occasionally appears in Louisiana folksongs - the popular Cajun tune "Allons Danser Colinda" among them. Two Guys and Guy - Updates on Mondays, Wednesdays and Fridays. Hipster Hitler. Warbot. Gone with the Blastwave - Type E webcomic. The Zombie Hunters. Rock, Paper, Cynic: a webcomic for the unimpressed.
---