Sites occaz / Second hand
Vintage:drum:junkies. SECOND-HAND CYMBALS MARKET- Cymbales d'occasion. Segundamano. Zikinf - Annonces. Audiofanzine. Leboncoin - Zique. Worth Point. Sold For: Click here to upgrade your account Sold Date: 10/29/2010 Channel: Online Auction Source: eBay For sale or auction: 1959 Burgundy Sparkle WFL/Ludwig 3-piece kit: 9"x12", 16" x 16", 18" x 20".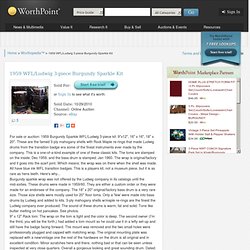 These are the famed 3-ply mahogany shells with Rock Maple re-rings that made Ludwig drums from the transition badge era some of the finest instruments ever made by the company. This is a one-of-a-kind example of one of these classic kits.
---