Italian Futurism
Get flash to fully experience Pearltrees
Italian writer Filippo Tommaso Marinetti founded Futurism when he published his Futurist Manifesto in Parisian newspaper Le Figaro on 20th February 1909.
Italy's Futurists - led by Filippo Marinetti - exploded onto the European cultural scene during and after the Great War with all the garishness and fizz of some of their founder's anarchic recipes. But was the menu taken up by Mussolini and his Fascists? Richard Jensen investigates.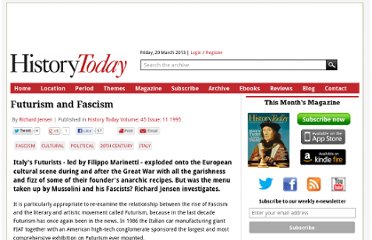 Futurism was an international art movement founded in Italy in 1909. It was (and is) a refreshing contrast to the weepy sentimentalism of Romanticism.
RA Bertelli, Mussolini , 1933 We usually associate modern art, and modernism in general, with left wing politics.
How an artistic trend anticipated a counterrevolutionary tendency