Verschillende links
Everything Else Nov 2005 curtains, shades, pillows, cushions, etc Waverly Curtains archived mostly extremely strange dolls Doll Maker's Journey clothing, aprons, baby things, crafts, dolls, curtains, bed spreads, toys, etc Sewing.About baby things, bridal, charity, dolls, clothing, sewing organizers, curtains, bedspreads, pillows, purses, kid's stuff, pet stuff, etc Sewing.org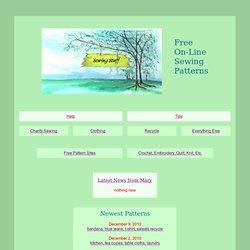 Sewing Stuff - free sewing patterns
Sewing In No Mans Land
2008 February « my half of the brain
"We're excited to bring you a new contest for 2008! Chronicle Books and CRAFT Magazine are bringing you a contest for all you Amy Butler fans and sewers around the US world! For a two-month period crafters can submit pictures of their own Amy Butler inspired bag online to the flickr group called ' Amy Butler Sew Inspiring Contest '. At the end of the two-month period Amy Butler will pick a top winner and five runners up among the entries. "The grand prize winner will receive a Janome Memory Craft 6600P Sewing Machine with a retail value of $1999, Amy Butler Fabric, Amy Butler's Midwest Modern (published by STC), Amy Butler's In Stitches , and the Sew-It Kit (both published by Chronicle Books).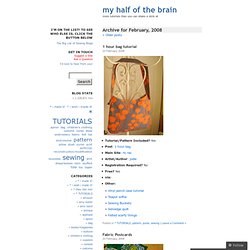 everyday beautiful: Featured Sewing Tutorial-School Bags
Having 2 kids
i have to say...
CSS09logoSM.jpg (image)
indietutes
d.png (image)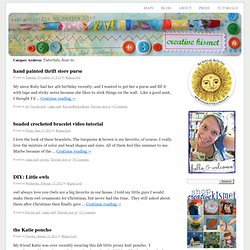 Creative Kismet » Tutorials, how to
hand painted thrift store purse My niece Ruby had her 4th birthday recently, and I wanted to get her a purse and fill it with tape and sticky notes because she likes to stick things on the wall. Like a good aunt, I thought I'd … Continue reading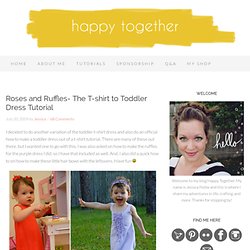 I decided to do another variation of the toddler t-shirt dress and also do an official how to make a toddler dress out of a t-shirt tutorial. There are many of these out there, but I wanted one to go with this. I was also asked on how to make the ruffles for the purple dress I did, so I have that included as well.
Roses and Ruffles- The T-shirt to Toddler Dress Tutorial
Please feel free to share links to your favorite kids' clothes tutorials in the comments today. Doing so will share the tutorial love and will also enter you to win one of two $25 gift certificates to Sew, Mama, Sew! this Friday! For more inspiration be sure to check out: Pattern Recommendation If you'd like to try a pattern, we suggest this one:
November 14 ~ Dress the Kids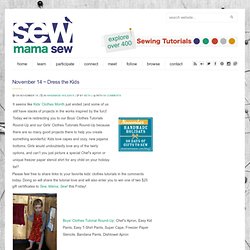 Google Afbeeldingen resultaat voor http://www.sewmamasew.com/media/blog/GTsmocket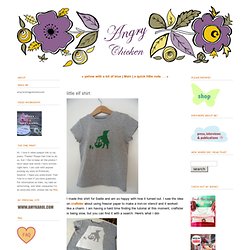 little elf shirt
I made this shirt for Sadie and am so happy with how it turned out. I saw ths idea on craftster about using freezer paper to make a iron-on stencil and it worked like a charm. I am having a hard time finding the tutorial at this moment, craftster is being slow, but you can find it with a search.
tutorial: easy headbands
What would you do if your child had long, wild curls that blew in their face all of the time? Some might look for the scissors...but I made head bands. Sure, you can buy them at any grocery store, but you might have all the materials tucked in a tub somewhere. I made these out of favorite outgrown clothing!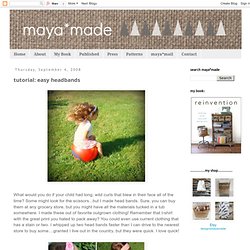 Here is a list of tutorial categories found on Make It and Love It. Click on any of the images below and you will be directed to a full list of the tutorials that fall under that specific category. If you still can't seem to find a certain project you're looking for, try using the search bar on my right sidebar. Type in a key work and it will search my site only for whatever you're looking for. Have fun browsing. Related posts: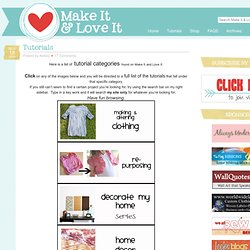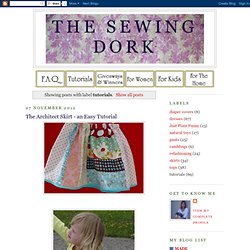 You are the architect for this skirt. No two skirts will be the same as you can choose any combination of fabrics to form the front panel of this skirt. For the back panel: fabric 42 inches wide by 17 inches high For front panel: several scraps of fabric For waistband: 22 inches of waistband elastic
tutorials
Tilda, Sfeer maken, Melly & me, handwerken, stoffen, patronen, naaien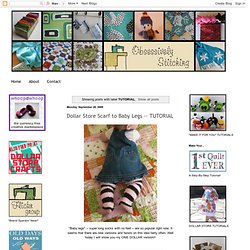 TUTORIAL
NOTE: I updated my pattern upload so it will print correctly!! My 3 Little Pigs Tutorial is so long I had to break it up into two parts. You can find the instructions for the piggies' houses here . (Click here for more pictures of these guys in action!)
The Polka Dot Chair: April 2009
Tutorials.
This Blog Friday, January 1, 2010 Tutorials For Little Ones: For Her:
refashion-ruffle
goody-goody
Image from How About Orange If you're like me, then you love pulling out the giant rubbermaid filled to the brim with scarves for Fall. We have so many, I've lost count. It's like seeing old friends again!
I made a basic tote bag. It's for the super cool police officer who led and taught the fifth grade D.A.R.E. program at our school. It will be filled with one hundred seven thank-you letters written by the fifth graders.
Stitches in Play: making for others = making fun
When I was at school I hated wearing a uniform. I thought they were ugly and uncomfortable and repressive and totally vile. I resented wearing the same thing every day and couldn't wait to get out of it. But, somewhere along the line since leaving school I seem to have devised my own uniform. It is, mostly, denim skirts.
floating world
Tutorials
Made By Lex
Tutorial List « Sew Chic and Unique
CRAFTIVISION
A Forest Frolic: Tutorials
Probleem bij het laden van de pagina
Cicada Daydream
The Polka Dot Chair: Tutorials
women's clothes
."Peek-A-Boo" Toy Sack Tutorial.
Footprints » Blog Archive » Going Green