Crafts
Patroon gehaakt babymutsje. Lees ook de extra informatie onderaan!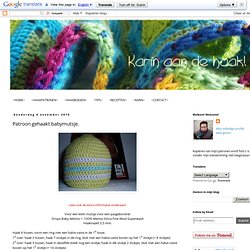 Voor een klein mutsje voor een pasgeborene! Drops Baby Merino = 100% Merino Extra Fine Wool Superwash Haaknaald 3,5 mm. Haak 4 lossen, vorm een ring met een halve vaste in de 1e losse. 1e toer: haak 3 lossen, haak 7 stokjes in de ring, sluit met een halve vaste boven op het 1e stokje (= 8 stokjes) Family and Parenting Videos- Kids Crafts, Travel, Parenting Issues, Health and More! - Kaboose.com. Lava Lamp - How to Make a Lava Lamp - Homemade Lava Lamp Video. Even if your little ones can't appreciate the days of bell bottoms and disco, they'll love this DIY light.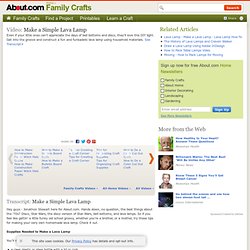 Get into the groove and construct a fun and funkadelic lava lamp using household materials.See Transcript Hey guys - Jonathon Stewart here for About.com. Hands down, no question, the best things about the '70s? Recycle a Soda Bottle into a Coin Purse. Home » $1 and Free, Accessories, cheap crafts, Food Crafts, Headline 9 February 2009 284,595 views 48 Comments by heather Did you know that 80% of plastic bottles aren't recycled?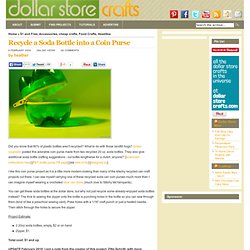 What to do with those landfill hogs? Green Upgrader posted this adorable coin purse made from two recycled 20 oz. soda bottles. Silly Eagle Books: decorating. I've been thinking about this beautiful valentine key wall art from Design Sponge since February.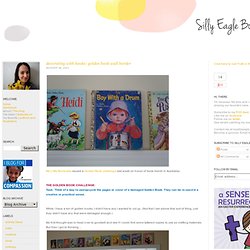 I pinned it of course, and it's been sitting on my craftastic board since then. Thanks to the Pinterest challenge, I finally got around to trying it out this weekend. NoBiggie. This is a widgeted area which is called Featured Bottom Left.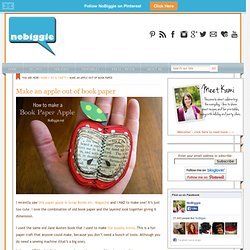 It is using the Genesis - Featured Posts widget to display what you see on the Family Tree child theme demo site. To get started, log into your WordPress dashboard, and then go to the Appearance > Widgets screen. Craft: Kirigami Fall Decorations. Just when I thought the fall season was here, we get hit with 90 degree weather, ugh!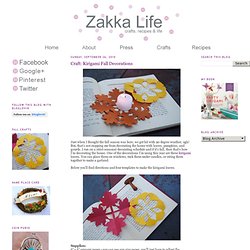 But, that's not stopping me from decorating the house with leaves, pumpkins, and gourds. I run on a strict seasonal decorating schedule and if it's fall, then that's how I'm decorating the house. One of the decorations I'm using this year are these kirigami leaves. You can place them on windows, tuck them under candles, or string them together to make a garland. Below you'll find directions and four templates to make the kirigami leaves. Oh!! I Like That... Craft, Tutorial, Recipe, Design, Etc... DIY Friendship Necklace – HonestlyWTF. As soon as Lauren and I saw this editorial in Flare Magazine, we knew we had to recreate these awesome, friendship bracelet-like necklaces.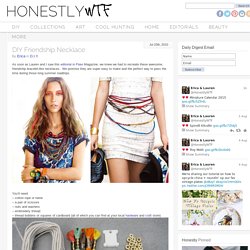 We promise they are super easy to make and the perfect way to pass the time during those long summer roadtrips. To make a 2-tone necklace, cut a long piece of rope and wrap two different colors of embroidery thread around its own bobbin. Home Work - The TP Flower Project. Some months ago I stumbled upon a really fun DIY with your kids blog post.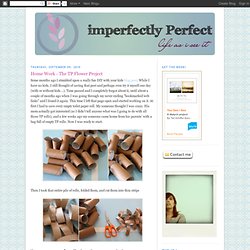 While I have no kids, I still thought of saving that post and perhaps even try it myself one day (with or without kids...). Time passed and I completely forgot about it, until about a couple of months ago when I was going through my never ending "bookmarked web links" and I found it again. This time I left that page open and started working on it. CAN'T STOP MAKING THINGS. SUPER Easy Ironing Board Cover Tutorial. If you'd like to see my (license free) Handbag Patterns please look here.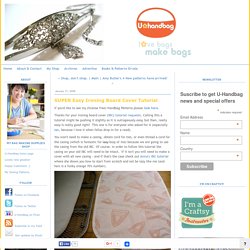 Thanks for your ironing board cover (IBC) tutorial requests. Calling this a tutorial might be pushing it slightly as it is outrageously easy, but then, really easy is really good right? Christmas Craft-a-long Week One: Make Something for Your House – Crafting a Green World. Here's to a handmade holiday!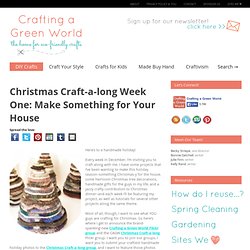 Every week in December, I'm inviting you to craft along with me. I have some projects that I've been wanting to make this holiday season–something Christmas-y for the house, some heirloom Christmas tree decorations, handmade gifts for the guys in my life, and a jazzy crafty contribution to Christmas dinner–and each week I'll be featuring my project, as well as tutorials for several other projects along the same theme.
Most of all, though, I want to see what YOU guys are crafting for Christmas. So here's where I get to announce the brand-spanking-new Crafting a Green World Flickr group and the CAGW Christmas Craft-a-long Flickr group. Crafts: The Great Cardboard Castle | School Crafts - School-Age Crafts & Art Project Ideas. Cardboard box keep To make the main structure of your castle (known as the keep), choose a box that will be proportionate to your action figures. Cut the back off the box for interior access and reinforce all the seams with masking tape. Cut windows, doors, and a drawbridge where you like.
Tissue box turrets Cut a large rectangular tissue box in half, then cut windows from both halves to make 2 turret bases. Cut a small upright tissue box into battlements and tape them to the tops of the bases. Disneyland® Paris: Sleeping Beauty Castle Paper Model. Click for larger/more image(s) Do not sell or re-distribute in any way or form. (But feel free to link to this page.) Difficulty Level: Features: Height: 29.5" Width: 24.5" Depth: 27.75" 693 full-color model parts (71 sheets) Illustrated instructions (37 pages) Drawbridge raises and lowers. Free Paper Toys, Paper Models and Paper Crafts at ss42.com.
Talk Like A Pirate Day Crafts. Sep02 by Guest Contributor Our Guest Contributor is Lindsey Boardman of Filth Wizardry Yaaarrr me hearties! Home. Projects. 9 Ways to Turn Old Musty Books Into Something Cool. Bibliophiles and bookworms, English majors and lovers of literature: is it possible to have too many books? They accumulate so quickly! Every member of your family getting you the same three books you requested for Christmas. Seeing Don DeLillo marked half-off, knowing you dumped a half-caff latte on your copy of Underworld, and – even though only the first three pages are illegible – justifying its purchase. 15+ years of required reading lists stored in boxes in your basement, even though you can bet your bippy you will never willingly read the poetry of Robert Burns again.
First piece of furniture: stage has. A. The frontage, the intermediary and its cross-pieces as well as the bottom of the piece of furniture Profiles: ● Draw on a sheet of paper with small squares the piece of furniture to be realized, then, it is enough to put it on a desired scale ● Sélectionnez three plates of of the same paperboard cuts, if possible, the grooves must be vertical: the first plate (in green on the diagram: 1) will be the frontage. Veloursopstrijkstickers handleiding - farbenmix-de.
Papier Mache. eHow | How To Do Just About Everything! | How To Videos & Articles. Christmas/Kerstmis.
---