Self improvement
What Is CogniFit? - Mind Training Program. Recovering Lazyholic l Photography & Stuff by Erin Hanson. Nine Things Successful People Do Differently - Heidi Grant Halvorson - The Conversation. Learn more about the science of success with Heidi Grant Halvorson's HBR Single, based on this blog post.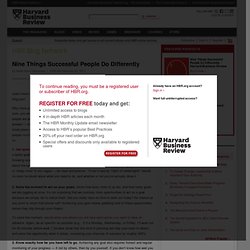 Why have you been so successful in reaching some of your goals, but not others? If you aren't sure, you are far from alone in your confusion. It turns out that even brilliant, highly accomplished people are pretty lousy when it comes to understanding why they succeed or fail. The intuitive answer — that you are born predisposed to certain talents and lacking in others — is really just one small piece of the puzzle. In fact, decades of research on achievement suggests that successful people reach their goals not simply because of who they are, but more often because of what they do.
12 Critical Things You Should Never Tolerate. There is so much in life that we just tolerate.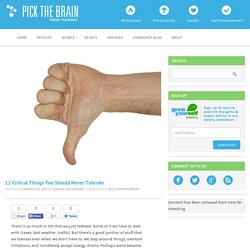 Some of it we have to deal with (taxes, bad weather, traffic). But there's a good portion of stuff that we tolerate even when we don't have to. We step around things, overlook irritations, and mindlessly accept energy drains. Perhaps we've become so immune to these tolerations that we don't recognize the negative impact they have on us. Sometimes just recognizing the things we are tolerating in life gives us a renewed sense of hope and energy. Do As One. Do As One invites you to use color therapy coupled with breathing to stimulate the entire spectrum of energy within your body temple.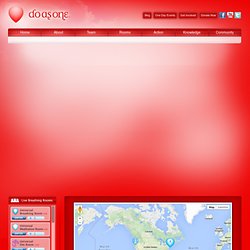 Choose whether you want to breathe in one, two or three breaths per color and then sit back and calmly receive a mind, body and spirit full-spectrum boost. You can also choose to breath one breathe per color continuously. The map on this page shows you where everyone you are breathing with is located around the world in real time. 27 lessons I've learned in 27 years | Dreamin' the Life. Free online speed reading software | Spreeder.com. Spreeder is a free service provided by 7-Speed-ReadingTM.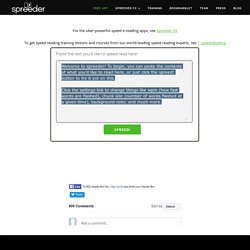 If you like this site, please have a look at our powerful 7 Speed Reading Software. Spreeder.com is a free online speed reading software designed to improve your reading speed and comprehension. Spreeding 1 word @ 300 wpm Paste the text you'd like to speed read here: Eight Ways to Spot Emotional Manipulation. 1) There is no use in trying to be honest with an emotional manipulator.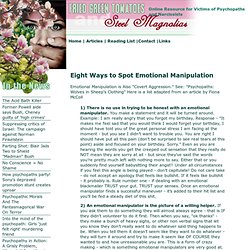 You make a statement and it will be turned around. Example: I am really angry that you forgot my birthday. Response - "It makes me feel sad that you would think I would forget your birthday, I should have told you of the great personal stress I am facing at the moment - but you see I didn't want to trouble you. You are right I should have put all this pain (don't be surprised to see real tears at this point) aside and focused on your birthday.
You Know You Want Sexy Abs! | healthkicker. The next month or two of work on Xanga 2.0 is going to be busy, so I wanted to share with everyone a roadmap of how we're thinking about things!
We're dividing the work on this project into four basic phases. Phase 1. Data migration. Sketchbookideas. 50 Life Secrets and Tips. Вдохновение - это воздух, которым мы дышим - Saying Images - мантры на все случаи жизни. « previous entry | next entry »Feb. 18th, 2011 | 04:17 amposted by: marinagiller in air_we_inspire Бывают моменты, когда мы отчаянно нуждаемся во вдохновляющих словах.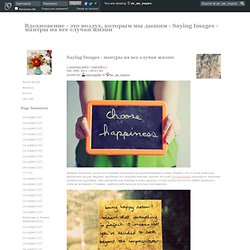 Бывает, что в такие моменты никого нет рядом. Inspiration Gallery #173 – Various quotations « From up North. 30 Habits that Will Change your Life. Developing good habits is the basic of personal development and growth.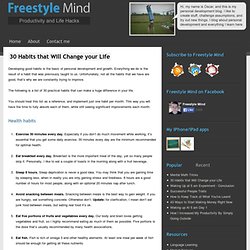 Everything we do is the result of a habit that was previously taught to us. Unfortunately, not all the habits that we have are good, that's why we are constantly trying to improve. The following is a list of 30 practical habits that can make a huge difference in your life. How To Train Yourself To Be In The Mood You Want. Dec 27, 2010 When you have major changes going on in your life, or you're just frustrated about where you are, it's easy to get trapped in a cycle of depression, bad moods and frustration.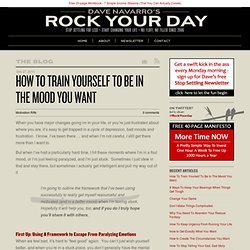 I know, I've been there … and when I'm not careful, I still get there more than I want to. But when I've had a particularly hard time, I hit these moments where I'm in a foul mood, or I'm just feeling paralyzed, and I'm just stuck.