Computer Automation
CleanHaven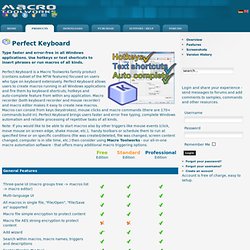 Perfect Keyboard Type faster and error-free in all Windows applications. Use hotkeys or text shortcuts to insert phrases or run macros of all kinds. Perfect Keyboard is a Macro Toolworks family product (contains subset of the MTW features) focused on users who type on keyboard extensively. Perfect Keyboard allows users to create macros running in all Windows applications and fire them by keyboard shortcuts, hotkeys and auto-complete feature from within any application.
Perfect Keyboard - Windows automation and macros with hotkeys, keystrokes, keyboard macros, mose macros, macro recorder and more.
TinyTask
Below is where you can find the latest releases of all the Selenium components. You can also find a list previous releases , source code , and additional information for Maven users (Maven is a popular Java build tool). Selenium IDE Selenium IDE is a Firefox plugin that does record-and-playback of interactions with the browser.
Selenium - Downloads