Ocean
Ocean Tracks
(First article in a six-part series) Part 2: Will Ocean Iron Fertilization Work? Part 3: What Are the Possible Side Effects? Part 4: Lessons from Nature, Models, and the Past Part 5: Dumping Iron and Trading Carbon Part 6: Proposals Emerge to Transfer Excess Carbon into the Ocean "Give me half a tanker of iron, and I'll give you an ice age" may rank as the catchiest line ever uttered by a biogeochemist.
Oceanus : Fertilizing the Ocean with Iron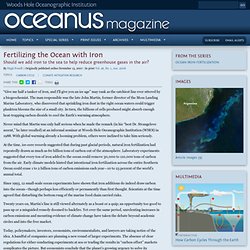 www.whoi.edu/fileserver.do?id=125345&pt=2&p=131849
pubs.acs.org/doi/pdf/10.1021/es201934n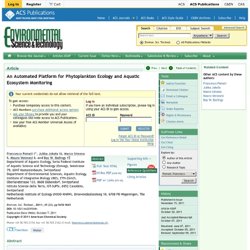 Department of Aquatic Ecology, Swiss Federal Institute of Aquatic Science and Technology (Eawag) , Seestrasse 79, 6047 Kastanienbaum, Switzerland Department of Environmental Sciences, Aquatic Ecology, Institute of Integrative Biology (IBZ), ETH-Zürich , Überlandstrasse 133, 8600 Dübendorf, Switzerland Istituto Scienze della Terra , IST-SUPSI, 6952 Canobbio, Switzerland Netherlands Institute of Ecology (NIOO-KNAW), Droevendaalsesteeg 10, 6708 PB Wageningen, The Netherlands Environ.
hahana.soest.hawaii.edu/agouroninstitutecourse/laws_pdf.pdf
As stated above, Custom Products provides ocean productivity estimates for different satellite data sets and alternative productivity algorithms. Currently, the two alternative algorithms are an " Eppley " version of the VGPM and the recently described Carbon-based Production Model (CbPM) (Behrenfeld et al. 2005 , Westberry et al. 2008 ). Examples of annual total productivity for the Standard VGPM, the Eppley -VGPM, and the CbPM are shown below to illustrate the rather significant differences between models.
Ocean Productivity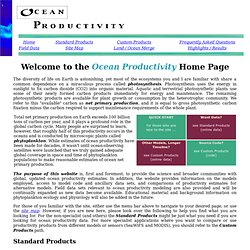 Homepage | Cousteau
Bioapplications-of-algae
Bioapplications of algae Research associated with the Australian National Algae Culture Collection (ANACC) has shown Australian microalgae to have unique chemical, molecular and physiological characteristics. This biodiversity is displayed in a range of bioactive compounds that have medical, human health, aquafeed and energy applications. Microalgae for biofuels The CSIRO Energy Transformed Flagship (ETF) is exploring the potential for biofuels from algae.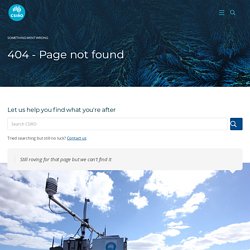 oceanexplorergov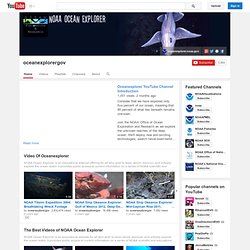 NOAA, Ocean Explorer is an educational Internet offering for all who wish to learn about, discover, and virtually explore the ocean realm. It provides public access to current information on a series of National Oceanic and Atmospheric Administration (NOAA) scientific and educational explorations and activities in the marine environment. The site provides a platform to follow explorations in near real-time, learn about exploration technologies, observe remote marine flora and fauna in the colorful multimedia gallery, read about NOAA's 200-year history of ocean exploration, and discover additional NOAA resources in a virtual library.
Reference: Ocean Survival is Our Survival
Ocean Survival is Our Survival The oceans are dying . This is not a new thing, it happend several times in the world's history.
NASA Visualizes The World's Ocean Currents, Van Gogh-Style
NASA Goddard Scientific Visualization Studio created an animation visualizing how water moves around the world. The video 'Perpetual Ocean' shows the surface current flow of oceans around the world, from July 2005 to November 2007. The white lines represent the currents, while the darker blue colors represent the "bathymetry" (ocean topography), according to Fast Co. The difference 8 days makes: new ocean color radiometry data increase information in space and time — GES DISC: Goddard Earth Sciences, Data & Information Services Center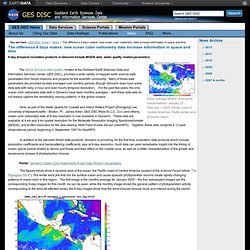 8-day temporal resolution products in Giovanni include MODIS data, water quality related parameters The NASA Giovanni data system , hosted at the Goddard Earth Sciences Data and Information Services Center (GES DISC), provides a wide variety of mapped earth science data parameters from NASA missions and projects for the scientific community. Many of these data parameters are provided as data averaged over monthly periods (though Giovanni does have some data sets with daily, 3-hour, and even hourly temporal resolution). For the past few years, the only ocean color radiometry data sets in Giovanni have been monthly averages – and these data sets do not always capture the remarkably varying patterns in the global oceans.
Ocean Tracks
Lenfest Ocean Program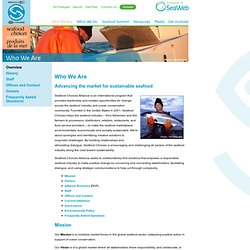 Seafood Choices Alliance - Who We Are
Advancing the market for sustainable seafood Seafood Choices Alliance is an international program that provides leadership and creates opportunities for change across the seafood industry and ocean conservation community. Founded in the United States in 2001, Seafood Choices helps the seafood industry— from fishermen and fish farmers to processors, distributors, retailers, restaurants, and food service providers —to make the seafood marketplace environmentally, economically and socially sustainable.