Vcochran
Victoria Cochran
Artist, educator, domestic CEO. Ceramic, photography, Central Asian history & decorative arts.
Education. Rhetoric. The US - Central Asia: Why. Drug Dollars in American Politics. Geopolitics. Diasporae. California & Mexico. Occupy High School / Colleges Universities.
Free Education: Courses from Top Universities. Library ala Pinterest.
Musées New York State Museums. Revolt of the Creative Class. Some have already taken to calling the events in the Middle East "the Arab 1848.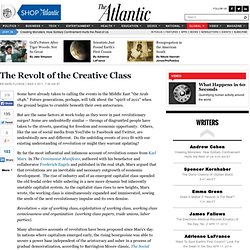 " Future generations, perhaps, will talk about the "spirit of 2011" when the ground begins to crumble beneath their own autocracies. But are the same factors at work today as they were in past revolutionary surges? Some are undoubtedly similar -- throngs of disgruntled people have taken to the streets, questing for freedom and economic opportunity.
Make It
My Stuff. Read. Free Ebooks. Free Ebooks.
---