Fictional Universe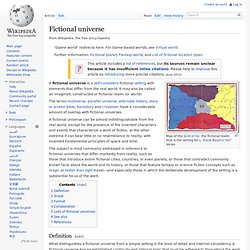 A fictional universe is a self-consistent fictional setting with elements that differ from the real world. It may also be called an imagined, constructed or fictional realm (or world). The terms multiverse , parallel universe , alternate history , story or screen bible , backstory and crossover have a considerable amount of overlap with fictional universes.
Fictional universe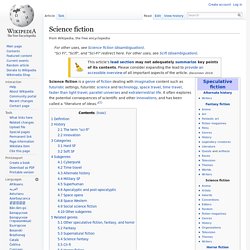 Science fiction is a genre of fiction with imaginative but more or less plausible content such as settings in the future , futuristic science and technology , space travel , parallel universes , aliens , and paranormal abilities. Exploring the consequences of scientific innovations is one purpose of science fiction, making it a "literature of ideas". [ 1 ] Science fiction has been used by authors as a device to discuss philosophical ideas such as identity, desire, morality and social structure. Science fiction is largely based on writing rationally about alternative possible worlds or futures. [ 2 ] It is similar to, but differs from fantasy in that, within the context of the story , its imaginary elements are largely possible within scientifically established or scientifically postulated laws of nature (though some elements in a story might still be pure imaginative speculation).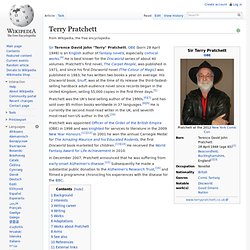 Sir Terence David John "Terry" Pratchett , OBE (born 28 April 1948) is an English author of fantasy novels , especially comical works . [ 4 ] He is best known for the Discworld series of about 40 volumes. Pratchett's first novel, The Carpet People , was published in 1971, and since his first Discworld novel ( The Colour of Magic ) was published in 1983, he has written two books a year on average. His latest Discworld book, Snuff , was at the time of its release the third-fastest-selling hardback adult-audience novel since records began in the United Kingdom , selling 55,000 copies in the first three days. [ 5 ]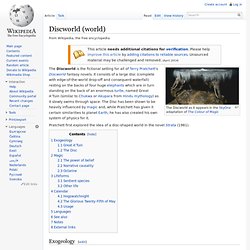 The Discworld is the fictional setting for all of Terry Pratchett 's Discworld fantasy novels. It consists of a large disc (complete with edge-of-the-world drop-off and consequent waterfall) resting on the backs of four huge elephants which are in turn standing on the back of an enormous turtle , named Great A'Tuin (similar to Chukwa or Akupara from Hindu mythology ) as it slowly swims through space. The Disc has been shown to be heavily influenced by magic and, while Pratchett has given it certain similarities to planet Earth , he has also created his own system of physics for it. Pratchett first explored the idea of a disc-shaped world in the novel Strata (1981). [ edit ] Exogeology [ edit ] Great A'Tuin
Discworld (world)
Edward Elmer Smith, Ph.D. , also, E. E. Smith , E. E.
E. E. Smith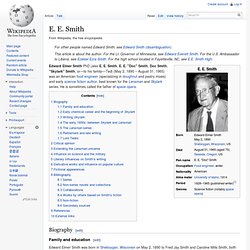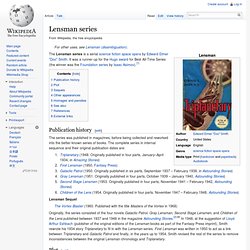 The Lensman series is a serial science fiction space opera by Edward Elmer "Doc" Smith . It was a runner-up for the Hugo award for best All-Time Series (the winner was the Foundation series by Isaac Asimov [ 1 ] ). The series was published in magazines, before being collected and reworked into the better-known series of books.
Lensman series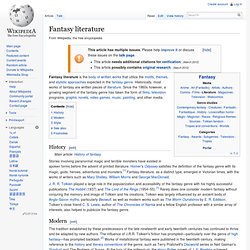 Fantasy literature
Fantasy literature is fantasy in written form. Historically speaking, literature has composed the majority of fantasy works. Since the 1960s however, a growing segment of the fantasy genre has taken the form of films , television programs, graphic novels , video games , music , painting , and other media. [ edit ] History
Robert E. Howard
Robert Ervin Howard (January 22, 1906 – June 11, 1936) was an American author who wrote pulp fiction in a diverse range of genres. He is well known for his character Conan the Barbarian and is regarded as the father of the sword and sorcery subgenre. Howard was born and raised in the state of Texas.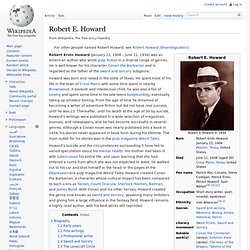 Conan the Barbarian (also known as Conan the Cimmerian ) is a fictional sword and sorcery hero that originated in pulp fiction magazines and has since been adapted to books , comics , several films (including Conan the Barbarian and Conan the Destroyer ), television programs ( cartoon and live-action ), video games , role-playing games and other media. The character was created by writer Robert E. Howard in 1932 via a series of fantasy stories published in Weird Tales magazine. [ edit ] Publication history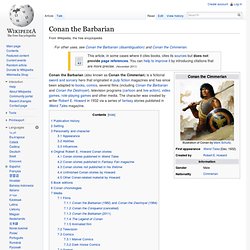 Conan the Barbarian
Solomon Kane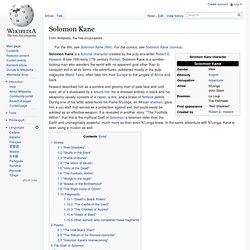 Solomon Kane is a fictional character created by the pulp -era writer Robert E. Howard . A late 16th/early 17th century Puritan , Solomon Kane is a somber-looking man who wanders the world with no apparent goal other than to vanquish evil in all its forms.
Michael John Moorcock (born 18 December 1939, in London) is an English writer, primarily of science fiction and fantasy , who has also published literary novels . Moorcock has mentioned The Gods of Mars by Edgar Rice Burroughs , The Apple Cart by George Bernard Shaw and The Constable of St. Nicholas by Edwin Lester Arnold as the first three books that captured his imagination. [ 5 ] He became editor of Tarzan Adventures in 1956, at the age of 16, and later moved on to edit Sexton Blake Library. As editor of the controversial British science fiction magazine New Worlds , from May 1964 until March 1971 and then again from 1976 to 1996, Moorcock fostered the development of the science fiction "New Wave" in the UK and indirectly in the United States. His serialization of Norman Spinrad 's Bug Jack Barron was notorious for causing British MPs to condemn in Parliament the Arts Council 's funding of the magazine. [ 6 ]
Michael Moorcock
Eternal Champion
The Eternal Champion is a fictional creation of the author Michael Moorcock and is a recurrent feature in many of his novels. [ edit ] About the Eternal Champion The fictional Multiverse , which consists of several universes, many layered dimensions, spheres, and alternative worlds, is the place where the eternal struggle between Law and Chaos , the two main forces of Moorcock's worlds, takes place. In all these dimensions and worlds, these forces constantly war for supremacy.
Elric as depicted by Michael Whelan on the 1977 cover of The Weird of the White Wolf . Elric of Melniboné [ 1 ] is a fictional character created by Michael Moorcock , and the antihero of a series of sword and sorcery stories centering in an alternate Earth. The proper name and title of the character is Elric VIII, 428th Emperor of Melniboné . Later novels by Moorcock mark Elric as a facet of the Eternal Champion . Elric first appeared in print in Moorcock's novella, "The Dreaming City" ( Science Fantasy #47, June 1961); subsequent novellas were reformatted as the novel Stormbringer (1965), but his first appearance in an original novel wasn't until 1973 in Elric of Melniboné .
Elric of Melniboné
Fritz Reuter Leiber, Jr. (December 24, 1910 – September 5, 1992) was an American writer, of fantasy , horror and science fiction . He was also a poet, actor in theatre and films, playwright, expert chess player and a champion fencer . [ citation needed ] Possibly his greatest chess accomplishment was winning clear first in the 1958 Santa Monica Open. [ 1 ] With writers such as Robert E. Howard and Michael Moorcock , Leiber can be regarded as one of the fathers of Sword and Sorcery fantasy. But he excelled in all fields of speculative fiction, writing award-winning work in horror, fantasy and science fiction.
Fritz Leiber
Fritz Leiber
The Wanderer
Swords and Deviltry
The swords of Lankhmar
Charles Williams (British writer)
The Place of the Lion