Video/Documentary Collection
675 Free Movies Online: Great Classics, Indies, Noir, Westerns, etc. Watch 675 movies free online.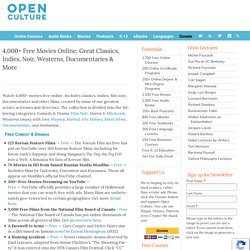 Includes classics, indies, film noir, documentaries and other films, created by some of our greatest actors, actresses and directors. The collection features films by Alfred Hitchcock, Orson Welles, Fritz Lang, Andrei Tarkovksy, John Huston, plus some early short films by Tarantino, Kubrick and Truffaut. You will also find masterful performances by Humphrey Bogart, Laurence Olivier, Audrey Hepburn, Edward G. Robinson, John Wayne and Bette Davis. What is the World Wide Web? - Twila Camp.
Tim Berners-Lee invented the World Wide Web, a hypermedia platform that harnesses the powers of the Internet to connect anything together – people, files, ideas, communities.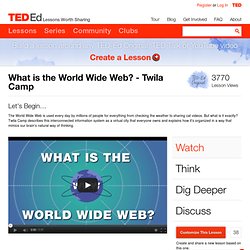 He wrote a book called Weaving the Web, in which he talks about the freedom that this ability to connect things together gives us. He is also the director of the World Wide Web Consortium, which does the important work of guiding the development of the web through web standards. Although Tim Berners-Lee is the father of the World Wide Web, he does not profit from it the way other inventors profit from their inventions. In fact, the Web is an open, de-centralized entity in which anyone can participate. Though web technology and the Internet can be regulated, and often is by governments, the World Wide Web is not owned by anyone.
Australia's Wartime History - Digital Education Resources | Reporting from a war zone - splash.abc.net.au. Old Pictures. Retronaut - See the past like you wouldn't believe. NYC Municipal Archives. Welcome to the New York City Municipal Archives Online Gallery of over 900,000 images.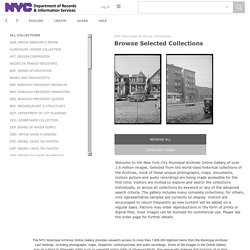 Selected from the world-class historical collections of the Archives, most of these unique photographs, maps, motion picture and audio recordings are being made accessible for the first time. Visitors are invited to explore and search the collections individually, or across all collections by keyword or any of the advanced search criteria. The gallery includes many complete collections; for others, only representative samples are currently on display. Visitors are encouraged to return frequently as new content will be added on a regular basis. Earth Unplugged. Earth Unplugged presents our amazing world as you've never seen it before.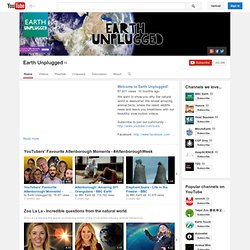 From BBC Earth Productions, it's a fresh look at our planet featuring a kaleidoscope of the wonders and curiosities of nature. We'll answer some of the most interesting questions from the natural world and tell you all you need to know about the latest scientific discoveries in the natural world. Search Results | Top Documentary Films. Digital Posters - Virtual Library of Cincinnati & Hamilton County. Vintage Ad Browser. 2081 Universal Absurdity. MAKERS. LIFE photo archive hosted by Google. SoundWorks Collection. Videos, Common Core Resources And Lesson Plans For Teachers: Teaching Channel.
Play & create video trivia games. Iste-presentation. Top 9 TED Talks on Information Overload. 1inShare We are living in age of Big Data.We are constantly inundated by all kinds of information and from different and varied sources.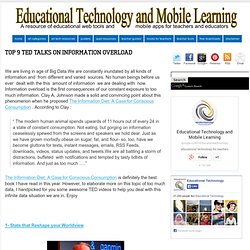 No human beings before us ever dealt with the this amount of information we are dealing with now. Instructional and Educational Videos, Animated Explanations, - Explania. Free Video Lectures, Online Courses and tutorials from top colleges, universities. Europa Film Treasures, the treasures from European Film Archives - Europa Film Treasures. Instructional and Educational Videos, Animated Explanations, - Explania. Big Think | Blogs, Articles and Videos from the World's Top Thinkers and Leaders.
Video Streaming Services - Viddler. Watch Free Movies and Documentaries Online | SnagFilms. Next Vista for Learning. Video resources for teachers. TMB Panyee FC short film. Knowmia - Thousands of Video Lessons on Every Subject. The 10 Most Important Educational YouTube Channels for Teachers. YouTube is packed full of educational stuff to share with students.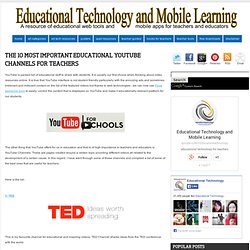 It is usually our first choice when thinking about video resources online. It is true that YouTube interface is not student friendly particularly with the annoying ads and sometimes irrelevant and indecent content on the list of the featured videos but thanks to web technologies , we can now use these awesome tools to easily control the content that is displayed on YouTube and make it educationally relevant platform for our students. The other thing that YouTube offers for us in education and that is of high importance to teachers and educators is YouTube Channels. These are pages created around a certain topic providing different videos all related to the development of a certain cause.
In this regard, I have went through some of these channels and compiled a list of some of the best ones that are useful for teachers. Online Storytime by Barnes & Noble - Barnes & Noble. 94 Elements | Stories from Hydrogen to Plutonium. Kideo Player! Watch Free Funny Videos, Music Videos, Animal Videos for Kids | Zui. Kideos.com - The Online Kids Video Network | Safe Videos for Children. Watch2gether.com - Watch videos. Together. KidsTube.
---