Reading
Online resources for the art of reading for P - 12. May 11
Wondrously Infinite Global Library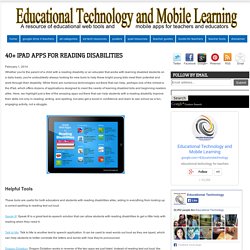 Helpful Tools These tools are useful for both educators and students with reading disabilities alike, aiding in everything from looking up a correct spelling to reading text out loud. Speak It!
Leveled Books Database - Resources for Leveling Books :: A to Z Teacher Stuff
Read it! Loved it! Boys
History - Digital Education Resources | The Dreaming - Aboriginal Nations Australia
Leveled Books Database - Resources for Leveling Books :: A to Z Teacher Stuff
Premium Support Need to measure the readability of multiple documents? Save time copying and pasting by uploading in bulk! Premium support of Readability-Score.com allows you to do just that!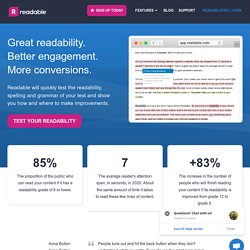 Neil Gaiman lecture in full: Reading and obligation | Reading Agency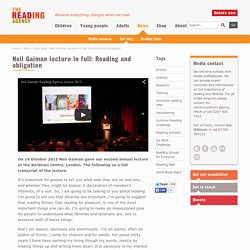 On 14 October 2013 Neil Gaiman gave our second annual lecture at the Barbican Centre, London. The following us a full transcript of the lecture. It's important for people to tell you what side they are on and why, and whether they might be biased. A declaration of member's interests, of a sort.
Websites that Help Make Reading Fun
Rewordify.com now simplifies and teaches English in a more natural-sounding way. Read more. More reading, smarter teaching The alternative pathway to enduring, independent learning Rewordify.com helps people read more, understand difficult English faster, and learn words in new ways. Teachers use it to save time and increase learning from any English text.
Understand what you read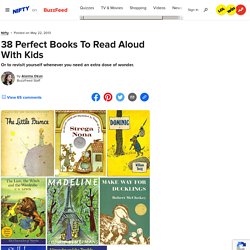 This story, about meeting a small boy from a faraway planet, is magical. Its themes, like becoming a grown-up and finding extraordinary things in the ordinary world, are magical. All the little drawings peppered throughout are magical. It's one of those books that's just as worthwhile for adults to read as children, and I'm jealous of anyone who gets to discover it for the first time. It looks like a collage and reads like the lyrics to the world's most infectious rap song (totally appropriate for kids, of course).
38 Perfect Books To Read Aloud With Kids
Interactive Literacy
Classroom Strategies Download a Graphic Organizer Word Doc (107 KB)PDF (89 KB)
Frayer Model | Classroom Strategies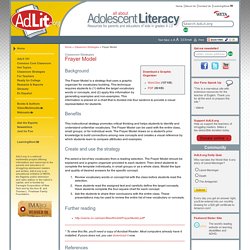 About a year and a half ago, a few of my colleagues and I had our students begin blogging about their independent reading. Some students finished four posts a year. Some students finished ten. Some more. Below are my top ten takeaways from our students' blogging experience.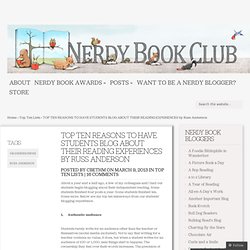 TOP TEN REASONS TO HAVE STUDENTS BLOG ABOUT THEIR READING EXPERIENCES by Russ Anderson | Nerdy Book Club
Eight Steps to Successful Classroom Readers Theater
Contributed by Dana Truby Readers Theater is a great way to enrich your students' reading practice and bring joy to reading class at the same time! Performing plays engages students and helps gets them excited about reading and theater.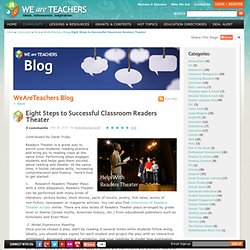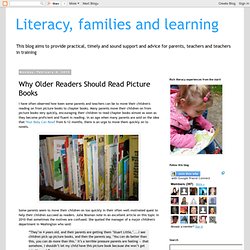 Why Older Readers Should Read Picture Books
I have often observed how keen some parents and teachers can be to move their children's reading on from picture books to chapter books. Many parents move their children on from picture books very quickly, encouraging their children to read chapter books almost as soon as they become proficient and fluent in reading. In an age when many parents are sold on the idea that 'Your Baby Can Read' from 6-12 months, there is an urge to move them quickly on to novels.
Reading is an essential skill on par with other literacy skills.It is a way of expanding one's learning repertoire. Some think that with the advance of digital technology and its encroachment into every aspect of our life, reading will be backgrounded in favor of watching or viewing ( visual stimulus ).On the face of it it looks like this is the case, people tend to favor watching a video tutorial rather than reading a textual one or reading a guide. The human eyes are very much attracted to visual animations and the mind is easily rejoiced in them because the decoding process is way easier on the brain when it comes to a video . To be more specific, let us have a look at what happens when we read. For instance, when reading a single word, the eyes need to identify its shape and the letters from which it is composed and when finally identified then an inner voice inside our heads speak it automatically to our ears and then the mind identifies it and connects it with a certain meaning.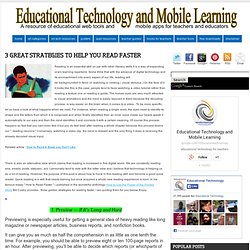 3 Great Strategies to Help you Read Faster ~ Educational Technology and Mobile Learning
Literacy Resources For Librarians
National Geographic Young Explorer (Student Magazine) - October 2012
Books R4 Teens
Home » Classroom Strategies Explicit strategy instruction is at the core of good comprehension instruction. "Before" strategies activate students' prior knowledge and set a purpose for reading. "During" strategies help students make connections, monitor their understanding, generate questions, and stay focused.
Read With Me eBooks
Wide reading program middle years
1,681 views This presentation outlines a Wide Reading Program and details its introduction to English classes in the middle years of schooling. Some challenges encountered in the introduction and establishment of ...
English: Classic Films
English: Wide Reading Sites
English: Literature Reading List
Ancient Homer Aeschylus Sophocles Euripides Aristophanes Medieval Chaucer Dante Sixteenth to Eighteenth Centuries Christopher Marlowe William Shakespeare Ben Jonson John Webster Jonathan Swift Oliver Goldsmith Daniel Defoe Henry Fielding Tobias Smollett Laurence Sterne Richard Sheridan Michel de Montaigne Moliere Voltaire
The Picture Book Teacher's Edition
I can't believe April is here already! Here are my top10 picks, again they correlate with specific days in April. I hope I introduce you to something new, or just remind you of and oldie but goodie!
Lory's Page: One Minute Readings