Google Savvy
Beg & Intermediate Google - Technology Integration. Tons of Google Forms for Teachers, Administrators and Students. The Comprehensive Google Drive Guide for Teachers and Students. January 26, 2014 Google Drive is one of the fundamental tools in our digital toolkits as teachers and educators.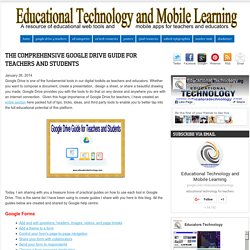 Whether you want to compose a document, create a presentation, design a sheet, or share a beautiful drawing you made, Google Drive provides you with the tools to do that on any device and anywhere you are with an internet connection . Given this huge importance of Google Drive for teachers, I have created an entire section here packed full of tips, tricks, ideas, and third party tools to enable you to better tap into the full educational potential of this platform. Today, I am sharing with you a treasure trove of practical guides on how to use each tool in Google Drive. Choose search options for your site - Sites Help. If you are a site owner, you can control what visitors search when they enter a term in the search box on your site.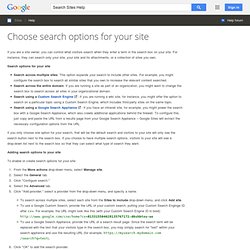 For instance, they can search only your site, your site and its attachments, or a collection of sites you own. Search options for your site Search across multiple sites: This option expands your search to include other sites. For example, you might configure the search box to search all similar sites that you own to increase the relevant content searched. Sign up - Sites Help. With Google Sites, you can easily create and update your own site.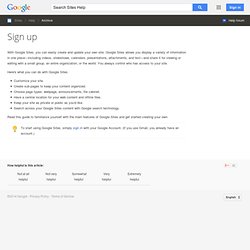 Google Sites allows you display a variety of information in one place—including videos, slideshows, calendars, presentations, attachments, and text—and share it for viewing or editing with a small group, an entire organization, or the world. You always control who has access to your site. Here's what you can do with Google Sites: Customize your site. Create sub-pages to keep your content organized. Knowledge – Inside Search – Google. A Step by Step Guide to Create Presentations on Google Presentation.
Google Presentation is a great service provided by Google for free and that allows users to create presentations and slideshows for free.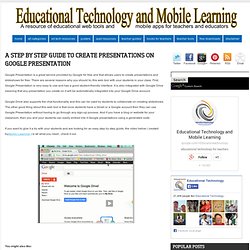 There are several reasons why you should try this web tool with your students in your class. First, Google Presentation is very easy to use and has a good student-friendly interface. It is also integrated with Google Drive meaning that any presentation you create on it will be automatically integrated into your Google Drive account. Google Drive also supports the chat functionality and this can be used by students to collaborate on creating slideshows. The other good thing about this web tool is that once students have a Gmail or a Google account then they can use Google Presentation without having to go through any sign-up process.
Ths is How to Create Maps Using Google Maps Engine. Google Maps Engine Lite lets you quickly and easily make custom maps, and share them with friends or colleagues.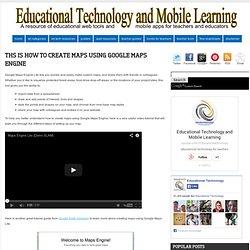 Whether you'd like to visualize protected forest areas, food drive drop-off areas, or the locations of your project sites, this tool gives you the ability to: import data from a spreadsheetdraw and add points of interest, lines and shapesstyle the points and shapes on your map, and choose from nine base map stylesshare your map with colleagues and embed it on your website. Teachers Visual Guide to Adding Videos to Google Forms. Google has just released a set of some new interesting features on Google Form.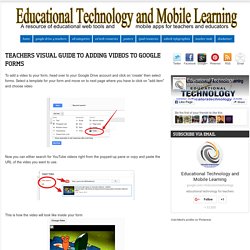 One of these new updates is adding videos to forms. I have been tinkering around with this new feature and decided to about create this visual guide to help you integrate videos into your forms. 100+ Google Tricks for Teachers. It's Google's world, we're just teaching in it.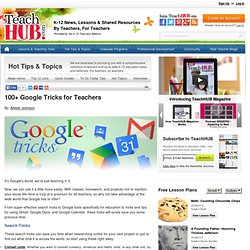 Now, we can use it a little more easily. With classes, homework, and projects–not to mention your social life–time is truly at a premium for all teachers, so why not take advantage of the wide world that Google has to offer? From super-effective search tricks to Google tools specifically for education to tricks and tips for using Gmail, Google Docs, and Google Calendar, these tricks will surely save you some precious time. Everything Teachers Need to Know about Google Plus. Google Plus is turning two and it seems like we have been using it forever.
The educational potential of this social networking website is huge and it is just getting better and better. I know some of you are not fully into it but I am pretty sure once you get used to it you will find it way more interesting than many other social media sites including Facebook. I do spend a considerable amount of time on Google Plus interacting and sharing resources with teachers and educators on Educational Technology and Mobile Learning page. I also use Google Plus to stay updated of what others are talking about particularly in the field of ed tech. Using Images as Research Prompts to Teach Google Search Strategies. Over the last month I've shown the picture that you see to the left during a number of presentations and workshops.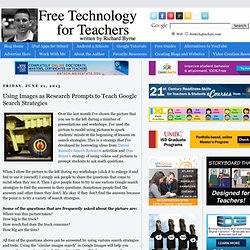 I've used the picture to model using pictures to spark students' minds at the beginning of lessons on search strategies. This is a strategy that I've developed by borrowing ideas from Daniel Russell's Search ReSearch activities and Dan Meyer's strategy of using videos and pictures to prompt students to ask math questions. When I show the picture to the left during my workshops (click it to enlarge it and feel to use it yourself) I simply ask people to share the questions that come to mind when they see it. Then I give people time to try to use various Google search strategies to find the answers to their questions. 18 Google Earth & Maps Lessons for K-12. 7 Wonderful Google Docs Tutorials for Teachers. Google Drive has all the features that make it a very powerful productivity suite for teachers.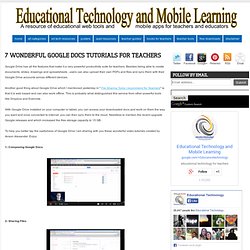 Besides being able to create documents, slides, drawings and spreadsheets , users can also upload their own PDFs and files and sync them with their Google Drive accounts across different devices. Another good thing about Google Drive which I mentioned yesterday in " File Sharing Tools I recommend for Teachers" is that it is web based and can also work offline. This is probably what distinguished this service from other powerful tools like Dropbox and Evernote. With Google Drive installed on your computer or tablet, you can access your downloaded docs and work on them the way you want and once connected to internet you can then sync them to the cloud.
How Search Works - The Story – Inside Search – Google. 8 Outstanding Google forms templates. Today as I was working on Google Forms to create some forms for my colleagues in the university, the idea of providing my readers here with some practical pre-made template forms dawned on me. I know many of you would have recourse to the services provided by Google Forms and sometimes it would take you a lot of time to get what you want into form; having a set of ready made forms can make your job easier knowing that most of the ones I handpicked for you today are among the most used templates in Google Docs.
You can also check the list of 20 Google Forms I published last year for more choices. Enjoy 1- Contact FormGather contact information from your website visitors. Teacher's Guide to The Use of Google Sheets. After posting about Google Docs, Google Presentations, now comes Google Sheets turn. These are basically a series of simple and effective tutorials from Google engineers explaining how users can tap into the potential of Google Apps. As teachers and educators, we probably are a target audience for such guides simply because most of us use these apps in teaching ; think about how many times you used Google Docs to write a document, create a presentation or work on a spreadsheet.
100GDocTips. From For students and teachers, the Google Docs collection provides a streamlined, collaborative solution to writing papers, organizing presentations and putting together spreadsheets and reports. But besides the basic features, there are lots of little tricks and hacks you can use to make your Google Docs experience even more productive. Chrome Experiments - Home. 2012 Resources - Midwest Google Summit. 15 Lesson Plans For Making Students Better Online Researchers.
Google is usually one of the first places students turn to when tasked with an assignment. Whether it's for research, real-time results, or just a little digital exploration … it's important they know how to properly Google. Lucky for teachers (and students, of course), Google has a handy set of lesson plans that are just waiting to be unleashed upon the leaders of tomorrow. While I understand there's a LOT more to research than just Googling, it's important to note that this is where nearly all students start their research.
Therefore, it's a critical skill if they're going to start down the right paths. Below are 15 lesson plans courtesy of Google designed to make students better online researchers. Research Tool Integrated into Google Docs and Presentations. THE NEW MEDIA CENTER: Google Literacy Lesson Plans--Way Beyond 'Just Google It' Creating Interactive Google Presentations. Internet Catalogue. Course-builder - Course Builder. Earth Engine. Internet Map your Guide to Popular Webistes Online. 10 Great Free Google Forms Every Teacher Should Be Using. Tips Every Teacher should Know about Google Docs in Education ( Great Easy Guide ) Inside Search – Google. Google Sites and Shelfari_ How to add Shelfari Widget to Google Site - urenglishteacher.
Sites Help. Getting Started Guide - Blogger Help. Webmaster Academy - Webmaster Tools Help. 15 Great Google tutorials for Teachers. 52 Great Google Docs Secrets for Students. Making the Most of Google Docs: Tips & Lesson Ideas. 20 Awesome Google+ Tips for Teachers. 12 Ways To Use Google Search In School, By Degree Of Difficulty.
Knowledge – Inside Search – Google. Paintmap | Painting-sharing community, painting the world. Professional Development Overview - K12 Guide to going Google. Google Drive and Dropbox Cloud Storage Services Compared. 7 Tips & Tricks To Get The Most Out Of Google Drive. Search Education – Google. GmailThis! Bookmarklet. Google site search bookmarklet. Google+ For Educators. Safety Center – Google+ The Comprehensive Guide to Google Free Tools for Teachers and Students. Educational Technology and Mobile Learning. Googlelittrips2010 [licensed for non-commercial use only] / Home. How to Use Google Search More Effectively [INFOGRAPHIC]
Tools Class. Google+ For Educators. Map Maker. How To Create Polls Using Google Docs and Publish Results as Graphs. 15 Little-Known Ways Google Can Help Teachers And Students.
---