Displays
Resources/ideas for displays in the Library or on the website. May 11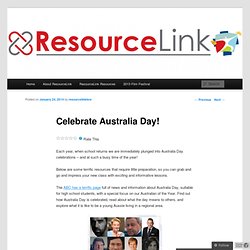 Celebrate Australia Day!
i Rate This Each year, when school returns we are immediately plunged into Australia Day celebrations – and at such a busy time of the year! Below are some terrific resources that require little preparation, so you can grab and go and impress your new class with exciting and informative lessons. The ABC has a terrific page full of news and information about Australia Day, suitable for high school students, with a special focus on our Australian of the Year.
Last year, we celebrated Banned Books Week with a feature about the super cool and creative community art contest from our friends at the Lawrence Public Library in Lawrence, Kansas (Rock Chalk Jayhawk!). The library invited local artists to create small-scale works inspired by a banned book, and a jury chose seven designs–one for each day of Banned Books Week–to appear on trading cards. The project garnered national attention, and when its creator, Susan Brown, moved to Chapel Hill, North Carolina (home of the KU's long-time rivals) to become the director of Chapel Hill Public Library, she decided to do it again this year and bring the two cities together. Artists of all ages from Lawrence and Chapel Hill submitted works inspired by banned books, and a jury in each city again selected 7 designs. The LPL and CHPL revealed one design each day throughout the last week, and we are thrilled to be able to show them to you here all at once.
14 Badass Banned Books Trading Cards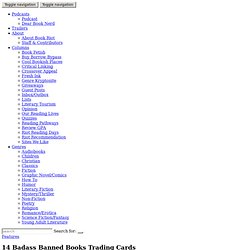 Spineless Classics
Vintage Printable – Science Fiction
Book Week 2013 - Mrs Mac's Library
Library Competitions - Eatons Hill State School, Brisbane, Queensland, Australia
The Winners are: Congratulations to the prize winners and thanks to all who participated. Posters will be on display in the Library until the end of the week. Some will be included in the Library's Flickr photosteam at http://www.flickr.com/photos/ehsslibrary/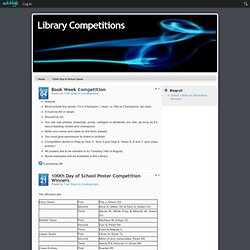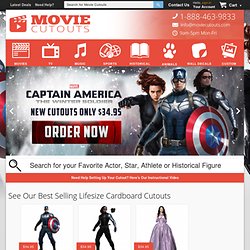 You spoke we listened. Here at movie cutouts we always get phone calls asking for specific celebrities. We are proud to announce that the following life size cardboard cutouts will soon be available.
Cardboard Cutouts for every event and occasion.
Course: Posters
Quilt fabric, fashion fabrics for the discriminating artist from eQuilter.com!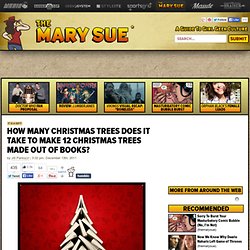 by Jill Pantozzi | 3:32 pm, December 13th, 2011 I'm a traditional kind of gal but I have to admit, seeing the creative things people do with their Christmas trees this time of year really makes me want to try something unique. But did you know there's a whole segment of people who make Christmas trees out of books? I found this top image on Facebook but hit the jump for 11 more prime examples of Christmas Book Trees. via tumblr
12 Christmas Trees Made Out Of Books
ROWAN STOCKS-MOORE | Disney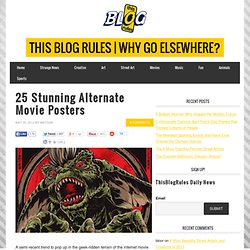 25 Stunning Alternate Movie Posters
A semi-recent trend to pop up in the geek-ridden terrain of the internet movie blog is that of the alternate movie poster: basically, an amateurly produced piece of artwork intended to pose as marketing material for a full-length feature. Effectively kick-started by the sublime works of Austin-based company Mondo, the trend has ultimately stretched to the four corners of the earth, with movie-loving artists the world over designing and presenting their very own alternative posters to the ones displayed at one time or another inside a theatre near you. Ranging from the clever to the ingenious, the simple to the intricate, the classic to the contemporary, and the funny to the utterly spell-binding, alternate movie posters really can prove that sometimes an amateur's work can be better than a professional's, as you shall see in the 25 stunning examples assembled below. "The Cabin in the Woods" – Phantom City Creative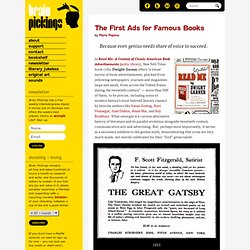 The First Ads for Famous Books
by Maria Popova Because even genius needs share of voice to succeed. In Read Me: A Century of Classic American Book Advertisements (public library), New York Times book critic Dwight Garner offers "a visual survey of book advertisements, plucked from yellowing newspapers, journals and magazines large and small, from across the United States during the twentieth century" — more than 300 of them, to be precise, including some of modern history's most beloved literary classics by favorite authors like Susan Sontag, Kurt Vonnegut, Joan Didion, Anaïs Nin, and Ray Bradbury. What emerges is a curious alternative history of literature and its parallel evolution alongside twentieth-century communication arts and advertising. But, perhaps most importantly, it serves as a necessary antidote to the genius myth, demonstrating that icons are very much made, not merely celebrated for their "God"-given talent.
donating = loving Brain Pickings remains ad-free and takes hundreds of hours a month to research and write, and thousands of dollars to sustain. If you find any joy and value in it, please consider becoming a Member and supporting with a recurring monthly donation of your choosing, between a cup of tea and a good dinner: (If you don't have a PayPal account, no need to sign up for one – you can just use any credit or debit card.) You can also become a one-time patron with a single donation in any amount: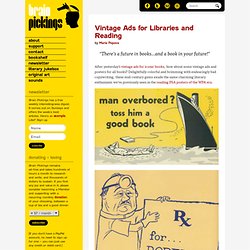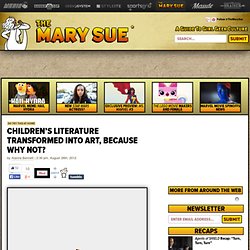 by Alanna Bennett | 2:30 pm, August 26th, 2012 <span id="am-ngg-js-warning" ><p>Enable JavaScript to check out our fancy slideshow.</p></span><br class="clearfix" /><ol class="am-all-on-one-page"><li><span class="am-aoop-title"><span class="am-aoop-number">1.</span></span><a class="am-aoop-image " title="Click for larger image." href="http://static03.mediaite.com/themarysue/uploads/gallery/picturebooks/booksculptures2.jpg"><img src="http://static03.mediaite.com/themarysue/uploads/gallery/picturebooks/booksculptures2.jpg" alt="" /></a><span class="am-aoop-caption"><p>When we're feeling nostalgic, we often turn to our favorite books from when we were younger. And while it's always fun to re-read them, we also want a way to incorporate them into our lives in different ways.
Children's Literature Transformed Into Art
By Teacher Librarian Michelle Harclerode: www.booktrailersforreaders.com - Keep scrolling all the way down for lots of goodies & links to websites. Are you an author?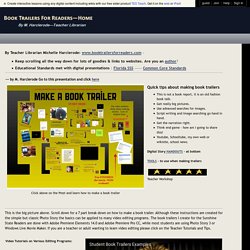 Book Trailers for Readers - How to make a book trailer
Last week, someone on TLC (the Texas librarians' listserv) requested some ideas for book displays. Stella Gonzalez of San Antonio replied with a great and lengthy list of themes for book displays. Rita Wynn of Highland Park ISD posted some additional ideas geared specifically toward secondary libraries. I know that some of you have your student library workers create book displays each month. You might help them out and share these ideas with them. Do you have other displays that your readers enjoy?
» Library Display Ideas The OLD Top Shelf
Hold Ye Front Page | | The Sun
The Origins of Wikipedia: How It Came To Be [Geek History Lesson]
These days, nearly anyone that has spent any time on the Internet has heard of Wikipedia. It is nearly as well-known as Google, and just as much a common household word. For those of you that were active on the Internet prior to 2000, then you may recall what I would call the "rise of the Wikis" – a period in Internet history when a new form of content generation technology was developed. Wikipedia wasn't the first Wiki – that honor falls upon the shoulders of Ward Cunningham, who developed the software known as WikiWikiWeb for the Portland Pattern Repository. How, what is the history of Wikipedia itself?
Inkscape at the Libre Graphics Meeting April 12, 2014 The Inkscape project mustered nine developers, translators and document writers for a productive meeting. As well as countless user interactions over the course of the five day event. This is what happened...
Wordle is a toy for generating "word clouds" from text that you provide. The clouds give greater prominence to words that appear more frequently in the source text. You can tweak your clouds with different fonts, layouts, and color schemes.
Display tip | Creative Library Displays
Creative Library Displays