Bushfires
Climate change to blame for Australian wildfires. Arsonist interview. Victorian Bushfires. Bushfire Weather. Fire Weather Warnings The Bureau of Meteorology issues Fire Weather Warnings when the Fire Danger Index (FDI) is expected to reach or exceed a value of 50 (38 in Tasmania) either today or the next day.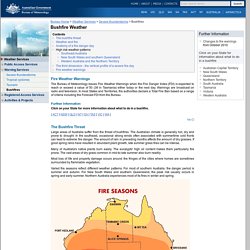 Warnings are broadcast on radio and television. In most States and Territories, fire authorities declare a Total Fire Ban based on a range of criteria including the Forecast FDI from the Bureau. Black Saturday bushfires videos. As many as 400 individual fires were recorded on 7 February.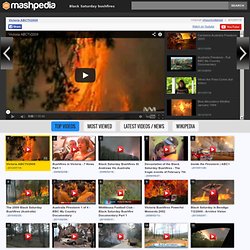 Following the events of 7 February 2009 and its aftermath, that day has become widely referred to as Black Saturday. Overview[edit] Major bushfires in Victoria in the 2000s, showing the Black Saturday fires in red Conditions[edit] The majority of the fires ignited and spread on a day of some of the worst bushfire-weather conditions ever recorded. Black Saturday | Australian Broadcasting Corporation - /stories/mosaic. About In the aftermath of the Victorian bushfires of 7 February 2009 – the worst in the nation's recorded history – hundreds of people shared their stories and experiences of the fires online.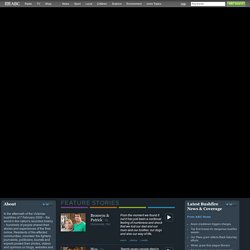 Residents of fire-affected communities, volunteer fire fighters, journalists, politicians, tourists and experts posted their photos, videos and opinions on blogs, websites and social media spaces. This website offers a collection of the most compelling and significant stories and places them alongside information and official records about key events. The result is a comprehensive overview of what happened on the day and in the aftermath of the fires.
Living with bushfires. By:Ken Eastwood | June-4-2009 Bushfires are getting bigger, badder and bolder.
We now have a choice: work with them or fight against them. Mount Buffalo, Victoria (Photo: Johannes Smit) SOMEONE, OR SOMETHING HAD woken the dragon. The stench of its smoky breath hung heavy on the morning air and, as the temperature climbed towards 40ºC, its dark mood became even fouler. History of bushfires in Australia. History of bushfires in Australia VIDEO: Historical timeline of bushfires in Australia.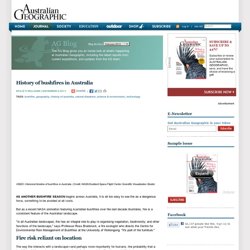 (Credit: NASA/Goddard Space Flight Center Scientific Visualization Studio) AS ANOTHER BUSHFIRE SEASON begins across Australia, it is all too easy to see fire as a dangerous force, something to be avoided at all costs. Bushfire. How Wildfires Work" ­In just seconds, a spark or even the sun's heat alone sets off an inferno.
The wildfire quickly spreads, consuming the thick, dried-out vegetation and almost everything else in its path. What was once a forest be­comes a virtual powder keg of untapped fuel. In a seemingly instantaneous burst, the wildfire overtakes t­housa­nds of acres of surrounding land, threatening the homes and lives of many in the vicinity. An average of 5 million acres burns every year in the United States, causing millions of dollars in damage­. Once a fire begins, it can spread at a rate of up to 14.29 miles per hour (23 kph), consuming everything in its path.
---