ACARA
Implementing the Australian Curriculum in Queensland [Queensland Curriculum and Assessment Authority] Since 2010, Australia has been moving toward a national framework for schooling aimed at raising education standards and achieving nationally consistent curriculum, assessment and reporting.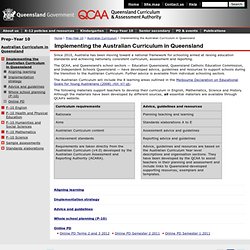 The QCAA, and Queensland's school sectors — Education Queensland, Queensland Catholic Education Commission, and Independent Schools Queensland — have developed advice, guidelines and resources to support schools during the transition to the Australian Curriculum. Further advice is available from individual schooling sectors. Mix. In this middle school chemistry lesson, students model changing kinetic energy at the molecular level after seeing two simple demonstrations and a couple of animations.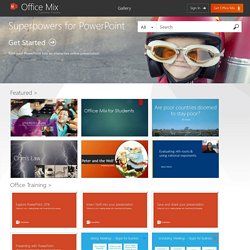 Students can extend these ideas through an additional reading and demonstration their learning through a short quiz. Next Generation Science Standard MS-PS1-4: Develop a model that predicts and describes changes in particle motion, temperature, and state of a pure substance when thermal energy is added or removed. more Temperature and Molecular Motion. Smithsonian Quests™ | Digital Badging for the Classroom and Beyond.
Diversity, identity and Australian culture - History (10) - ABC Splash - Overview This teacher resource focuses on immigration and settlement patterns in Australia.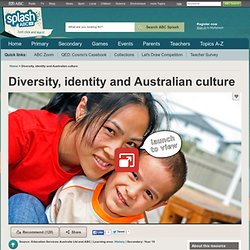 It explores the migration experience, and the impact that immigrants from diverse cultural backgrounds have had on Australian society and its changing identity. BBC News | World | Road to Refuge. Explore by Grades | TeachUNICEF. First Australians - Making a Nation History Webquest and Lesson Plan. This WebQuest is one activity in an integrated History/English unit, based on the Australian Curriculum History elective: Making A Nation, for Year 9.
This activity is only one component of a unit that will encourage students to think about different contexts, perspectives and interpretations from the past, and how people from a range of backgrounds adjusted to living together. The following are a list of curriculum references for programming purposes. Difference Differently. English for the Australian Curriculum. Poetry challenges | Poetry Box. Here is Post 2 with some great EYE poems.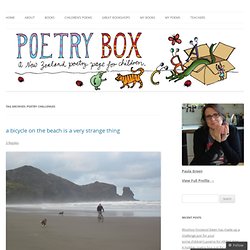 Everyone used their EYES and everyone went hunting for EYE zinging words. I need to stock up on book prizes so just a handful to give away today. Some students from Golden Sands School at Papamoa sent in poems that had EYE popping detail. The juicy words made the subjects of their poems come alive. Search Results: "caricatures" - Prints & Photographs Online Catalog. 53 results containing "caricatures" Larger image available anywhere (53) | Larger image available only at the Library of Congress | Not Digitized 1. 2. 3. 4. 5. 6. 7. 8. 9. 10. 11. 12. 13. 14. 15. 16.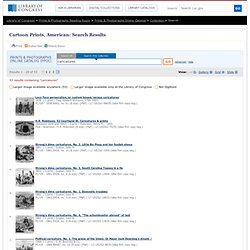 Josiah the first 1812 or 1813]. | 1 print on wove paper | Charles, William, 1776-1820PGA - Charles (W.) Search Results: "political cartoons" - Prints & Photographs Online Catalog. 538 results containing "political cartoons" Larger image available anywhere (535) | Larger image available only at the Library of Congress | Not Digitized (3) | 1. 2. 3.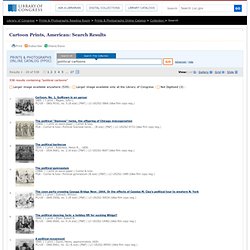 Classroom Antarctica. Classroom Strategies | Resources for educators of kids in grades 4-12. Home » Classroom Strategies Explicit strategy instruction is at the core of good comprehension instruction.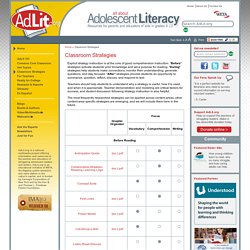 "Before" strategies activate students' prior knowledge and set a purpose for reading. "During" strategies help students make connections, monitor their understanding, generate questions, and stay focused. "After" strategies provide students an opportunity to summarize, question, reflect, discuss, and respond to text. Teachers should help students to understand why a strategy is useful, how it is used, and when it is appropriate. Pacific Stories Learning - Teachers Guide.
To search for curriculum specific resource worksheets and lesson plans written by experienced teachers and FREE video clips for download.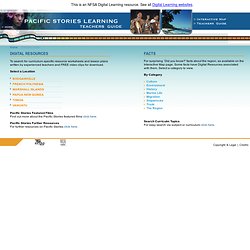 Pacific Stories Featured Films Find out more about the Pacific Stories featured films click here. Pacific Stories Further Resources For further resources on Pacific Stories click here. For surprising `Did you know?' Facts about the region, as available on the Interactive Map page. Some facts have Digital Resources associated with them. FREE - Federal Registry for Educational Excellence | FREE – Federal Registry for Educational Excellence.
Browse By Subject Browse By Standard What is FREE?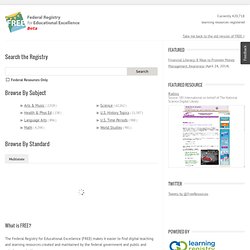 The Federal Registry for Educational Excellence (FREE) makes it easier to find digital teaching and learning resources created and maintained by the federal government and public and private organizations. Read more > Disclaimer. History - Digital Education Resources | Ceremony - The Djungguwan of Northeast Arnhem Land. Australian Curriculum Books, Australian Curriculum Online Books, #1 Australian online bookstore. Buy discount Australian Curriculum Books.
Share My Lesson - Free K-12 Resources By Teachers, For Teachers. Unit Study - Antarctica. Shackleton's Voyage of Endurance. TV Web Markers: Quest for the pole | Meet Shackleton's team | Kingdom of ice | More from Orde-Lees' diary | Other polar survival stories | Danger on the ice | Navigating the open seas | Interview with Alexandra Shackleton | Explore South Georgia | Expedition timeline 1914 to 1916 In October and November 1999, NOVA journeyed into ice-choked Antarctic waters and onto the shores of rugged Elephant and South Georgia Islands as we followed in the footsteps of Sir Ernest Shackleton. This legendary explorer's 1914-1916 Endurance expedition is one of the greatest survival stories of all time. Then, in April 2000, we returned to document Shackleton's final trial—the crossing of South Georgia—by three of the world's most distinguished mountaineers, Reinhold Messner, Conrad Anker and Stephen Venables.
The Antarctic | Antarctica | Exploration. The Antarctic is probably the most desolate continent on the planet. It is a continually changing area, especially now with global warning. Australia has had a long connection with it, not only through exploration but also through scientific research. 8ways - home. Calendar. Traditional knowledge can tell us much about the ecology of northern Australia. CSIRO, as part of the Tropical Rivers and Coastal Knowledge program, worked with six language groups - the Gooniyandi and Walmajarri from the Fitzroy River area in the Kimberley region of Western Australia, the Ngan'gi, Malakmalak and Wagiman from the Daly River region in the Northern Territory, and the Gulumoerrgin/Larrakia from the Darwin region - over five years to develop a series of calendars representing Aboriginal seasonal knowledge.
Calendar. Resources 12-month Seasonal Calendar TemplateMake your own Seasonal CalendarFood chain cut out pageFood chainsWhat is an ecosystemAdaptations and climate For teachers A seasonal calendar is a method for passing on information that is important to a particular group of people. Indigenous Australians pass on knowledge and information through storytelling and artwork, and people learn by observing and imitating family and friends. Calendar. In the classroom showcase. Overview | AC History Units. The Australian Curriculum: History introduces a discipline-based approach to teaching history in primary and secondary classrooms. This marks a shift away from more integrated approaches associated with Studies of Society and Environment (SOSE).
A discipline-based approach to teaching history requires teachers to have an understanding of the fundamentals of the discipline. All disciplines have distinctive ways of thinking and doing things. These are encapsulated in the key concepts, skills and methods of the discipline. Indigenous Australia - Aboriginal Art, History and Culture. 109 Common Core Resources For Teachers By Category. Primary School Year 5 & 6 Free Lesson Plans, Links and Resources.
Secondary — Years 7 to 10 « English for the Australian Curriculum. A List of Great Websites for your Kids. 10 Wonderful Virtual Field Trips for your Students. Resources for the Australian Curriculum. Media College - Video, Audio and Multimedia Resources. Lessons. 50 Activities To Promote Digital Media Literacy In Students. Teach Kids To Program | Learn about Teach Kids To Program on instaGrok, the research engine. How to tell if a "shark in flooded city streets after a storm" photo is a fake in 5 easy steps. BLOSSOMS | Channel. Center on Instruction. Six Teens Dropping Out To Fix Education - Ed Zed Omega. The Differentiator. Welcome to the School of You | Teachem.
Online Multimedia Educational Games for Kids in Preschool, Kindergarten, and Elementary Grades. 5 Video Projects to Try With Your Students. TedEd: Series search. Top 10 TED ED Lessons for Teachers. Lesson Plan Search – Google in Education. Here are your Virtual Field Trip Resources! Internet History Sourcebooks Project. Teach21 Project Based Learning.
Treasure Explorer | Discover remarkable treasures from Australian history & share your own! Lesson plans. HIGH SCHOOL LESSON PLANS (Teachers.Net) Kathy Schrock's Guide to Everything - iPad in College. Project Look Sharp :: K-12 & Higher Ed. Media Literacy Lesson Plans :: Ithaca College. FACES. CASES Online: Creating Active Student Engagement in the Sciences. The Literacy Shed - The Literacy Shed Home. Videos. Teaching Videos. Lessons Worth Sharing. Teaching Channel: Videos, Lesson Plans and Other Resources for Teachers. For Schools.
UDLStrategies - Make Learning Visual. Web Inquiry Projects - Welcome Page. Project Based Learning Lesson Plans, Examples & Templates for Teachers| LearningReviews.com K-12 Educational Websites. Australian Curriculum Lessons | Lesson Plans, Classroom Activities and Games for Teachers Teaching in Australia. Australian Curriculum Lessons | Persuasive Writing Techniques.
---