UI
How to Choose Between Canvas and SVG. Canvas and SVG are two exciting graphics features introduced in Internet Explorer 9 and are hardware accelerated.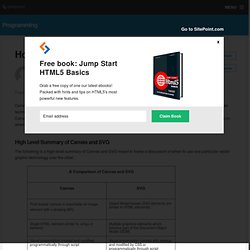 These technologies can be used to address a range of graphic scenarios on the modern Web. With a lot of excitement around Canvas, there has been a tendency to ignore SVG, which, in many cases, is the better choice. 42 Outstanding FREE UI Kits for Web Designers. Internet is full of freebies for web designers and developers.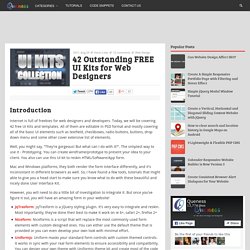 Today, we will be covering 42 free UI Kits and templates. All of them are editable in PSD format and mostly covering all of the basic UI elements such as textfield, checkboxes, radio buttons, buttons, drop down menu and some other cover extensive list of elements. Well, you might say, "They're gorgeous! Visualizing Time with the Infinity Hour Chart | Doug McCune. This is another experiment in visualizing 24-hour cyclical data.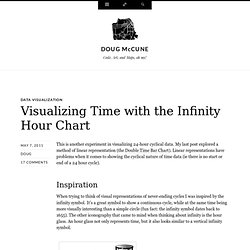 My last post explored a method of linear representation (the Double Time Bar Chart). Linear representations have problems when it comes to showing the cyclical nature of time data (ie there is no start or end of a 24 hour cycle). 15 Useful Infographics For Designers And Developers. Information graphics or infographics are graphic visual representations of information, data or knowledge.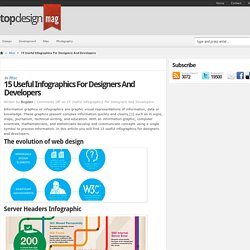 These graphics present complex information quickly and clearly,[1] such as in signs, maps, journalism, technical writing, and education. With an information graphic, computer scientists, mathematicians, and statisticians develop and communicate concepts using a single symbol to process information. In this article you will find 15 useful infographics for designers and developers. The evolution of web design Server Headers Infographic. 10 Websites with some unusual and interesting Navigation | Tech Blog. Just a few days , i was browising through a site called 75B , the site had a pretty interesting navigation with images where the images moved around within the category .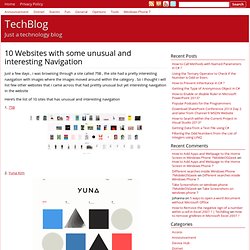 So i thought i will list few other websites that i came across that had prettty unusual but yet interesting navigation in the website Here's the list of 10 sites that has unusual and interesting navigation 2. Snow – A Slick And Modern Web UI Kit. This set of user interface elements was created specifically for light, modern websites and applications.
Each of these elements will fit beautifully with subtle textured or solid backgrounds, making your site rich with design elements and beauty. Each individual element has been hand-crafted with attention to detail for a truly pixel perfect result, and all layers are grouped and organized for ease of use. This UI kit was designed for us by MediaLoot . You can see a preview below: Color Theory 101 » Color » Design Festival. First impressions are everything.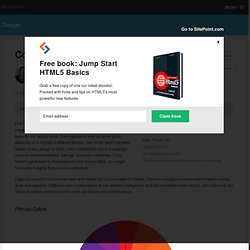 How you look and how you present yourself can determine how you are perceived. The same goes for our design work. The impression that our work gives depends on a myriad of different factors. One of the most important factors of any design is color. 30 Excellent Examples of Color Usage in Web Design. Choosing the right color scheme for a web design is extremely important.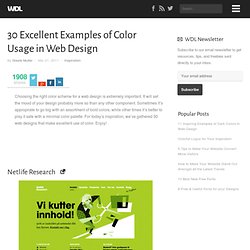 It will set the mood of your design probably more so than any other component. Sometimes it's appropriate to go big with an assortment of bold colors, while other times it's better to play it safe with a minimal color palette. For today's inspiration, we've gathered 30 web designs that make excellent use of color. Enjoy! Five Ajax best practices. This article is introduces you to five practices that you can adopt while doing Ajax development in your web applications: These practices help you write JavaScript code that is more robust and executes your Ajax code faster, which is better for your users.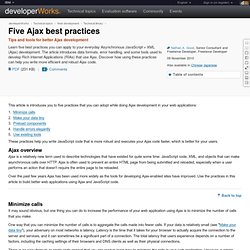 Ajax overview. 60+ Awesome UI Dribbbles. What are you working on? 30 Fresh Web UI, Mobile UI and Wireframe Kits | Speckyboy Design Magazine. Following-on from our previously popular Web UI and Wireframe Resources articles, in this round-up we felt we should bring you right up to date by taking a look at some of the freshest freely available UI resources.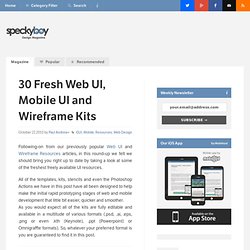 All of the templates, kits, stencils and even the Photoshop Actions we have in this post have all been designed to help make the initial rapid prototyping stages of web and mobile development that little bit easier, quicker and smoother. As you would expect all of the kits are fully editable and available in a multitude of various formats (.psd, .ai, .eps, .png or even .kth (Keynote), .ppt (Powerpoint) or Omnigraffle formats). So, whatever your preferred format is you are guaranteed to find it in this post. Website Wireframes Kit for Adobe Fireworks (.png) The Dragnet website wireframes kit is a common library for Adobe Fireworks and contains over 25 objects that are useful for rapid prototyping of websites. Way Cool CSS3 Typography Experiments. CSS3 opens up new avenues for design and creativity on the web, with the ability to better control the display of content through the browser. One of the major areas of improvement in CSS3 are new methods that can be applied to text and typography to create unique results.
We've gathered up some way cool CSS3 typography experiments for you to check out, and hopefully inspire you when using CSS3 in your own projects. If you need to know more about CSS3, check out some of our other posts: Enjoy! 10 Easy To Use Free Online WYSIWYG Editors. What You See Is What You Get, also known as WYSIWYG editors are incredibly useful for web designers, developers, and bloggers. WordPress comes equipped with one by default, to enable quick post writing and minimal interaction with the code, unless the user wants to use it.
As such, having a WYSIWYG editor for your own work can save a lot of time and stress.
WEB optimization. 20+ Brilliant and Advanced jQuery Effects. Every new technology has its own comparisons with its competitors as jQuery is closely compared with Flash. Flash was the technology used by many web designers a while ago, but now its the turn of jQuery to add the special effects or interactivity to a website. jQuery makes it easier to create sophisticated custom effects and animations compared to Flash and also jQuery takes a lead when it comes to SEO. Some of the stunning effects which jQuery can produce are sliding in different directions, adding ease to animations, effects like flip-in, sorting, zoom-in effects in photos, panning, creating a Photo shoot effect, slider effects and many more.So we present you some of the links that shows you the demos of various brilliant and advanced effects and it gives you a clear picture in itself without the help of any tutor. 1.Apple like retina effect Achieve a retina like effect as found in Apple iPhones with this plugin with jQuery and CSS.
Wicked CSS 3d bar chart using only CSS3. HTML5 Drum Kit | RandomThink Labs. Google Images Box - CSS 3D example. 8 Best User Interface Guidelines for Desktop and Mobile Applications | UXMovement.com. By anthony on 09/16/10 at 2:23 pm You have all used desktop and mobile applications before. But have you ever wondered about the amount of effort it takes to design them?
The process involves extreme accuracy and precision down to the very last pixel. Internet Trend Map 2006/2007 | Flickr: Intercambio de fotos. 1143801067_43c74dfa90_o.gif (833×581) Influence Summary.
Tecnics. HTML. Controlers. Web Design Resources. Design Patterns. Graphics. CSS. Javascript. Icon.
---