Server
Windows Authentication with Apache Tomcat. Posted by mthomas on June 22, 2011 09:31 AM Most companies of any significant size have lots of applications designed to support their employees across many departments.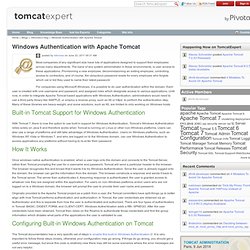 The bane of any system administrator in these environments, is user access to these applications. Provisioning a new employee, decommissioning an exiting employee, controlling access to contractors, and of course, the ubiquitous password resets for every employee who forgets which cat or kid they used to name their latest password. For companies using Microsoft Windows, it is possible to do user authentication within the domain. Each user is created with one username and password, and assigned roles which designate access to various applications. Introduction To Apache Tomcat 7. Ten Great Freemium Small Business Software - Web Based Apps, Cloud Computing, SaaS & Business software Blog - GetApp.com. Free software for small businesses is great to get started.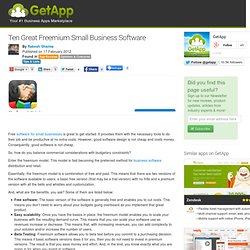 It provides them with the necessary tools to do their job and be productive at no extra costs. However, good software design is not cheap and costs money. Consequently, good software is not cheap. So, how do you balance commercial considerations with budgetary constraints? Enter the freemium model. Top 25 Business Apps - June 2011 | Software Evaluation Center by GetApp.com. The GetApp "Top Business Apps" ranking is based on a composite algorithm that incorporates several criteria, including listing popularity on GetApp, number of user reviews and comments, social media presence such as Twitter and Facebook followers, volume and quality of integration points, and input from analyst reports.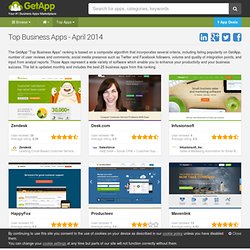 Those Apps represent a wide variety of software which enable you to enhance your productivity and your business success. The list is updated monthly and includes the best 25 business apps from this ranking. ProcessCanvas - Create online workflow in minutes.
Zimbra
Java Server App. LifeRay.
---