Libraries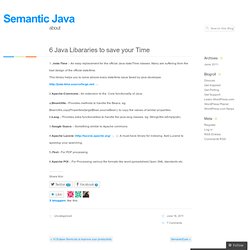 6 Java Libararies to save your Time « Semantic Java
1. Joda-Time :- An easy replacement for the official Java date/Time classes.
ActiveMQ and Tomcat: Perfect Partners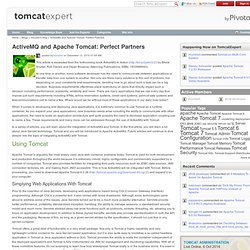 posted by bsnyder on December 13, 2010 07:04 AM
0inShare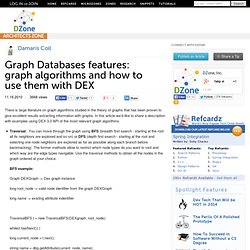 Graph Databases features: graph algorithms and how to use them with DEX
MyBatis (formerly iBatis) – Examples and Hints using SELECT, INSERT and UPDATE Annotations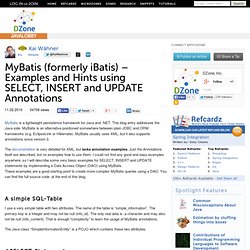 MyBatis is a lightweight persistence framework for Java and .NET. This blog entry addresses the Java side. MyBatis is an alternative positioned somewhere between plain JDBC and ORM frameworks (e.g.
Google Guava used to be known as Google Collections.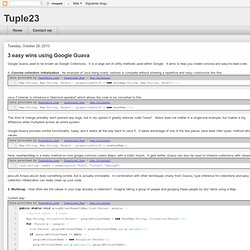 3 easy wins using Google Guava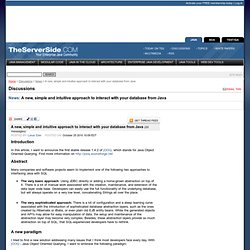 A new, simple and intuitive approach to interact with your database from Java - TheServerSide.com
Introduction In this article, I want to announce the first stable release 1.4.2 of jOOQ, which stands for Java Object Oriented Querying. Find more information on http://jooq.sourceforge.net
public interface SimpleBeanDAO extends GenericDAO<SimpleBean, Long> { * Sample save method with two properties @YMethod(type = YMethodType.SAVE)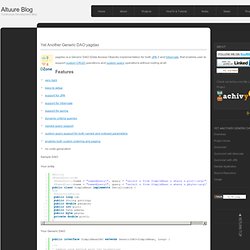 Yet Another Generic DAO:yagdao | Altuure Blog
javatuples - Main
JTattoo