Funcional programing
Get flash to fully experience Pearltrees
Let's say for a moment that you are a lumberjack.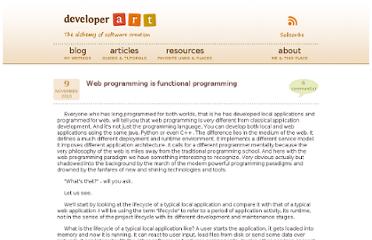 Everyone who has long programmed for both worlds, that is he has developed local applications and programmed for web, will tell you that web programming is very different from classical application development. And it's not just the programming language. You can develop both local and web applications using the same Java, Python or even C++.
In my time wasting activities on geeky social news sites, I've been seeing more and more articles about Scala. The main reasons I became interested in Scala are 1) Scala is an OO/FP hybrid, and I think that any attempt to introduce more FP concepts into the OO world is a good thing and 2) Scala's Actors library is heavily influenced by Erlang, and Scala is sometimes mentioned in the same context as Erlang as a great language for building scalable concurrent applications.
Modus is a project I started a while ago and have largely left unmaintained.
I've been spending a lot of time recently tinkering with different constructs and methodologies in Javascript, and one of the most fascinating things I've come across is Spencer Tipping 's use of continuation-passing style. It's ok if you aren't familiar with CPS, but I think anyone hoping to make the cognitive leap to functional programming should study it. As a bare miniumum, you need to know that a continuation is: [a reification of] an instance of a computational process at a given point in the process's execution
import extra 166 y.Ops;
Recently I started working on project euler as an interesting way to learn new languages and to refresh knowledge from mathematics. In the last few months i have been playing with Clojure so I wanted to see how it can be used for solving mathematical problems.
Welcome to the first part of a series of episodes about 'Functional Scala'.
I awoke Sunday to a beautiful, sunny, crisp October morning, not sure of what to expect. My training for the Des Moines Marathon had begun back in July, and it had been full of ups and downs. My mileage had been reasonably steady, after one down week at the end of July, but I'd never developed much "long speed".
Lambdaj comes with lots of features that should help to make your code more readable and in many cases shorter than its original imperative version. Conciseness anyway it's just a side effect in using the DSL provided by lambdaj and in my opinion not the most remarkable one.
Disclaimer: I'm still pretty green with functional programming.