Design Patterns
Get flash to fully experience Pearltrees
Many Android apps use lists components to display large amount of data. Often this data is loaded over a network connection. Using dynamic lists greatly improve user experience over preloading everything and forcing user to wait. More details after the jump... Loading a lot of data can be very slow especially if the data is loaded over a network connection. When displaying this data to users forcing them to wait for the whole data set before letting them start working with the data can ruin the user experience.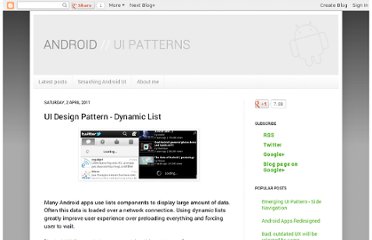 User interface design patterns help create consistency throughout the web, and provide a great resource for web designers looking for the best tested, most usable, and most efficient layouts. Many things in life are in a pattern, and this includes applications in both design and development. Whilst creativity and thinking outside the box is a must in design, so is conformity much of the time. UI patterns in web design are gaining recognition as an important resource to consider, and creating designs around them can help any website be more user-friendly. In this post we're going to look over the 15 most usable UI design patterns web designers should be paying attention to. By using these patterns, or at least taking bits and pieces of their theory, designs can be created quicker with the best possible results.
by anthony on 09/13/10 at 2:45 pm As designers, sometimes we need a little inspiration to get our creative juices flowing. Looking at examples of different user interface patterns could give us the ideas we need to design something amazing. That's why I put together four of the best user interface design pattern libraries around the web.
Published by Chris Coyier Last week I asked people to participate in a group design project on a specific design pattern: a list with functions. The premise was: The design pattern we are going to tackle is a list with functions. Think of a list of five names.
View the most recent patterns added to the library.
Suggest a pattern