Ann Arbor/Ypsi
Common Cycle is hosting the Ann Arbor edition of Dinner and Bikes! Join us for a traveling road show of yummy food and bicycle inspiration and a celebration of local and national bike culture at 6pm on May 7th at Morgan & York. Seating is limited, so reserve your spot by purchasing tickets here. Come enjoy a gourmet vegan and gluten-free buffet by chef Joshua Ploeg, while participating in an interactive presentation about the everyday bicycling movement by author Elly Blue and watching a near-complete excerpt from film-maker Joe Biel's forthcoming documentary Aftermass, a history of bicycle activism in Portland. The tour is traveling with a food- and bicycle-themed pop-up bookstore, and authors will be available to chat and sign books after the event.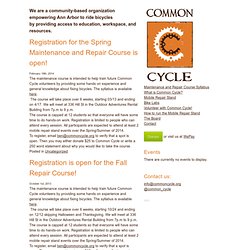 Common Cycle
Welcome to the Growing Hope Center In December 2007, Growing Hope purchased a 1.4 acre property at 922 W. Michigan Avenue in Ypsilanti—just blocks from downtown and adjacent to a public housing community—to put down roots for its headquarters and further demonstrate our commitment to growing positive and healthy futures in Southeast Michigan. After four years, with mostly volunteer labor and lots of community support, Growing Hope staff, programs, and the organization as a whole moved in to the Growing Hope Center in March 2012!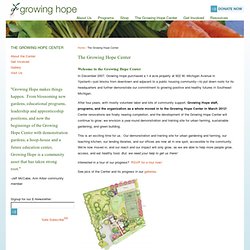 The Growing Hope Center | Growing Hope
Join expert birder and City of Ann Arbor Ornithologist Dea Armstrong, and Francie Krawcke, Leslie Science and Nature Center's Raptor Program Director for an eight week ornithology class. Perfect for the beginner or intermediate birder alike. We will delve into anatomy and physiology, behavior, taxonomy, reproduction, vocalizations, and identification. Class consists of Tuesday evening lectures on March 4, 11, 18, 25, April 1, 8, 15, & 29 and Saturday morning fieldtrips on March 8, 15, 22, 29, April 5, 12, 26, & May 3; field trip start times vary due to lengthening of day and field trip destination.
Leslie Science and Nature Center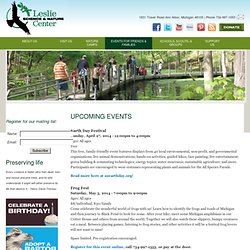 Selma Cafe is a local-foods breakfast salon, offering a gathering place for friends and community to imagine and create a growing vibrant and sustainable regional food economy – every Friday morning in the Westside Ann Arbor home of Lisa Gottlieb & Jeff McCabe, at 722 Soule Blvd, 48103. We usually have 150 to over 200 folks each week, hungry for a scrumptious meal from our regional bounty, and the community that brings this together. Selma Cafe operates through a fiscal partnership with the FSEP – the Food Systems Economic Partnership which provides 501c3 non-profit status. This week's menu: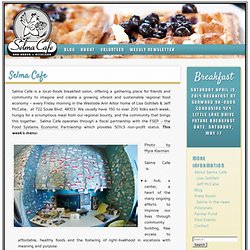 Selma Cafe – Repasts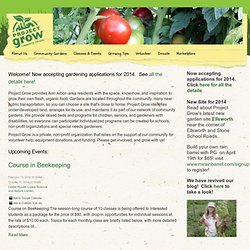 Project Grow provides Ann Arbor–area residents with the space, know-how, and inspiration to grow their own fresh, organic food. Gardens are located throughout the community, many near public transportation, so you can choose a site that's close to home. Project Grow identifies under-developed land, arranges for its use, and maintains it as part of our network of community gardens.
Project Grow
Forgotten Harvest
Experience Forgotten Harvest's mission first-hand as you come along for a ride you'll never forget! We need HARVEST HELPERS every day to assist our drivers on their routes. Your day will start at several generous food donors who share their wonderful food to feed our hungry neighbors.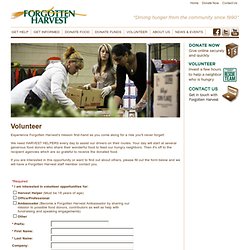 Agrarian Adventure | Working with schools to connect students with food, health, community, and agriculture.
Submitted by Neha on Wed, 09/04/2013 - 10:15pm. Come to the festival and stop by Agrarian Adventure's "Farmer in the Festival" tent at which you'll get a sampling of what it's like to be a kid at school during one of our Farmer in the Classroom visits! We'll have 4 of our farmers giving demos of the activities they do with kids in the Ann Arbor Public Schools (The farms represented include Tantre Farm, Mulberry Hill Agrarian Cooperative, and Growing Hope). These mini-lessons will be family-friendly, FUN, and will include FREE samples of fresh local foods! But don't miss them - lessons will be in 25 min. segments from 6:00 - 8:00 PM.