Social Media/Networking
Get flash to fully experience Pearltrees
Thousands of companies around the world use Facebook to make the web a more social place. Here are a few that we've chosen to highlight to help you understand the best ways to build Platform features into your app. Waze Login with Facebook, Open Graph, Graph API, Mobile Apps Rather than reinvent the wheel, Waze opted to use Facebook's social graph to have friends influence friends to sign up.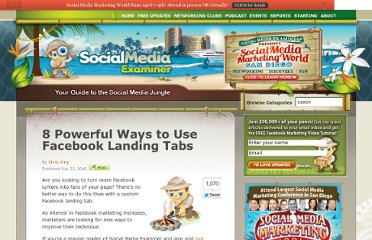 Are you looking to turn more Facebook lurkers into fans of your page? There's no better way to do this than with a custom Facebook landing tab. As interest in Facebook marketing increases, marketers are looking for new ways to improve their technique. If you're a regular reader of Social Media Examiner and also visit our Facebook Page then you've already heard about creating custom tabs using Facebook's Static FBML for engaging first-time Facebook visitors. Here are eight different ways businesses are using landing tabs on Facebook .
Rob Howard is the CTO/founder of enterprise collaboration software company Telligent . A 2008 Gartner study on social software noted that "about 70 percent of the community typically fails to coalesce." While the measurement and the statistics behind this statement raise questions, there is an element of truth. There are detrimental effects of over-hyping the technology and then committing the three cardinal sins of running a community: If you build it they will come. This is probably the best known online community fallacy.