Blogging/Blogs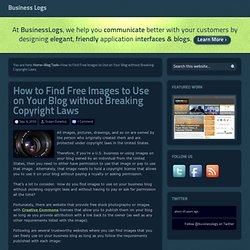 How to Find Free Images to Use on Your Blog without Breaking Copyright Laws
All images, pictures, drawings, and so on are owned by the person who originally created them and are protected under copyright laws in the United States. Therefore, if you're a U.S. business or using images on your blog owned by an individual from the United States, then you need to either have permission to use that image or pay to use that image. Alternately, that image needs to hold a copyright license that allows you to use it on your blog without paying a royalty or asking permission.
Tips for Better Blogging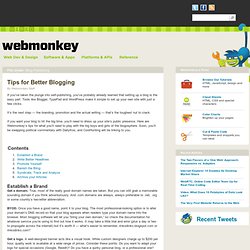 If you've taken the plunge into self-publishing, you've probably already learned that setting up a blog is the easy part. Tools like Blogger, TypePad and WordPress make it simple to set up your own site with just a few clicks.
Stephen King Made $80,000 From Digital Short Story
Steven King's " Ur " novella was written exclusively for the Kindle.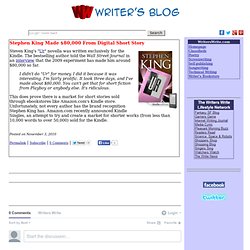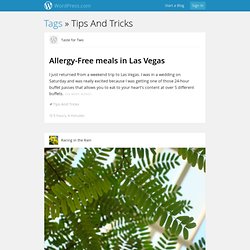 Tips On Choosing A Student Flat rusellbynum wrote 20 minutes ago : Sharing a flat with others may not be as easy as you see in movies, many fresh students find this ou … more → Tags: student accommodation , student flat , student flats , student flats in London
Tips And Tricks
4 'Preciprocity' Templates for Content-Based Link Builders - Search Engine Watch (SEW)
The word reciprocity typically implies an exchange between parties -- reciprocal links for example. " Pre ciprocity" is a condition in which you link out first, with no certainty of a link in return.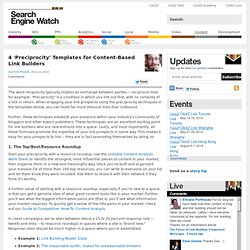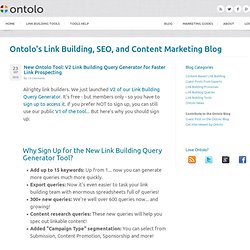 New Ontolo Tool: V2 Link Building Query Generator for Faster Link Prospecting | Ontolo
Posted on September 23rd, 2010 Written by Alrighty link builders. We just launched V2 of our Link Building Query Generator . It's free - but members only - so you have to sign up to access it .
free design resources » FREEmium WP Theme Released
When do most people drop out from a course? The answer may surprise you. It's not in the middle of the course, or at the end. Incredibly, it's right at the start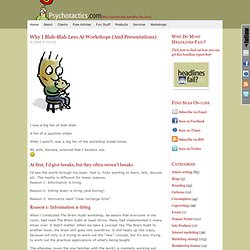 Psychotactics: Small Business Ideas
Bloggers Blog -- Blogging the Blogosphere
Get Free Access To The Launch Coach Library
Everybody seems to be selling the make money online dream (and telling you to give them $1,500 for their secrets). Personally, I find it a bit amusing watching the circus. But I must admit, it makes it hard to know who to trust these days. So I'm going to do something that's admittedly old-fashioned: I'm going to be up-front with you. If you run a small business on the internet, I want you to get my free online marketing newsletter.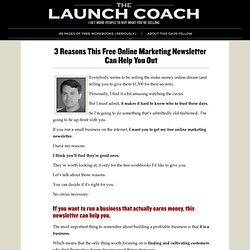 Blog | SuperWAHM, Expert Business Planning for work at home moms
Introducing Guest Blogging
Guest Blogging
By Mary Jaksch This is my story of how I went from bust to boom. I was reluctant to write about all this, but people urged me to share it, so here goes …
Goodlife Zen