Vaytch
Internet TESL Journal (For ESL/EFL Teachers) Web Quest Maker. Language Arts Worksheet Makers - Worksheets In Seconds - Over 30 Types Of Sheets View Generators Instant Puzzles Makers In Seconds!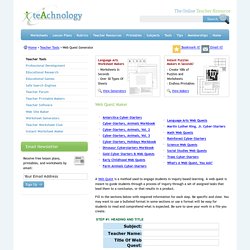 Story Starters. Pwnz0rz. Dominic.marcil1. Reading. ESL/EFL Reading - 365 ESL/EFL Short Stories. Power Proofreading. Using Gagne's 9 Events of Learning in e-Learning.
Remember Everything | Evernote Corporation. Students H. JenniferESL's Channel. Fling the Teacher generator - interactive Flash learning game - ContentGenerator.net - create your own Educational Flash games, quizzes and activities. Home/Products/ Fling the Teacher generator Generate your own SCORM compliant interactive Flash learning games.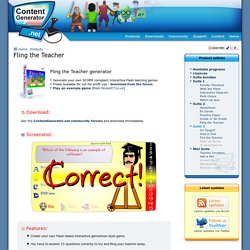 ENGLISH FLASH GAMES for Learning Vocabulary. ESL Vocabulary Lists. Learning English as a second or foreign language (ESL / EFL) takes time, and building your vocabulary is an important key to improving your communication skills.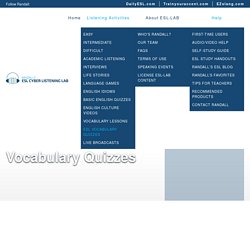 Thus, students need to learn how to understand and use vocabulary in everyday situations. Each of the pages below is designed to build communication skills, with a Listening and Discussion activity. As you learn the vocabulary, try to use it in other situations. Use the worksheet below to keep record of your progress. Homework Sheet - Vocabulary (www.esl-lab.com)
Homepage. The Mixxer | Language Exchange for Everyone. Sites for Teachers. TeacherTube - Teach the World | Teacher Videos | Lesson Plan Videos | Student Video Lessons | Online Teacher Made Videos | TeacherTube.com. Theresa Redmond / Teachknowlogy. Worksheets, Lesson Plans, Teacher Resources, and Rubrics from TeAch-nology.com.
Démarrer
---