Tops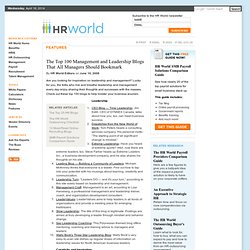 The Top 100 Management and Leadership Blogs That All Managers Should Bookmark - HR World
By HR World Editors on June 10, 2008 Are you looking for inspiration on leadership and management? Lucky for you, the folks who live and breathe leadership and management every day enjoy sharing their thoughts and successes with the masses. Check out these top 100 blogs to help bolster your business acumen.
Best Management & Leadership Blogs - Top of 2011
The modern leadership movement is based upon the principle that leaders aren't born, they're made. The arts of leadership and management, like all arts and skills, are learned and honed by practice over time. And one only learns how to practice from others who are farther along than oneself. That's where blogs can be helpful. Hundreds of experienced leadership coaches and management experts publish their thoughts online.