KM / Pearltrees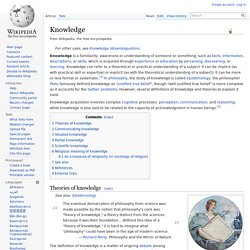 Knowledge is a familiarity with someone or something, which can include facts, information, descriptions, or skills acquired through experience or education. It can refer to the theoretical or practical understanding of a subject.
Philosophical perspectives of wisdom[edit]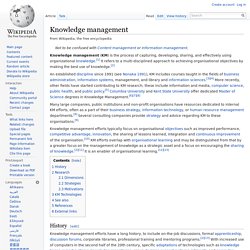 Knowledge management (KM) is the process of capturing, developing, sharing, and effectively using organisational knowledge.[1] It refers to a multi-disciplined approach to achieving organisational objectives by making the best use of knowledge.[2] An established discipline since 1991 (see Nonaka 1991), KM includes courses taught in the fields of business administration, information systems, management, and library and information sciences (Alavi & Leidner 1999).[3][4] More recently, other fields have started contributing to KM research; these include information and media, computer science, public health, and public policy.[5] Columbia University and Kent State University offer dedicated Master of Science degrees in Knowledge Management.[6][7]
kmbasic.pdf (объект «application/pdf»)
p100.pdf (объект «application/pdf»)
What Is Knowledge Management? Knowledge Management is one of the hottest topics today in both the industry world and information research world. In our daily life, we deal with huge amount of data and information.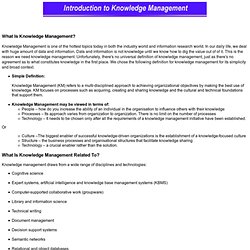 Introduction to Knowledge Management
online_Knowledge according to 817 philosophers.pdf (объект «application/pdf»)
JKM-9-6d.pdf (объект «application/pdf»)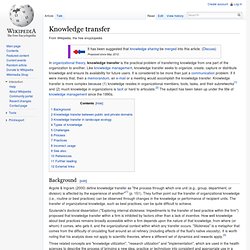 In organizational theory, knowledge transfer is the practical problem of transferring knowledge from one part of the organization to another.
Knowledge transfer
Electronic Journal of Knowledge Management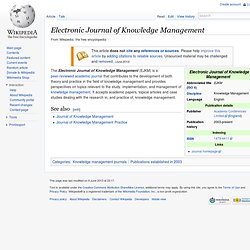 The Electronic Journal of Knowledge Management (EJKM) is a peer-reviewed academic journal that contributes to the development of both theory and practice in the field of knowledge management and provides perspectives on topics relevant to the study, implementation, and management of knowledge management. It accepts academic papers, topical articles and case studies dealing with the research in, and practice of, knowledge management.
65_defining knowledge economy.pdf (объект «application/pdf»)
15762270n9p263.pdf (объект «application/pdf»)
Creating_a_K-Sharing_Culture_-_Gurteen.pdf (объект «application/pdf»)
Engstrom.pdf (объект «application/pdf»)