App
Busca haciendo una foto: apunta con la cámara de tu móvil a un cuadro, un lugar famoso, un código de barras o QR, un producto, un logotipo o una imagen popular. Si Google lo encuentra en su base de datos, te ofrecerá información útil. Goggles puede reconocer texto en francés, inglés, italiano, español, portugués, turco y ruso, y puede traducirlo a otros idiomas. Goggles también sive como escáner de códigos de barras y QR.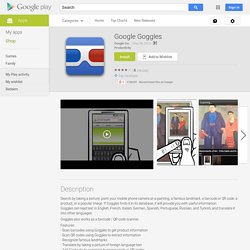 Wunderlist Task Manager - Android Apps on Google Play
Wunderlist 2 offre la meilleure façon de gérer et de partager vos listes de tâches quotidiennes. Que vous planifiiez une aventure à l'étranger, partagiez une liste de courses avec un être cher, ou gardiez tout simplement une trace de vos tâches quotidiennes, Wunderlist est là pour vous aider à faire avancer les choses. Avec une grande variété de nouvelles fonctionnalités, y compris les rappels, les répétitions et les sous-tâches ainsi que les notes, fonctions de partage et notifications améliorées, Wunderlist 2 veille à ce qu'aucun détail ne vous échappe.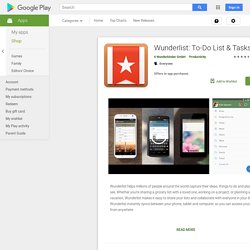 Parcels is a simple package tracking application, which lets you keep track of all your packages! Use the preferences to activate the background-checks and configure the refresh interval - additionally you can choose a quiet time, when notifications will appear on your phone silently. There are a lot more options available through the preferences - check it out! With the integrated Google Maps slider you can easily find out where you package have been! If you notice any problem with parcels please write me an email, because comments do not allow any further inquiries, which are often required.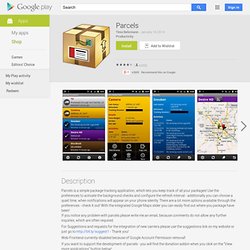 Parcels - Android Apps on Google Play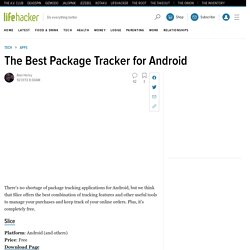 There are so many package tracking applications available for Android that there's no way we could highlight them all, but after testing several, we think Parcels delivers the right package of useful features for the price tag—free. You still have to enter your tracking numbers manually, but where other apps may have more gimmicky features, Parcels is clean, to the point, notifies you of changes, and gets the job done.
The Best Package Tracker for Android
Vlingo Virtual Assistant - Android Apps on Google Play
The Best Address Book App for Android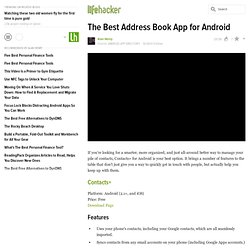 Oddly enough, there aren't too many contact management tools for Android that aren't also dialer replacements, or focused entirely on replacing whatever built-in tool you have on your device already. We have to agree with our iOS counterparts on this one—Smartr by Xobni is the best address book for Android, if you're looking for a contact manager that actually makes it easier to find and interact with the people you need to talk to. Uses your phone's contacts, including your Google contacts. Syncs contacts from any email accounts on your phone (including Google Apps accounts.)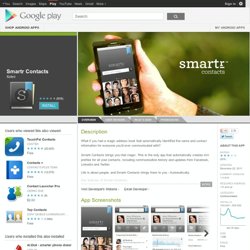 What if you had a magic address book that automatically identified the name and contact information for everyone you'd ever communicated with? Smartr Contacts brings you that magic. This is the only app that automatically creates rich profiles for all your contacts, including communication history and updates from Facebook, LinkedIn and Twitter.
Smartr Contacts - Android Apps on Google Play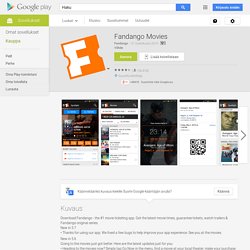 Download Fandango Movies – Times & Tickets, the #1 movie ticketing app and winner of three Webby Awards! Winner: Shopping (Tablets & All Other Devices) Jury Award Winner: Shopping (Tablets & All Other Devices) People's Voice Award Winner: Entertainment (Handheld Devices) People's Voice Award Fandango, the nation's leading movie ticketing service and one of the Web's top moviegoer sites is available as a free app for your Android!
Fandango Movies for Phones - Android Apps on Google Play
The Best Movie Showtimes App for Android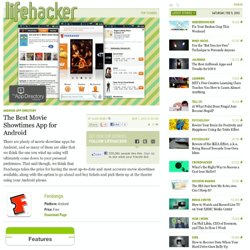 There are plenty of movie showtime apps for Android, and so many of them are alike that we think the one you wind up using will ultimately come down to your personal preference. That said though, we think that Fandango takes the prize for having the most up-to-date and most accurate movie showtimes available, along with the option to go ahead and buy tickets and pick them up at the theater using your Android phone. Searches for nearby theaters and showtimes using your phone's GPS and retrieve up-to-date showtimes, available tickets, and the option to purchase directly from your phone. Filter theaters based on amenities like stadium seating and IMAX. Build a list of "favorite" theaters so you can quickly buy from the theater that's closest to you or your favorite theater, even if it's across town.
WORD FROM THE DEVELOPER If you're looking for a Facebook photo viewer, just skip JustPictures as the integration is currently broken. I haven't had time to spend on this app for months now. If someone is interested to buy the source code, contact me with an offer. The sources needs a bit of work, but I'm proud of the efforts I put into making this a great ap. DESCRIPTION OF THE APP JustPictures! is the ultimate multi-platform photo gallery & viewer !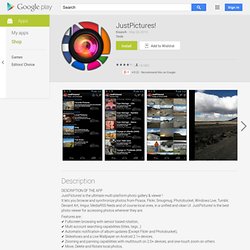 JustPictures! - Android Apps on Google Play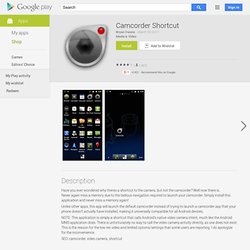 Camcorder Shortcut - Android Apps on Google Play
Have you ever wondered why theres a shortcut to the camera, but not the camcorder? Well now there is. Never again miss a memory due to the tedious navigation required to launch your camcorder. Simply install this application and never miss a memory again! Unlike other apps, this app will launch the default camcorder instead of trying to launch a camcorder app that your phone doesn't actually have installed, making it universally compatible for all Android devices. NOTE: This application is simply a shortcut that calls Android's native video camera intent, much like the Android MMS application does.
Apps News, Videos, Reviews and Gossip - Lifehacker
Gmail Attachment Download - Android Apps on Google Play
Gmail Attachment Download makes it possible to save all attachment types in Gmail to your SD card or inner memory. It works in a hassle-free way to store any and all files. Installing Gmail Attachment Download will act as a plugin in your e-mail application in order to make it possible to download any file to your chosen folder. It will not create a homescreen icon and thus will save up precious application space. Gmail Attachment Download is used by pressing the preview, view or install button of an attachment, and selecting our application.
Description The press calls TaskCurrent "a To-Do app full of things you want to do." That's right, you can use TaskCurrent to discover and implement amazing goals. We connect you with the best tips and advice that help you achieve health, happiness, and success.
TaskCurrent for iPhone 3GS, iPhone 4, iPhone 4S, iPod touch (3rd generation), iPod touch (4th generation) and iPad on the iTunes App Store
Minimalistic Text is a widget app that displays information in a minimalistic way. It can be configured to display time, date, battery and weather information. The layout of the widget is highly customizable through the layout editor. YouTube videos: Barcode Battery Bar: https://www.youtube.com/watch?v=yPsug6jQ3o4 Use custom fonts: https://www.youtube.com/watch?v=1Ou_kaXfyiU
Minimalistic Text - Android Apps on Google Play
Ultimate Call Screen HD Free - Android Apps on Google Play
The most complete fullscreen caller ID replacement and phone toolbox on Google Play, feature leader on its class. Much more tham a simple call ID app, UCS combines: - Fullscreen Caller ID replacement with true HD pictures of your contacts - Fullscreen SMS Receiver - Fullscreen Missed Calls notifications - Contact picture manager - Call Blocker - Sensor-base actions such as rejecting calls by turning the phone screen-down - AND swipe gestures just to be sure you handle your phone any way you want to. As recommended on www.lifehacker.com: "The features of this app are almost too numerous to list, but if you use your phone to make phone calls (you know, that thing it was originally intended for), it's a must-have."
When you find something on the web that you want to view later, put it in Pocket. It automatically syncs to your phone, tablet or computer so you can view it any time, even without an internet connection. New York Times, Business Week, and TechCrunch call it "DVR for the web." Previously the #1 paid Android news app, now free! Use Pocket when you discover an interesting article, video or web page, but don't have time to view it.
Fetchnotes - Android Apps on Google Play
Jorte Calendar - Android Apps on Google Play