App
Goggles. Break through language barriers with Google Translate. • Translate between 80 languages• Converse naturally and let Google translate• Speak, type, write, or take a picture to translate• Translate offline while traveling.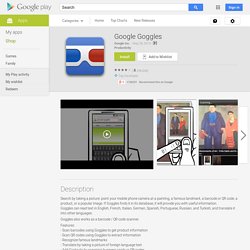 No internet connection needed.• Save your translations and access from any device(Camera input and offline translation are available for Android 2.3 and above) Wunderlist Task Manager. Millions use Any.do every day to remember all the tasks they want to-do and make sure they get them done.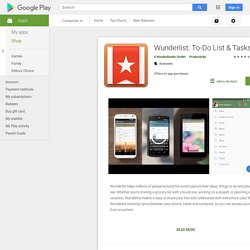 Key benefits: Seamless cloud sync, Speech recognition, Alerts, Any.do Moment, Snooze tasks, Google Task Sync, Notes, Sub tasks, Amazing Widgets, Repeating / Recurring Tasks, Missed call, Auto complete, In app actions, Gesture support & much more! ☞ Get the most out of Any.do: Parcels. With "Deliveries" for Android you can keep track of all your parcels at a glance.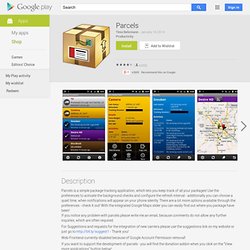 Wherever you are, just add the delivery via its tracking ID and find out where it is. It's just one click away! The Best Package Tracker for Android. The Best Address Book App for Android. I desperately want a contacts app that re-thinks the notion of contacts.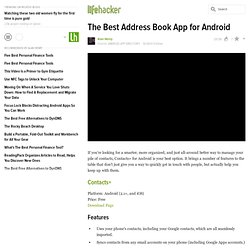 Every contact medium out there is built on this old core concept of a physical address book, with line items under a contact field, sorted by name and last name, maybe company. Sure, they merge in social media, but it all goes back to this idea of a static record by name. The reality of how you manage your contacts is very different.
Fandango Movies for Phones. Enjoy unlimited movies with Movie Bank!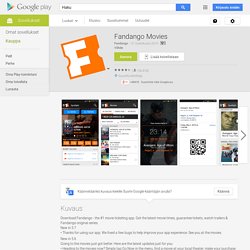 Movie Bank brings millions of free movies for you with one click. To watch your favorite movie, open this app and browse it among various listed categories. The Best Movie Showtimes App for Android. There are plenty of movie showtime apps for Android, and so many of them are alike that we think the one you wind up using will ultimately come down to your personal preference.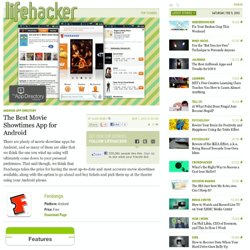 That said though, we think that Fandango takes the prize for having the most up-to-date and most accurate movie showtimes available, along with the option to go ahead and buy tickets and pick them up at the theater using your Android phone. Searches for nearby theaters and showtimes using your phone's GPS and retrieve up-to-date showtimes, available tickets, and the option to purchase directly from your phone. Filter theaters based on amenities like stadium seating and IMAX. Build a list of "favorite" theaters so you can quickly buy from the theater that's closest to you or your favorite theater, even if it's across town. JustPictures! Simple, Thorough and Safe, Clean Master is the world's most downloaded Android optimizer, memory & speed booster, and security/antivirus suite brought to you by Cheetah Mobile.It is unmatched at improving device performance, removing junk and spam files and protecting against malware, trojans and viruses.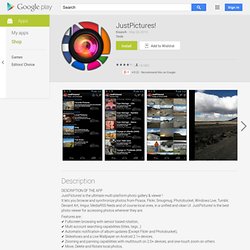 Join over 100,000,000 people who have already installed this complete optimization manager, Clean Master! We are here to fix all your device problems, whether it's lagging, running low on space, or infected with malware. Highlights of Clean Master - Optimization & Antivirus ☆ Thorough: The junk-creating behavior of millions of apps has been analyzed so that Clean Master can efficiently hone in on its targets (cache and residual files) with perfect accuracy. ☆ Fast & Intuitive: Simple to use, super-fast and smooth UI, plus cool transition effects ☆Ranked #1 by AV-TEST, providing professional security protection.
Scanning takes only 5 seconds, 500% faster than other paid antivirus apps. Camcorder Shortcut. "Videocam illusion Pro" is the first video camera app that lets you record videos with effects in real-time.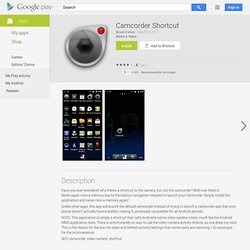 Combine filters, effects and masks to create amazing videos without an editing software. You can even save your favorite combinations of effects and change while you're recording, creating original movies. Each purchase motivates us to further improve the app and work on new innovative features. Thanks!
If you have any problem with the application or want to suggest some improvements, please contact us at camera.illusion@gmail.com. Gmail Attachment Download. ▬ As seen on and many more!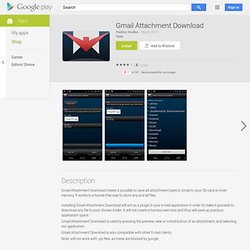 GMAIL WIDGETS is an easy to use collection of beautiful homescreen WIDGETS in a variety of sizes - from icons to full screen widgets - that show an UNREAD count of email, SMS / text messages and calls as well as previews (sender, subject and content). It can aggregate messages from different sources into a unified (combined) inbox. Lots of widgets show you the UNREAD count, but this is the only one that shows you WHAT these UNREAD messages are and WHO they are from. The Gmail widget in Android is unreliable and not customisable:
TaskCurrent for iPhone 3GS, iPhone 4, iPhone 4S, iPod touch (3rd generation), iPod touch (4th generation) and iPad on the iTunes App Store. Minimalistic Text. Best picture editor to add beautiful text to your photo.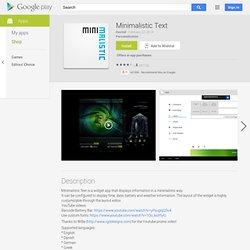 Share with the world on Instagram, Whatsapp, Facebook, Pinterest, Tumblr, Twitter, BBM etc. It can also make wonderful cover for InstaVideo App with beautiful fonts and pictures. Cute pictures combined with your text make a popular message.You will get more likes on Instagram, make your Whatsapp friends smile:) We will be adding new themes,fonts and stickers all the time so check back often! ★USER REVIEWS★★★★★★ – "Text Cutie Instagram It is so cute! Ultimate Call Screen HD Free. Important Note: Users who get "No internet connection available" please try again later, or use a proxy in your device , sometimes your internet service provider is blocking real caller app temporarily.
Pocket -formerly Read It Later. NewsHunt, India's #1 mobile newspaper app brings together the News from 80+ regional newspapers in 11 languages, and the largest collection of regional language ebooks from the world. Fetchnotes. The only mail app that seamlessly integrates email and task management to Get Things Done*.Achieve Inbox Zero with completely customizable actions from any email (supports Gmail, Exchange, Yahoo, iCloud and any IMAP & POP3 email accounts). Use as a simple To-Do list or tap into a full GTD® productivity suite with Next Actions, Projects, Weekly Reviews and much more. "If you want that "one app to rule them all" for productivity, IQTELL does a great job.
It fetches emails, includes to-do lists, lets you tag each item, and has a cool "Waiting for" category."– Lifehacker "The Best GTD App Yet? Jorte Calendar. ColorNote est un bloc-notes simple application. Il vous donne un bloc-notes rapide et simple quand vous écrivez des notes, un mémorandum, un courrier électronique, un message, la liste de courses et faire la liste. La Note en couleur rend le fait de prendre des notes plus facile qu'une autre application bloc-notes et mémo.
---