App
Rompi le barriere linguistiche con Google Traduttore. • Traduci tra oltre 70 lingue• Conversa naturalmente e lascia che sia Google a tradurre• Parla, digita, scrivi o scatta una foto da tradurre• Traduci offline mentre sei in viaggio. Non occorre una connessione Internet.• Salva le tue traduzioni e accedi da qualsiasi dispositivoL'inserimento mediante fotocamera e la traduzione offline sono disponibili per Android 2.3 e versioni successive.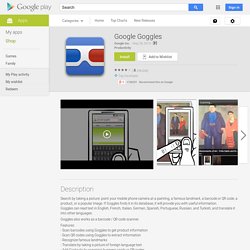 Wunderlist Task Manager - Android Apps on Google Play
ColorNote es una aplicación simple de la libreta. Te da una experiencia de bloc de notas de edición rápida y sencilla cuando se escriben notas, nota, correo electrónico, mensajes, lista de compras y hacer la lista. ColorNote hace tomando una nota más fácil que cualquier otro bloc de notas y aplicaciones.
With "Deliveries" for Android you can keep track of all your parcels at a glance. Wherever you are, just add the delivery via its tracking ID and find out where it is. It's just one click away!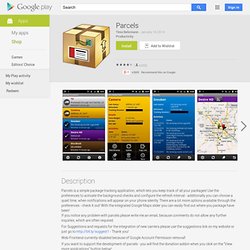 Parcels - Android Apps on Google Play
The Best Package Tracker for Android
The Best Address Book App for Android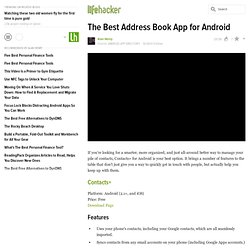 If you're looking for a smarter, more organized, and just all-around better way to manage your pile of contacts, Contacts+ for Android is your best option. It brings a number of features to the table that don't just give you a way to quickly get in touch with people, but actually help you keep up with them. Contacts+ Platform: Android (2.1+, and iOS) Price: Free Download Page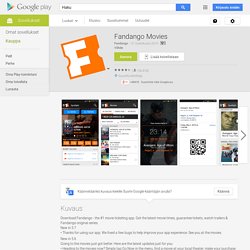 Watch Movies & TV Shows for FREE on your Android phone and tablet!More than 20 million fans enjoy this award-winning FREE app. Crackle provides great new content every month.
Fandango Movies for Phones - Android Apps on Google Play
The Best Movie Showtimes App for Android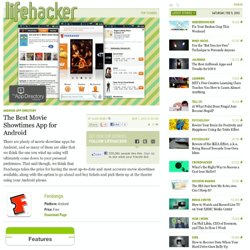 There are plenty of movie showtime apps for Android, and so many of them are alike that we think the one you wind up using will ultimately come down to your personal preference. That said though, we think that Fandango takes the prize for having the most up-to-date and most accurate movie showtimes available, along with the option to go ahead and buy tickets and pick them up at the theater using your Android phone. Searches for nearby theaters and showtimes using your phone's GPS and retrieve up-to-date showtimes, available tickets, and the option to purchase directly from your phone. Filter theaters based on amenities like stadium seating and IMAX. Build a list of "favorite" theaters so you can quickly buy from the theater that's closest to you or your favorite theater, even if it's across town.
Do you looking for a picture?Would you like to shop at a cheaper price?Do you looking for a movie?Do you wonder the sports news like a NFL, MLB, NBA, NHL?Do you want a make or do something?Do you looking for a good restaurant?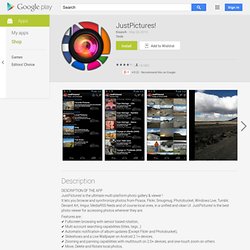 JustPictures! - Android Apps on Google Play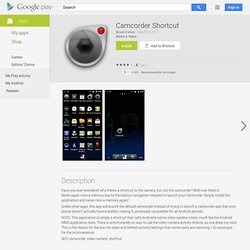 Camcorder Shortcut - Android Apps on Google Play
"Videocam illusion Pro" is the first video camera app that lets you record videos with effects in real-time. Combine filters, effects and masks to create amazing videos without an editing software. You can even save your favorite combinations of effects and change while you're recording, creating original movies. Each purchase motivates us to further improve the app and work on new innovative features. Thanks! If you have any problem with the application or want to suggest some improvements, please contact us at camera.illusion@gmail.com
Gmail Attachment Download - Android Apps on Google Play
GNotes is one of the best note apps for android that helps you to take and sync notes easily between your mobile devices, make your life organized and much more easier. It's easy-to-use and free! ** The notes will be disappeared if you sign out current account, you can re-login with the same account to see the notes. **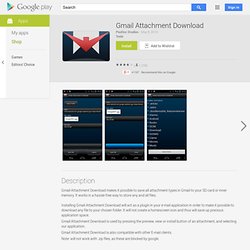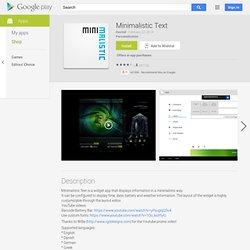 Best picture editor to add beautiful text to your photo. Share with the world on Instagram, Whatsapp, Facebook, Pinterest, Tumblr, Twitter, BBM etc. It can also make wonderful cover for InstaVideo App with beautiful fonts and pictures. Cute pictures combined with your text make a popular message.You will get more likes on Instagram, make your Whatsapp friends smile:) We will be adding new themes,fonts and stickers all the time so check back often! ★USER REVIEWS★★★★★★ – "Text Cutie Instagram It is so cute!
Minimalistic Text - Android Apps on Google Play
Ultimate Call Screen HD Free - Android Apps on Google Play
NewsHunt, India's #1 mobile newspaper app brings together the News from 80+ regional newspapers in 11 languages, and the largest collection of regional language ebooks from the world.
Fetchnotes - Android Apps on Google Play
"Task management" is for robots. Fetchnotes is a simple way to keep track of notes and to do's so you can stay in sync with the people that matter to you. Covered in the WSJ, TechCrunch, Business Insider, The Verge, The Next Web, ReadWrite, Lifehacker, BostInno and many more. Here's why people love Fetchnotes: —————— EASY TO ORGANIZE —————— Organize as you type by adding a hashtag in front of a word like "#read".
Experience the most stylish Holo light and dark Android calendar app with 6 powerful views and 5 beautiful widgets. Now with weather forecasts!★ #5 spot in Android Headlines: Top 10 Best Android Apps – June 2013 ★ #4 spot in Android Authority: The Best Android Widgets!
Jorte Calendar - Android Apps on Google Play