School_English
Bubbl.us | brainstorm and mind map online. Pics4Learning | Free photos for education. JeopardyLabs - Online Jeopardy Template. Testmoz - The Test Generator. Learner.org. Pratique falar inglês enquanto assite a vídeos super interessantes - EnglishCentral.com. Moving into English: eGlossary.
Web 2.0 Tools for Teachers. Web 2.0 is different: Speed - Broadband connectivity and high speed wireless and mobile connectionshave enabled much of the changes that have occurred.• Web based software and applications.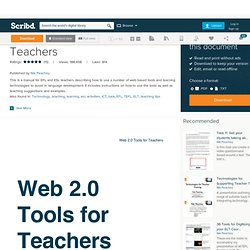 PuzzleFast Instant Puzzle Maker. Schools: Educational resources from the BBC.
---