Szkeptikus
Get flash to fully experience Pearltrees
Quackwatch has grown considerably. To help visitors with special areas of interest, we maintain 24 additional sites for autism, chiropractic, dentistry, multilevel marketing, and many other hot topics. We are also closely affiliated with the National Council Against Health Fraud, which cosponsors our free weekly newsletter, and with Bioethics Watch, which highlights issues of questionable research on humans.
Since the introduction of the first vaccine, there has been opposition to vaccination.
Most parents and all pediatricians are aware of the 1998 study published in The Lancet by Dr.
Több mint két éve írtam itt a blogon a lúgosítás nevű áltudományos elméletről.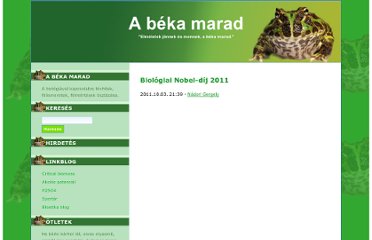 A Sense About Science (SAS) elnevezésű kampánycsoport évente elkészülő listája az adott év tudomány elleni legdurvább támadásait tartalmazza. Színészek, popsztárok és más hírességek téves elképzeléseken alapuló, ám nagy nyilvánosság előtt propagált ötleteit gyűjtik össze a csoport tagjai annak reményében, hogy ezzel "segítik a hírességeket annak tudatosításában, hol tévednek, valamint a nagyközönséget abban, hogy az állítások valódi értelmét megértsék". Az összeállítás kiemeli Olivia Newton-John immunerősítő technikáját, aki "emésztő enzimeket és növényi tonikot használ szervezete immunerősítésére" Az egészség és fitnesz kategóriában a SAS a David Beckham és Kate Middleton (Vilmos herceg menyasszonya) által is viselt hologramos szilikon karkötőt emeli ki, amelyről gyártói azt állítják, hogy növeli az energiát és az állóképességet. Naomi Campbell és Demi Moore juharszirup diétája
A Szkeptikus Klub következő rendezvénye február 19-én:
Here's Ben " Bad Science " Goldacre presenting on how non-evidence-based medicine (that is, woo), can actually, no fooling, kill you and thousands of your friends. Ben's book, oddly enough titled Bad Science, is great as well, and I highly recommend it. There's a chapter he had to take out due to litigation by a guy named Mathias Rath, who says vitamins can cure AIDS. Yes, you read that correctly. Ben posted that chapter on his website, and it may be one of the most important things ever written in the area of critical thinking.